Land is a limited resource, simple as that, and considering that fact alone, we can assume that land values will grow over time especially in land-scarce urban areas.
With that in mind, investing in land sounds like a good deal. Maxland Real Estate Agency senior negotiator Frankie Tham, who is a specialist in this real estate type, says investing in land especially agricultural land is similar to other property investments as it focuses on capital appreciation or rental returns.
However, investing in this segment is often overlooked due to the high entry level as land sales do not usually come in pocket sizes but in large tracts.
"It's a cash rich game. Investors need to have a strong cash position as you can't borrow much from banks. From my experience dealing with purchasers, most of them buy in cash," Tham tells TheEdgeProperty.com.
According to him, a majority of land purchasers are small and medium business owners who are looking for long-term investments or land for their future business expansion.
"The size of agricultural land they often look at is about one or two acres, some will look for bigger parcels like 10 acres, depending on their financial strength," says Tham, who has 10 years' experience in land transactions.
Henry Butcher Malaysia Sdn Bhd chief operating officer Tang Chee Meng says investing in land is a safer option than investing in shares and commodities as land prices are less volatile compared to these other investments.
"It has been proven that in the long run, land values will appreciate when more development takes place in the vicinity and the supply of land in the area depletes," he explains.
Landserve Sdn Bhd managing director Chen King Hoaw concurs that land investments could offer security and steady long-term capital appreciation as land is a durable yet limited resource while the ownership is almost always permanent.
Based on his observations, the number of sales enquiries for agricultural land seem to have risen since early this year through the first three quarters of 2016 especially in the northern states of Kedah, Perak, Perlis and Kelantan.
According to the National Property Information Centre's (Napic) transaction data for 9M2016, there were 52,357 agricultural land transactions worth RM8.6 billion during the period.
Kedah recorded the highest number of agricultural land transactions with 8,608 plots sold followed by Perak and Sarawak, which saw 8,478 and 7,448 land deals transacted, respectively.
In terms of transacted value, Johor had the highest at RM2.5 billion from 6,166 cases. The second and third highest value of transactions were recorded in Sarawak and Selangor with land worth RM1.2 billion (7,448 cases) and RM1.08 billion (3,075 cases), respectively.
Overall, a total of 199,984 properties worth more than RM90.38 billion were transacted for the first nine months of this year.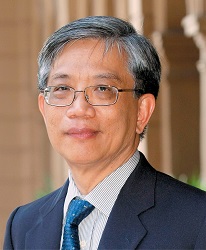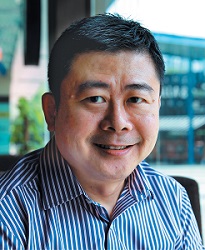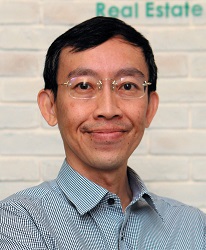 Selangor's agricultural land most appealing
Not surprisingly, of all the states, Tham says Selangor remains one of the most appealing to investors due to its relatively higher capital appreciation rate as mega infrastructure projects such as the mass rapid transit system as well as new township developments are rapidly taking place.
"Besides, agricultural land in Selangor is shrinking and most big plots are owned by big corporations or the government," he explains.
Although the number and total value of agricultural land transactions in Selangor for the first 9M2016 were lower compared with the same period in 2015 which saw 3,075 transactions worth RM1.08 billion, Tham stresses that demand continues to be strong while supply is depleting.
Looking back at the transactions in recent years, Landserve's Chen notes that in terms of popularity, vacant agricultural land is more sought after than those with existing plantation activities. They are followed by oil palm plantations, paddy fields and rubber estates.
In Selangor, the experts have identified several areas for agricultural land investment which they feel have good potential in the long term.
These seven locations are Hulu Langat, Kuala Selangor, Kuala Langat, Semenyih, the Rawang-Kundang area, the Dengkil-Sepang-Salak Tinggi area and the Puncak Alam-Ijok area.
These areas share some similarities. They offer direct access to main roads and highways, are close to developing townships or higher education institutions or logistic hubs or industrial areas, and have easy access to rail transport or airports.
Agricultural land prices in these locations are also comparatively lower than land in prime areas, thus providing more room for capital appreciation.
Location, pricing and accessibility
When choosing a potential plot of agricultural land for investment, the main factors to consider are the location, pricing and accessibility.
Tham from Maxland says a savvy land investor will look for land near to established areas or close to future township developments.
"Pricing wise, the lower the better. Now, it is very tough to get [agricultural] land below RM10 psf in Selangor. The price is around RM15 psf to RM50 psf, anything above RM50 is considered pricey," he adds.
Accessibility and infrastructure development around the land or near it must also be looked into.
"Road accessibility is of the utmost importance when recceing an area. Land with good growth potential is land with road access to main roads or highways, or it must have at least some road reserve," Tham says.
Tang from Henry Butcher adds that for buyers who are looking for land for agricultural purposes, the basic amenities and infrastructure will be their main considerations.
"For buyers who are or will be involved in agricultural activities, they need to look for infrastructure needed for their cultivation activities, such as proximity to rivers, streams for water supply, as well as accessibility to rail or air transport," he says.
However, for those looking for development land such as property developers, accessibility to highways and existing amenities or infrastructure as well as proximity to mature populated townships will be their main considerations.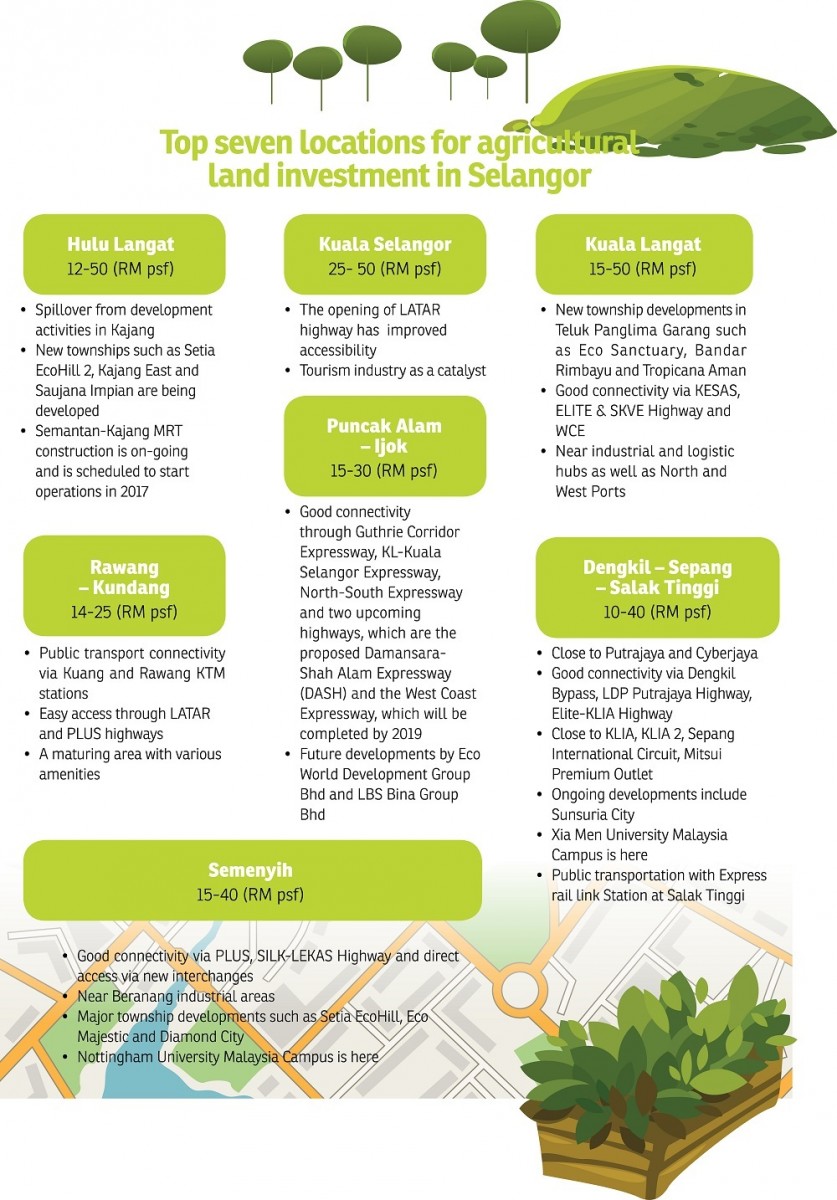 Land usage conversion to enhance value
To enhance the land value, some agricultural land owners may consider converting the land title to other usage, such as commercial, residential or industrial. But to do so, they need to pay a conversion premium to the local authorities such as the land office. Each state has its own formula to calculate the premium payable for alteration or change of land use.
Tang says the land conversion premium is usually calculated based on the enhanced value of the land after conversion.
The premium rate ranges from 15% to 30% depending on whether the converted land use is for residential, industrial or commercial purposes, he adds.
In Selangor, the Selangor Land Rules 2003 states that to change the category of land use from agriculture to residential use, the additional premium payable to the state authority is 15% of the land value. To convert the land to commercial use, the additional premium payable is 20% of the land value. As for industrial developments, the rates are 20%, 25% and 30% for light, medium and heavy industries, respectively.
Steps to become a land investor
As a land investor himself, Tham says land investment, unlike other investment instruments, requires a strong cash position. However, if one does not have enough capital, they can start their land investment process by doing their research and gathering information while they wait for the right time and opportunity.
The homework includes familiarising themselves with potential investment areas, and checking the accessibility and existing or upcoming infrastructure developments in these preferred locations.
"For beginners, they can start checking the agricultural land sales listings to get a better idea of the market value," he adds.
Once they have accumulated enough money and are equipped with sufficient information, they can then immediately make the right purchase decision which suits their budget and risk appetite.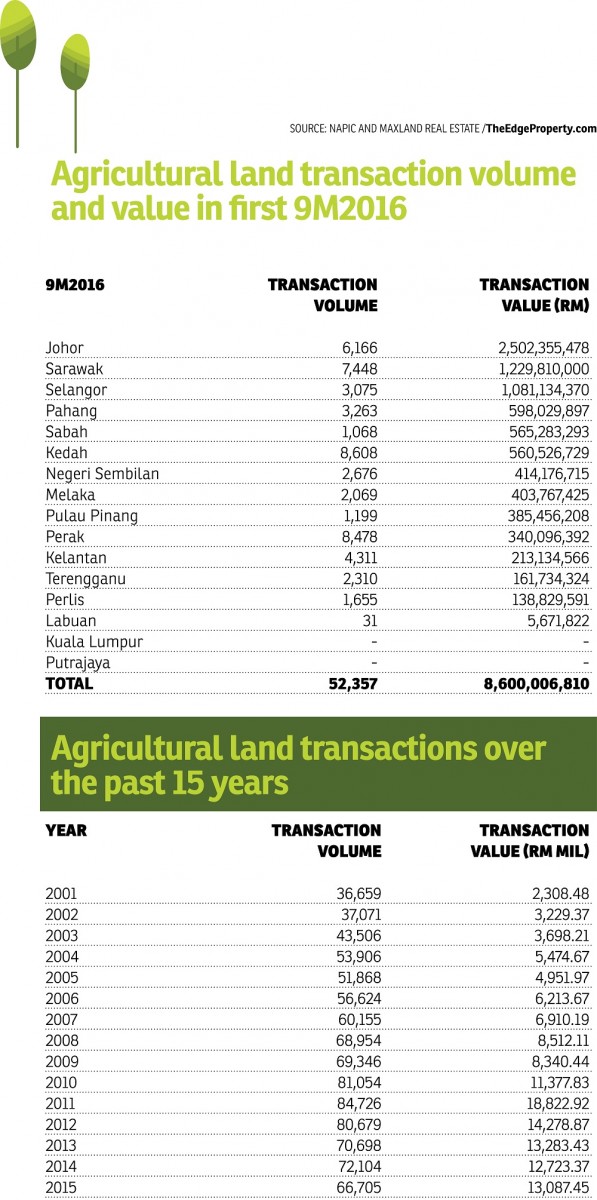 A slow gaining game
Tham also notes that it's impossible for agricultural land to secure a loan margin as high as a residential or commercial property due to its low valuation.
"Although agricultural land could generate good capital appreciation for the long term but during the years of holding, there's not much yield created especially when the owners choose not to lease the land," he explains.
Most buyers of agricultural land can only receive 50% financing from the bank while agricultural land with existing cultivation activities might be able to get a 60% or 70% loan from the bank.
"Due to these reasons, investing in land could hardly be a speculative play as it needs investors to spend time doing research and on top of this, they must have a strong cash position to buy and hold," says Tham.
However, agricultural land still draws the attention of cash rich investors due to its attractive return albeit in the distant future.
"Agricultural land price has tripled or quadrupled over the past 10 years in certain prime areas in Selangor. Prices of land in selected areas in Selangor have also doubled," he adds.
For instance, he said, a 1-acre leasehold plot in Johan Setia that was transacted at RM130,680 (averages RM3 psf) in 2010, has seen the transaction price increase six-fold to RM19 psf when a 2-acre agricultural land was sold at RM1.65 million (averages RM19 psf) in November 2015.
According to Tham, the current asking price of agricultural land in Johan Setia — which is located in between Klang and Petaling and is also the tentative last station of the proposed LRT3 from Bandar Utama to Klang — is ranging between RM15 and RM30 psf, while the asking price for land which has access to the main road is ranging between RM40 and RM50 psf.
Meanwhile, Landserve's Chen says it is always a good time to buy agricultural land, especially when one engages a long-term view as the price of agricultural land will surge once they are in demand for development.
"Moreover, agricultural land is exempted from the Goods and Service Tax (GST). Unlike commercial and industrial properties, you do not have to pay GST when buying agricultural land," he adds.
Considering the overall property market slowdown, it is now the time for interested buyers to look for good land, Henry Butcher's Tang says, as land owners are more realistic in their expectations and land owners are prepared to negotiate on pricing and terms of payment, which will be favourable to land investors.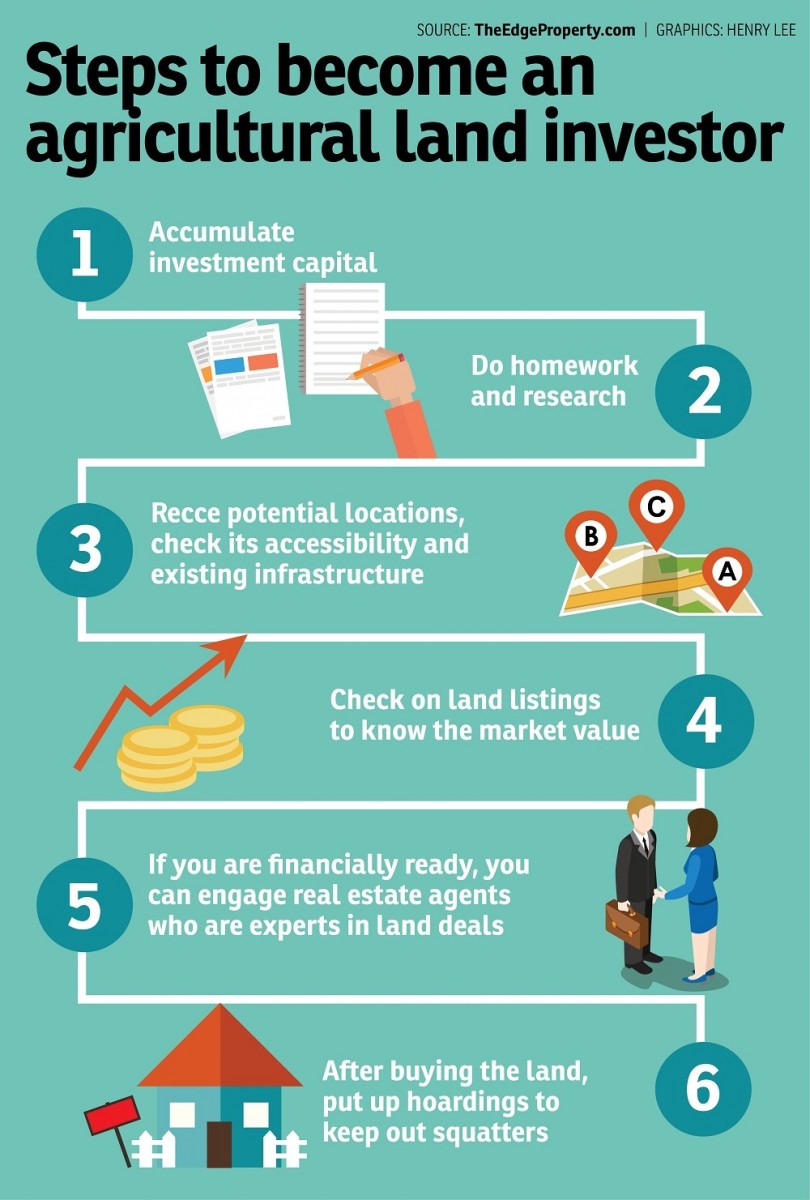 This story first appeared in TheEdgeProperty.com pullout on Dec 30, 2016, which comes with The Edge Financial Daily every Friday. Download TheEdgeProperty.com pullout here for free.