First international hotel chain in Seberang Perai
First international hotel chain in Seberang Perai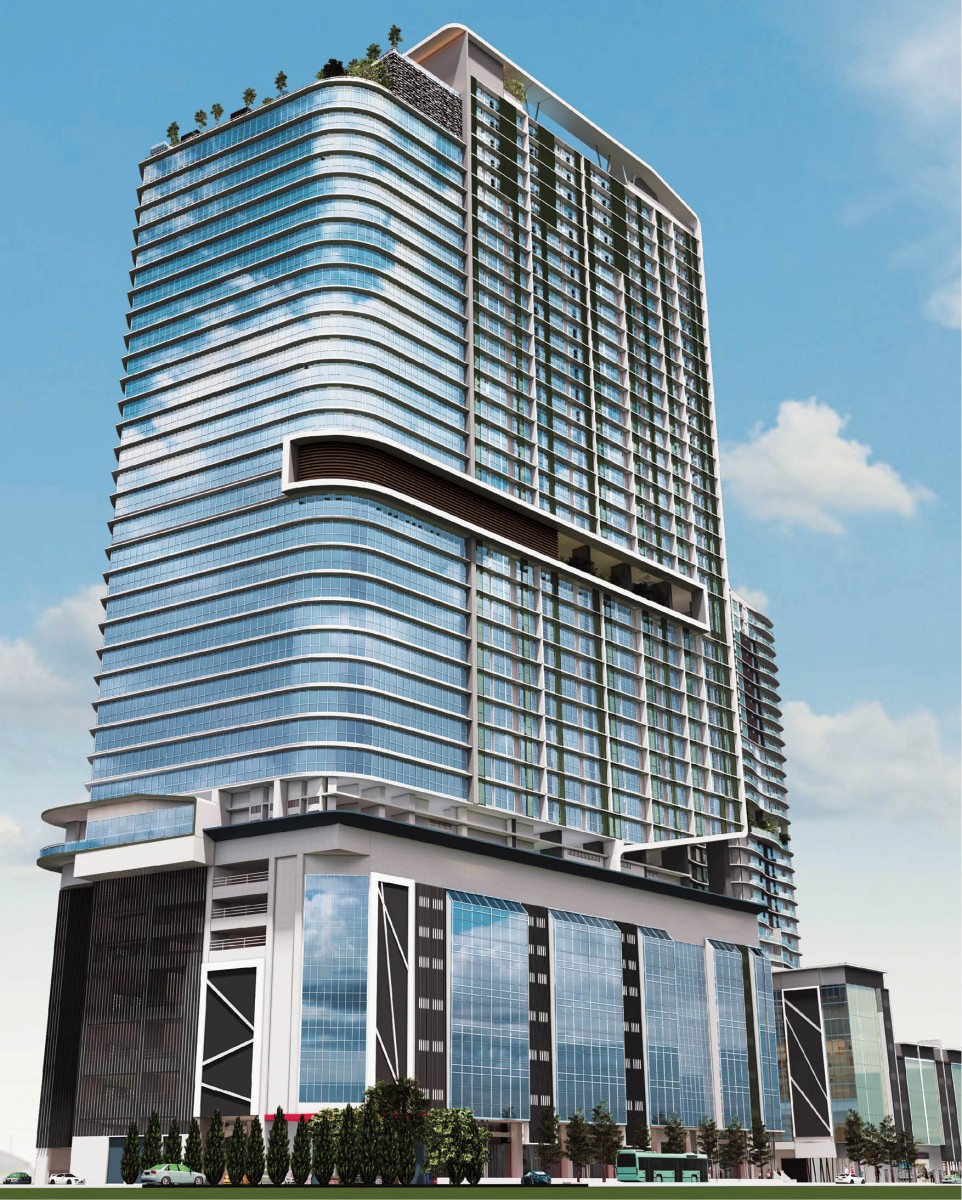 MAINLAND Penang will soon have its first international hotel chain, thanks to Exopuri Development Sdn Bhd. The company recently signed a management agreement with InterContinental Hotels Group (IHG) to manage the 288-room Holiday Inn & Suites at Juru Sentral when it is completed in 2019.
An integrated development by Exopuri, Juru Sentral also comprises a condominium, a small office/home office (SoHo) apartment tower and shopoffices. Located at the junction of Jalan Kebun Nenas and Jalan Bukit Tengah in Juru, Central Seberang Perai, it is less than five minutes' drive from Auto-City, a popular entertainment hub opened in 2002. The project is near the Penang Bridge as well as the fast-developing Batu Kawan area, where the Penang Second Bridge is located.
The 25-storey Holiday Inn & Suites, which will adjoin the 39-storey SoHo apartment tower, has an estimated development cost of RM117 million.
"I saw that there was a demand for this type of development as there are industrial companies and multinational corporations in the surrounding area and in Batu Kawan," Exopuri managing director Ng Kok Leong tells City & Country in an interview. "Holiday Inn & Suites was brought in to cater for the professionals [who work in these companies] as there was no such hotel catering for them."
From goldsmith to property developer
Exopuri was incorporated in 1996 by Ng and another director. Ng had been a goldsmith until he decided, at the age of 33, to enter the property development industry. Twenty years on, the company has developed projects with a total gross development value of RM250 million.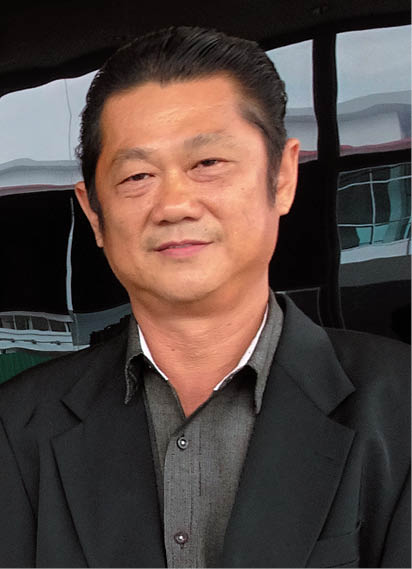 Ng's first project, completed in 1999, was the Taman Jawi Light Industrial Park in Sungai Bakap, South Seberang Perai. The 23 factories built on 4.4 acres had a total sales value of RM8.15 million. Subsequently, the company built six shopoffices and 71 terraced houses in Taman Kijang Indah, Central Seberang Perai. The project, which had a total sales value of RM15.5 million, was completed in 2002.
Since then, Ng has completed shopoffices, terraced and semi-detached houses, bungalows and high-rises in projects such as Taman Berjaya Baru, Taman Seri Jaya, Taman Penanti, Taman Bertam Jaya, Taman Kerjasama, Pangsapuri Seri Jaya, Kondominium Berjaya, Taman Desa Permai and Pusat Perniagaan Sentral Jaya @ Eco Walk.
The latest project, Juru Sentral, is said to be Ng's most ambitious endeavour.
Holiday Inn & Suites
The signing of the management agreement between IHG and Exopuri was overseen by Exopuri's hotel division consultant, Arthur Yeap. He explains how IHG, after inviting several international hotel brands to do a feasibility study, decided to sign with Exopuri.
"I think they saw the potential in this area, especially when they visited the industrial parks. They went to Batu Kawan and Kulim … and they felt there was potential for growth in the areas," Yeap says. "The fact that there was no international hotel brand here, and that most of the companies in Batu Kawan were multinational companies, led us to believe we would be able to draw some business here with a brand that is recognised worldwide.
"Originally, we wanted a 5-star hotel, but after the feasibility study, we were advised that the cost of building such a hotel in a location like this does not justify the returns. So, they gave us a few choices and we ended up choosing the Holiday Inn & Suites brand."
Yeap says the hotel is designed to cater for expatriates and long-stay guests. About 15% of the 288 units will cater for the latter, coming with a kitchenette, a dining room and two bedrooms. The other units are regular hotel rooms, including VIP versions.
Room rates are estimated to range from RM240 to RM270. These are much lower than the RM280 to RM510 seen on Penang island, Yeap explains.
Hotel facilities will include a health club and spa, gym, swimming pool and Jacuzzi, café and multi-purpose hall on the seventh floor and a sky bar with outdoor dining on the 35th floor. The hotel will also have ballrooms, conference rooms and function rooms.
Exopuri engaged KKS International, a Japanese company with an office in Singapore, to handle the design and interior decorating of the hotel. Local architect Anthony Chan, director of Habitat Design Architects Sdn Bhd, who is involved in the architecture of the entire Juru Sentral, explains that the hotel and the SoHo tower will be built atop a 7-storey carpark podium. He adds that there will be separate entrances for the hotel and the SoHo tower.
First integrated development in Juru
Once completed, Juru Sentral will be the first integrated development in Juru. The 4.6-acre project has a gross development value of RM400 million. Ng bought the land about five years ago for RM30 million when he noticed the construction of the North-South expressway interchange nearby.
So far, the components of Juru Sentral have seen encouraging take-up rates. The condominium, Exo Residences, is 75% taken up. Launched on Jan 19, 2015, the 31-storey condominium offers 146 units with sizes ranging from 1,393 to 3,103 sq ft. Prices range from RM524,400 to RM1,148,500 or from RM375 psf.
Launched on Oct 23, 2015, the SoHo tower — called Exo Horizon — is 45% sold. The 175 units are sized from 510 to 1,800 sq ft. Prices range from RM306,000 to RM1,256,400, or from RM600 psf.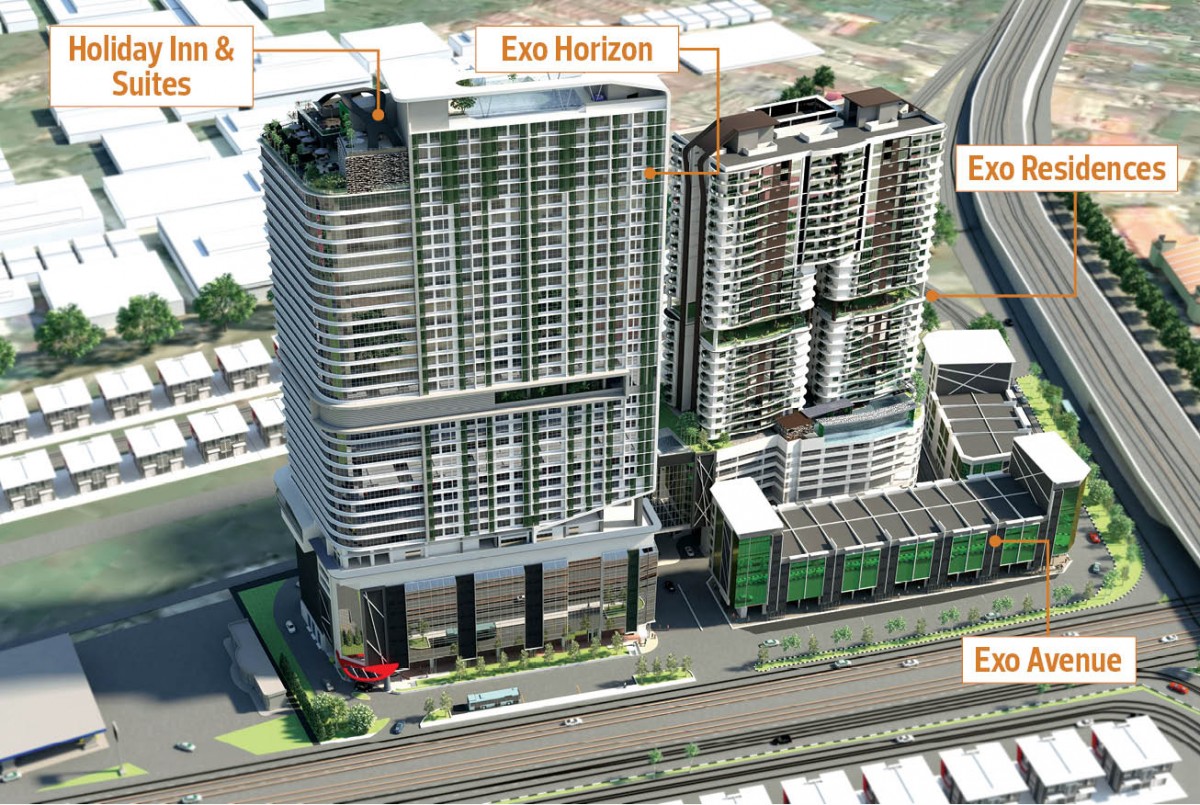 The last component of Juru Sentral is Exo Avenue, which comprises 14 four-storey shopoffices and three 7-storey versions. Launched in November last year, three of the 4-storey units and two of the 7-storey units have been sold. Prices start at RM540 psf. With built-ups of 6,716 to 10,548 sq ft, the 4-storey shopoffices cost from RM3.8 million to RM5.5 million. The 7-storey units, with built-ups of 17,857 to 32,620 sq ft, are selling for between RM7 million and RM11.4 million.
Michael Loo, executive director of PA International Property Consultants (Penang) Sdn Bhd, points out that in the vicinity, there are several condominiums being constructed, such as Abel Residence in Bukit Tengah, Orange Residence in Bukit Mertajam, Glisten Hill in Juru and The Marc in Bukit Mertajam. On average, units at these projects are selling for between RM330 and RM400 psf, with built-ups ranging from 812 sq ft (Orange Residence) to 2,242 sq ft (The Marc), he says.
As for existing condominiums that are not far from Juru Sentral — such as Signature Condominium, Pinang Laguna Condominium and Palma Laguna Condominium — prices have remained stable since 2014.
At Signature, 1,087 sq ft units were sold at an average RM500,000 (RM460 psf) in 2015 but the average price dropped to RM450,000 (RM414 psf) last year.
At Pinang Laguna, 1,100 sq ft units were sold at an average RM324,000 (RM295 psf) in 2014. The average price rose to RM330,000
(RM300 psf) in 2015 but dropped to RM315,000 (RM286 psf) last year.
At Palma Laguna, 945 sq ft units were sold at an average RM290,000 (RM307 psf) in 2014. The average price rose to RM330,000 (RM349 psf) in 2015 and has remained unchanged since.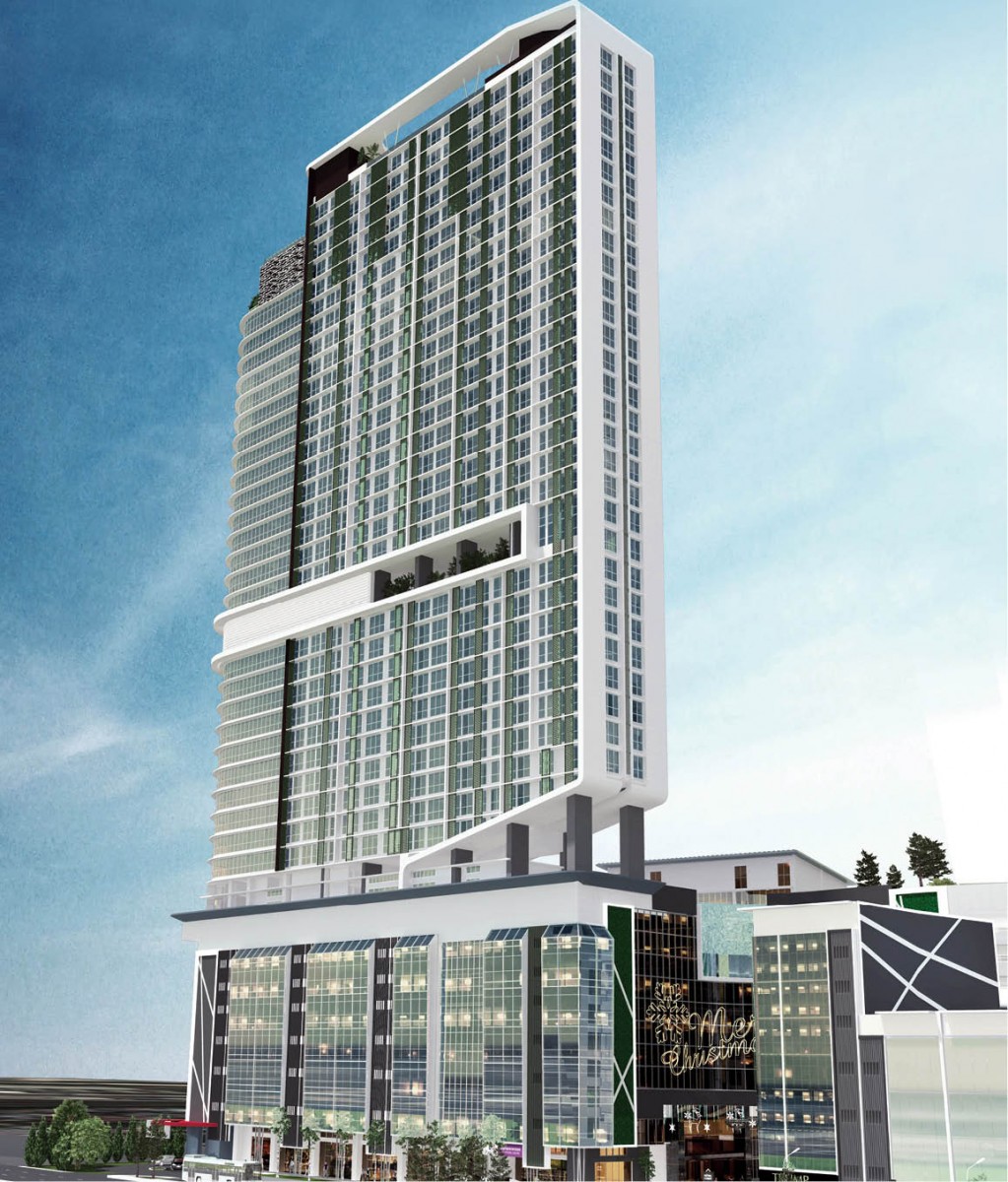 Loo says, "Generally, the average prices remained stable from 2014 to 2016, except for price corrections of 5% to 10% at Signature Condominium and Pinang Laguna Condominium in 2015 and 2016."
As for nearby shopoffices, Loo cites Pusat Perniagaan Icon City, which has 4-storey, 5,963 sq ft, semi-detached commercial shops and is within walking distance from Juru Sentral. The units were sold for an average RM2.6 million (RM436 psf) in 2014. The average transacted price rose to RM3.1 million (RM520 psf) in 2015 and increased to RM3.3 million (RM553 psf) in 2016.
Growth area
Property experts familiar with Juru say the area has grown in popularity. It was just a rubber estate before the North-South Expressway opened in the 1990s, explains Loo. The expressway connects Juru with the Perai Industrial Estate, Bukit Mertajam and other towns.
In 2002, Auto-City made its debut and was recognised as a tourist destination by the Penang government.
"The success of Auto-City has made Juru the new commercial precinct in Seberang Perai," Loo explains. "The demand for corporate hospitality businesses such as F&B and entertainment, and the increased business activity are due to support from the Perai Industrial Estate and Bukit Minyak Industrial Park, which are the two largest industrial estates in the northern region."
While there are hotels in the area, none are of international standard. "In the north Juru area, there is a lot of industrial land, and Batu Kawan is in the midst of being developed. So there is demand for professionals," explains Michael Geh, director of Raine & Horne International Zaki + Partners.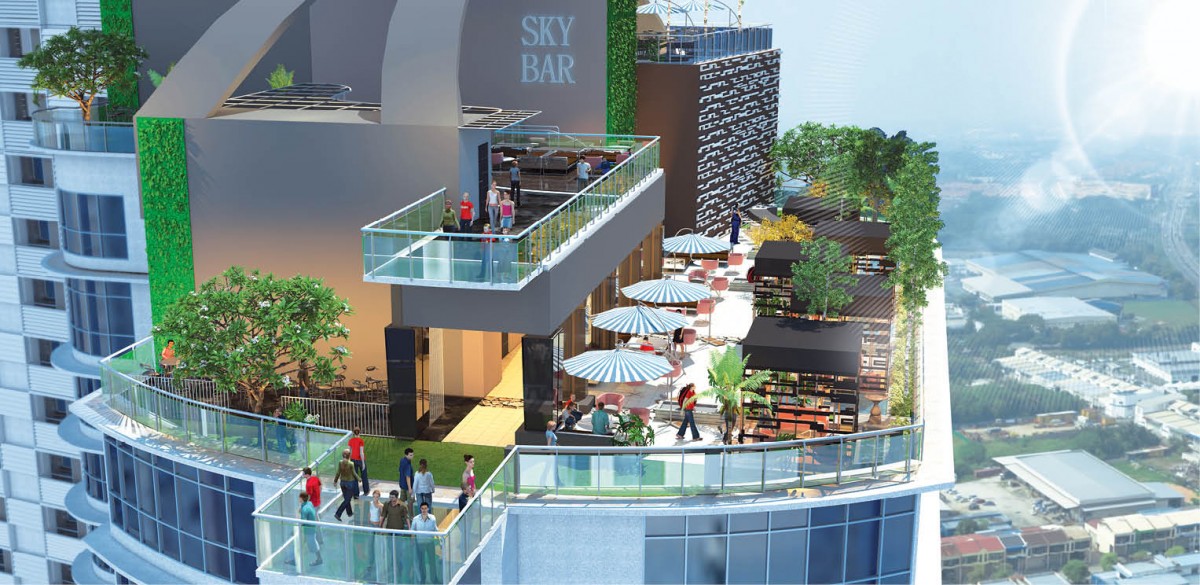 "When an international brand (Holiday Inn & Suites) enters an area, it signifies to me that the area has matured. It is no longer a backwater and is ready to take off."
"For an international brand like Hilton to come in, it would have done extensive research," Geh explains. "Therefore, I believe that this area (Juru), which is only across the road from Batu Kawan, is on a growth trajectory."
Loo concurs with Geh, adding that ongoing developments such as Juru Sentral is turning the area into a successful commercial hub. However, he cautions, "Traffic flow and parking facilities have to be taken into account to make this commercial hub a success."
This article first appeared in City & Country, a pullout of The Edge Malaysia Weekly, on Jan 2, 2017. Subscribe here for your personal copy.
Get More From EdgeProp.my