SUBANG (Feb 13): More than 60% of potential 1Malaysia Housing Programme or PR1MA homebuyers had to give up their booked units due to problems with end-financing.
Hence, Perbadanan PR1MA Malaysia has come up with a special end-financing scheme to help increase PR1MA homebuyers' chances of getting home loans.
The new scheme called the Special PR1MA End Financing Scheme (SPEF) is exclusively for PR1MA homebuyers. It is established in collaboration with Bank Negara Malaysia, the Employees Provident Fund (EPF) and four local banks, namely Maybank, CIMB Bank, RHB Bank and Ambank.
"In the first few years, we were very much focused on finding out where the demand was and how many houses we had to build. Today, we are shifting our focus on how to help homebuyers get the financing for their purchase," said PR1MA CEO Datuk Abdul Mutalib Alias at a media briefing on the new scheme today.
He added that last year, about 60% of PR1MA homebuyers gave up their booked units as they failed to secure housing loans or because the approved loan margin was too low.
"PR1MA has never been about just building homes. By launching this scheme, we hope those who thought that they were not financially eligible to own a PR1MA home previously would give it a try now," he said.
The cornerstone of SPEF is the step-up financing and the step-up financing with EPF Account 2 withdrawal option. For both of these schemes, in the first five years, only the interest needs to be paid as the principal amount only kicks in from year six onwards until the loan is settled.
The step-up option combined with withdrawal from EPF Account 2 means that homebuyers can have access to a larger loan amount. The partner banks will take the loan applicant's EPF Account 2 monthly contribution into consideration when calculating the final eligible loan amount. (See example below.)
However, the interest fee for this new scheme will be higher at 4.75% than the average conventional loan of 4.45%.
Abdul Mutalib also stressed that the scheme is subject to certain terms and conditions while eligibility will still depend on the borrower's risk profile and credit assessment by the banks.
"I hope with this new scheme, we can achieve this year's target of having 15,000 sales and purchase agreements signed," he said.
As of January 2017, a total of 260,188 units have been approved by the PR1MA board while some 132,352 units are being constructed. A total of 1.377 million people have registered for PR1MA homes nationwide.
Example of loan eligibility calculation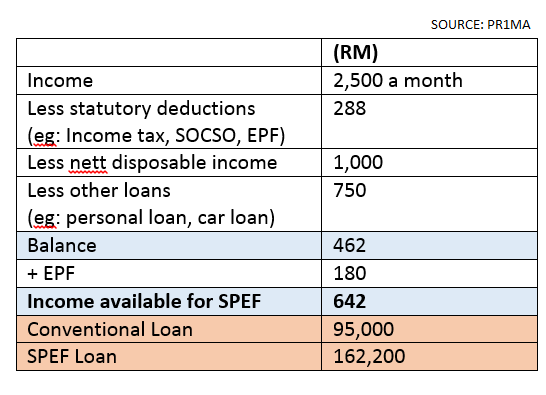 Special PR1MA end financing scheme