EDITOR'S CHOICE AWARD BUILT FOR SUSTAINABILITY
THE PINNACLE, SUNWAY CITY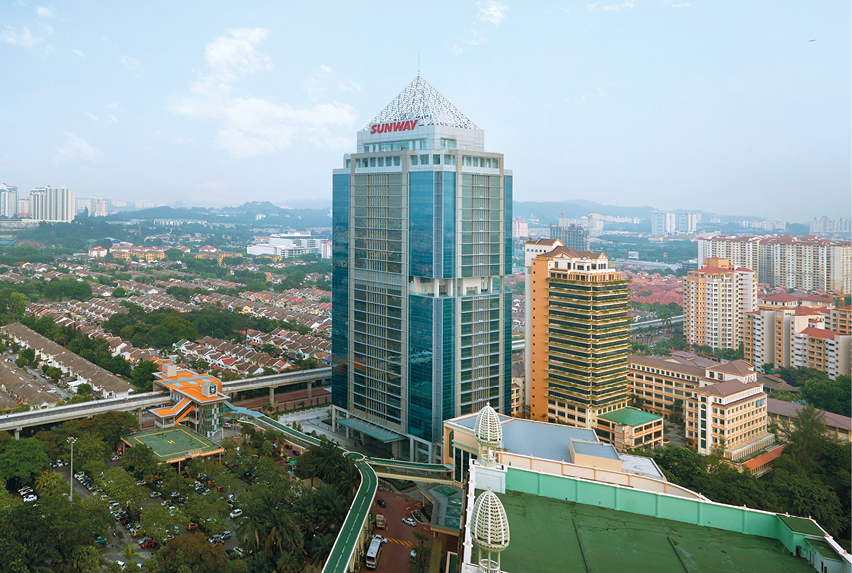 Sunway Property proves that its tagline as a Master Community Developer is not merely an empty slogan but one founded on substance. In recognition of its enduring efforts in maintaining the sustainability of its buildings, Sunway has been awarded TheEdgeProperty.com Editor's Choice Awards for The Pinnacle @ Sunway, a visually-commanding office tower in Sunway City, Selangor.
"Departing from classic mediocrity as a developer, Sunway Property has opted for a bold albeit painstaking route of crafting a building with strong sustainable property management attributes. It is not just powered by intelligence, but is designed with its occupants in mind. The result is a design that stands the test of time — a building 'Built for Sustainability'," say the editors of TheEdgeProperty.com.
The Editor's Choice Awards is another accomplishment for The Pinnacle in addition to the Silver in the inaugural TheEdgeProperty.com Malaysia's Best Managed Property Awards 2017. The accolades recognise excellence in a project, building or company that promotes top quality property management.
A step towards a smart sustainable city
"Sustainability is an important consideration while we were designing The Pinnacle because Sunway City is a low-carbon city, which we are working towards elevating into a smart sustainable city. The Pinnacle has to not only fit into the master plan, but be a leading smart and green building within the city," Sunway Property and Facilities Management Sdn Bhd (SPFM) chief operating officer Cheng Jew Keng tells TheEdgeProperty.com.
As Sunway Group's asset management firm, SPFM has been involved in The Pinnacle project since day one of the planning and construction. Hence, it is the natural proxy to manage the internationally-tenanted office as it can provide the best support in terms of building synergistic linkages between the tenants and other businesses.
"Property management has always been perceived as 'maintenance' management, responsible for making sure all equipment do not break down. The emphasis on sustainability has now given a new dimension and motivation to the property management team," Cheng adds.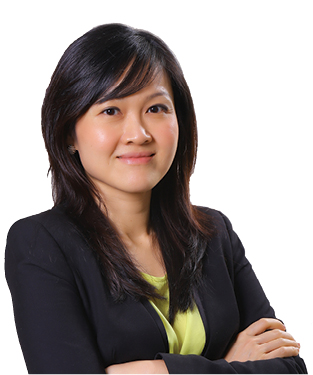 Cheng shares that when The Pinnacle was conceptualised, Sunway had entered into "a new era of sustainability", credited as Malaysia's first green township to be certified with a Green Building Index. At the same time, it had crystallised its build-own-operate business model with the listing of Sunway REIT which completed the group's full value chain.
"To complement Sunway's positioning as a world-class city and add diversity to our community, we had wanted to have a sustainable commercial building to attract like-minded MNCs and, together, establish Sunway City as a new corporate address. It means long-term thinking for future generations. When we build, we know that we are not just building houses or offices but a better community for everyone to thrive and grow. It means developing without compromising the future while adding value to a triple bottom line of people planet and profits in the present," says Cheng.
Meanwhile, the managing director of Sunway Bhd's property development division for Malaysia and Singapore, Sarena Cheah, says The Pinnacle has proven that thinking and acting sustainably works.
"The building has achieved a lower outgoing rate compared to average. In addition, SPFM has been proactively seeking ways to integrate IoT-enabled solutions, while exploring renewable energy — which we believe will exponentially improve the way people live, learn, work and play," she says.
"Connecting this to financial sustainability, we believe that this interplay of factors — designing and building with sustainability in mind, a strategic location, a supportive team, good tenants, advanced technology, measurable performance, a culture of continuous improvemen — will all lead to financial sustainability," Cheah emphasises.
On a larger scale, Sunway strives to build sustainable townships across environmental and socio-economic aspects that can safeguard people's wellbeing and foster strong communities.
"For example, Sunway City is the only township in the nation to have seven components within an 800-acre site spanning 650,000m3. In tandem with its expansion, the Sunway Group has in the past decade formalised a strategy to grow the city sustainably. Championed by Sunway City's task force, the City aims to achieve carbon neutrality by 2020 while continuing to drive economic and employment opportunities through four areas: urban environment, transport, infrastructure and buildings, as outlined in the Ministry of Energy, Green Technology and Water's Low Carbon City Framework," she explains.
"We always look to integrate sustainable approaches into our business models, processes, and developments because it protects the future for the stakeholders and generations beyond us. Sunway ensures its newer buildings incorporate green features while its older buildings are retrofitted for environmental performance through Sunway Property's Asset Enhancement Initiative," adds Cheah.
She also thinks that SPFM's operations, which place emphasis on well-defined measurable goals, is the way to go, and Sunway's culture of continuous improvement will drive the consistent growth of its communities.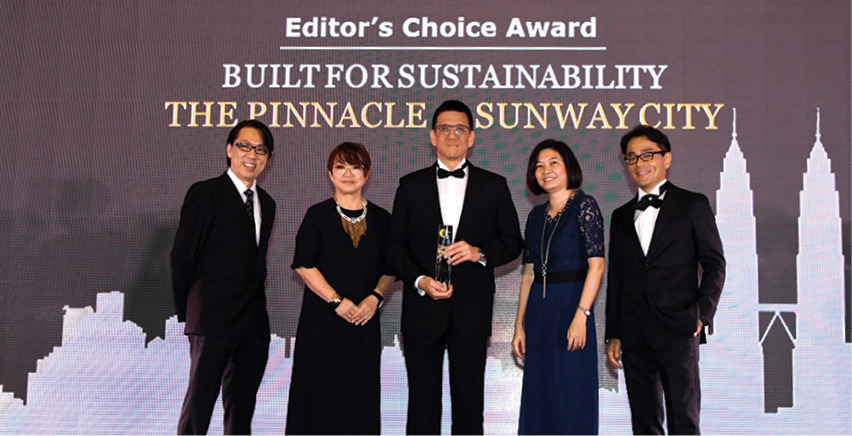 Intelligent design leads to ease of management
SPFM was part of the design and build process, facilitated by Sunway Construction's use of Virtual Design Technology. The team at SPFM, which consists of 12 engineers, was with the development team from the beginning, providing data and insights cultivated from managing a successful portfolio of properties.
"With SPFM's involvement from the start, we were able to plan for the asset's entire life cycle and eliminate possible gaps caused by design deficiencies, wrong choice of finishes, and mechanical and engineering systems which would all lead to higher maintenance, or even worse, customer dissatisfaction," says Cheng.
For The Pinnacle, SPFM has managed to keep the outgoings for the buildings at 24% below the market average.
Some of the efforts taken to monitor energy use include motion-sensored temperature and lighting controls. The elevator access controls, intrusion alerts, 24-hour CCTV, security patrols, and other security installations keep everyone safe.
"There are other intricacies like market studies, careful review of the product, considerations for special technical solutions, searching for contractors with the right expertise, etc. Reducing carbon footprint and taking care of the overall city's living environment are our forte in a bigger picture," Cheng elaborates.
Cheng is a believer of sustaining growth for future generations as it is ingrained in Sunway's DNA.
"The planet has finite resources and it is important for us to commit to creating a sustainable environment for the betterment of community when we build. It was a worthwhile investment for us to build The Pinnacle as a sustainable building for these reasons. The outcome has been very encouraging — from the marketing perspective, we successfully secured the support from leading MNCs who share the same beliefs. From the economic perspective, Sunway's ecosystem is now stronger with them joining our community; and from the living perspective, we are able to keep our building green and energy efficient for the stakeholders in Sunway city," concludes Cheng.
TEPBMA2017
For more stories on the Awards, click here.
This story first appeared in TheEdgeProperty.com pullout on April 7, 2017. Download TheEdgeProperty.com pullout here for free.