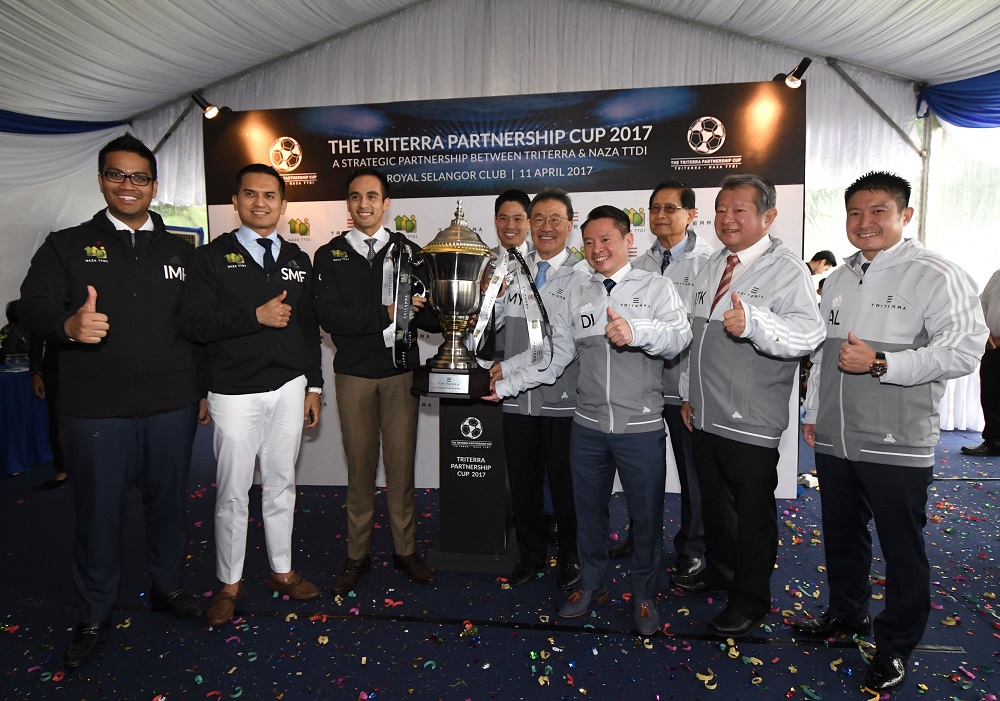 KUALA LUMPUR (April 11): Naza TTDI Sdn Bhd has forged a strategic partnership with Triterra Metropolis Sdn Bhd (Triterra) to kick-start an office development dubbed The MET Corporate Towers at the 75.5-acre KL Metropolis in Jalan Duta, Kuala Lumpur.
With an estimated gross development value of RM650 million, the office development is located on the 2.47-acre Met 8, one of the eight precincts of KL Metropolis.
Expected to be completed by 2021, the MET Corporate Towers will consist of a 42-storey North Tower and a 30-storey South Tower, said Triterra joint chairman Datuk Seri Michael Yam at a signing ceremony today.
The partnership between Triterra and Naza TTDI was marked by the inaugural "Triterra Partnership Cup" — a friendly football match between the two parties at the Royal Selangor Club field in Bukit Kiara.
Yam said the North Tower of The MET Corporate Towers will comprise about 450,000 sq ft of net saleable area. The tower will target retail customers looking for a business space ranging from 900 sq ft to 2,200 sq ft.
The South Tower, on the other hand, will have 150,000 sq ft of net saleable area. The developers are planning to sell the towers to a single buyer. The indicative selling price is RM900 psf and below.
Yam is confident that The MET Corporate Towers will be able to cater to the demand from nearby Mont'Kiara where there is limited supply of office space.
"The office space in the area is almost fully occupied, so if the businesses there want to expand, they have to pay about RM1,200 psf for a three-star product launched 10 years ago," he said.
Hence, he added, the attractive price tag of The MET Corporate Towers. " "We want to sell it quick with a little margin, and make sure that it gets completed".
Triterra CEO Christopher Lim Hwa Seong noted that the development has received overwhelming response from individuals as well as corporate bodies during a recent private preview.
"The sales gallery will be ready in the next four to six weeks. We are preparing for the official launch of the project," he said.
Meanwhile, Naza TTDI deputy executive chairman and group managing director SM Faliq SM Nasimuddin said the next component the company will be launching at KL Metropolis will be a hotel development. Plans are to have three four-star hotels and one five-star hotel at KL Metropolis.
Naza TTDI had recently launched MET 1 Residences, the residential component.