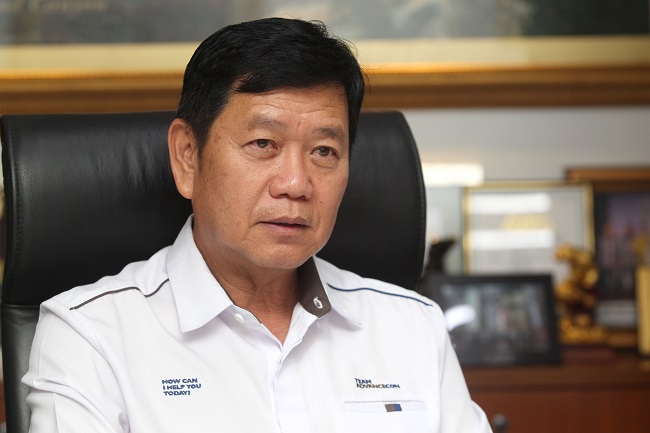 KUALA LUMPUR (April 17): Like most builders, Advancecon Holdings Bhd is enjoying the boom in the construction and infrastructure industry.
The earthworks and civil engineering services specialist is the first party to come in after a project is executed, undertaking works from land clearing to piling and rock blasting before handing over the site to contractors.
"We are the first party to come in after a project is awarded. We clear and prepare a platform and then only building works can be commenced," its deputy chief executive Lim Swee Chai told The Edge Financial Daily in an interview. Lim founded Advancecon together with its chief executive officer Datuk Phum Ang Kia in 1993.
The company is en route to a listing on the Main Market of Bursa Malaysia by June this year. On March 27, it obtained the approval from the Securities Commission for its proposed listing.
Advancecon plans to list 90 million new shares or 22.4% of its enlarged issued share capital on the local bourse. There would also be an offer for sale of existing shares, where 33 million shares will be allocated for private placement to identified bumiputera investors approved by the ministry of international trade and industry.
According to Phum, now is a good time to pursue an initial public offering (IPO), especially for construction-related companies in light of the construction boom.
"The government has announced many infrastructure projects for 2017," Phum said, adding that Advancecon on its part is eyeing to participate in upcoming projects such as the Kuala Lumpur-Singapore High Speed Rail, the East Coast Rail Link and the Bandar Malaysia development in Kuala Lumpur.
Phum also believes that a listing will make the company more attractive to investors — at a time when opportunities are aplenty.
Phum expects the IPO to help the company tackle one of its biggest challenges — talent attraction and retention. "As time elapsed, we realised we need more talented people to join us and we want to retain the professionals within our group."
Advancecon has seven outstanding earthworks and infrastructure jobs worth a combined RM353.66 million that are due to be completed this year. "More contracts will be revealed in the upcoming prospectus launch by May this year," said Phum.
For the financial year ended Dec 31, 2015 (FY15), Advancecon reported a 39.8% increase in net profit to RM29.94 million from RM21.41 million in FY14 on the back of a 32.3% jump in revenue to RM264.31 million from RM199.81 million the previous year.
The company registered over 70% growth in net profit between FY13 and FY15.
"We want to double our revenue in five years," said Phum, adding that its tender book at any one time amounts to more than RM1.5 billion.
"Our clients are still aggressively launching their projects, so we will continue to be involved with these projects. And they still have a lot of land bank [left for future developments]," said Phum.
Advancecon is looking to expand its footprint to Sabah and Sarawak with the lucrative Pan Borneo Highway project in sight. "Sabah and Sarawak are a realistic target for us. We can venture into the public [infrastructure] projects there any time," he added.
Currently the company is undertaking earthworks and civil engineering works for projects that are located in Peninsular Malaysia, including Setia EcoHill, Setia Eco Gardens, Eco Majestic and Tropicana Aman, as well as infrastructure projects such as the Trumpet Interchange and Ecohill link at Lekas Highway.
"Ultimately, we want to achieve job continuity and have a balance [between property development projects and public sector infrastructure projects]. For example, when township developments get scarce, we can then concentrate on public sector infrastructure projects," said Lim. "This will ensure that we have eggs in more than one basket."
Advancecon's customer base comprises notable property developers which include Eco World Development Group Bhd, Paramount Corp Bhd, Perbadanan Kemajuan Negeri Selangor, Sime Darby Bhd, S P Setia Bhd and Tropicana Corp Bhd.
"Most of our big clients are repeat customers," Phum said, adding that developers seldom conduct their own earthworks because it is capital-intensive to maintain the fleet and machinery.
For Advancecon to achieve its current operating capacity, chief operating officer Yeo An Thai said the strategy is to invest heavily on bigger-capacity heavy machinery compared with its peers.
"For instance, normal contractors will use dump trucks with a capacity of about 10-cu m whereas we use imported truck which has a 30-cu m capacity — about three times the capacity of a conventional lorry," said Yeo.
Advancecon currently hires just over 300 workers, half of whom are on-site operators who run its 250 machineries.
According to the draft prospectus, 52.4% of its IPO proceeds will be spent on the purchase of new construction machinery and equipment, as well the construction of a new workshop in Bandar Sultan Suleiman in Port Klang. Another 22% will be used to repay borrowings, 18.9% for working capital and 6.7% for estimated listing expenses.
This article first appeared in The Edge Financial Daily, on April 17, 2017.
For more stories, download TheEdgeProperty.com pullout here for free.