Property transactions are down, office occupancies are down, unsold units are up — things certainly didn't look good in 2016, according to the Malaysian Property Market Report 2016 released by the Valuation and Property Services Department (JPPH) early this week.
Not even the experts seem to know when the current situation will turn but JPPH director general Dr Rahah Ismail mentioned that this slowdown may take a few years!
On the other hand, like the saying goes, it is always darkest before the dawn. The question is have we seen the darkest yet? Here are some highlights from the report and after reading them, you could perhaps tell us where we are heading in the near future.
Less than 1/3 of new homes launched were sold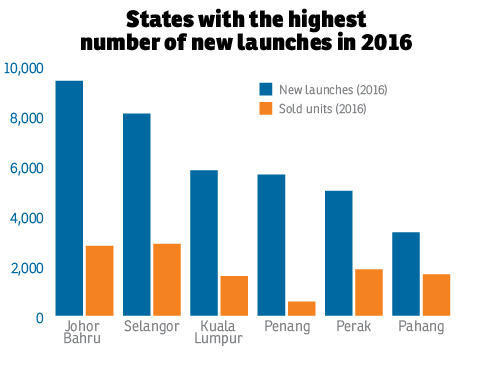 Developers launched a total of 52,713 homes in 2016 but only managed to sell less than one third of these — 16,532 units (31.4%).
In contrast, 58,411 homes were put on the market in 2015. Of these, developers sold a higher 42.1% or 24,588 units.
If there is a perceived hike in appeal for Penang property, data from the National Property Information Centre's (Napic) just-released Property Market Report 2016 shows otherwise.
Penang reported the worst sales performance of newly-launched homes last year. Developers only managed to sell less than 10% — 9.9% to be exact — or 561 units of the total 5,646 units put on the market.
This was a big dive from 2015 when developers sold nearly half (48.2%) or 1,131 units of the 2,348 units launched that year.
Clearly, the Penang market suffered a double whammy in 2016. The number of new launches more than doubled while the number of buyers shrank significantly from 2015.
Last year was Johor's when it came to new housing launches. The state led with the most launches at 9,393 units, against the mere 12 units launched in Perlis throughout 2016.
The high profile Forest City project in Johor was clearly a substantial contributor to the new launches in Johor. The state, however, only achieved sales of 2,796 units (29.8%) of those newly-launched.
The second highest number of home launches last year was in Selangor, at 8,087 units. Of these, developers sold 35.6% or 2,875 units.
Kuala Lumpur, meanwhile, put out 5,816 homes last year but only 1,588 of them (27.3%) were sold.
RM8.5 bil worth of completed homes unsold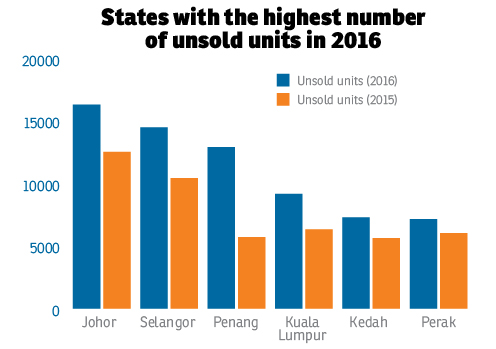 Malaysia's stock of unsold residential units — comprising those completed, under construction and not constructed — stood at 90,491 units at end-2016.
The bulk of these, or 64,077 units, are in various stages of construction while work on 11,622 units has not started.
Johor led with the most unsold units (16,341), followed by Selangor (14,509), Penang (12,933) and KL (9,188).
Kedah, surprisingly, had an unsold stock of 7,299 units while in Perak it was 7,161 units.
Of Malaysia's 2016 unsold housing stock of 90,491 units, a total of 14,792 units have been completed and these alone have a total value of RM8.56 billion.
Of the amount, almost 30% (RM2.56 billion) was contributed by Johor which has the highest number of completed but unsold homes of 3,671 units. The other unsold units in Johor are still under construction (11,774 units) or not constructed (896 units).
Selangor has a total of 1,718 units of completed but unsold homes with a total value of RM1.43 billion. Another 12,451 units are under construction while work on 340 units has not started.
In Penang, there are 1,896 units of completed but unsold homes with a combined value of RM1.47 billion. A total of 8,119 units are under construction with another 2,918 units not built yet.
For Kuala Lumpur, although the number of completed but unsold units totalled only 717, these have a combined value of RM1.13 billion. A total of 5,307 homes are under construction while work has not started on another 3,164 units.
Property transactions down second year running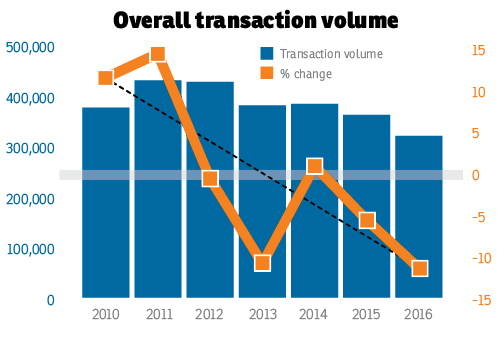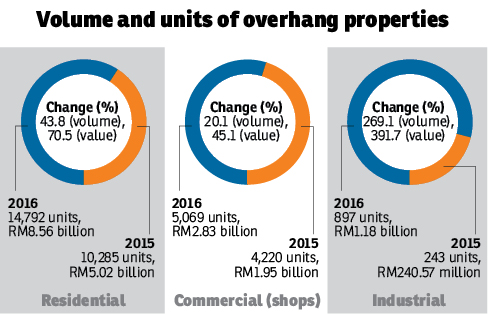 The volume of property transactions in the country dropped by 11.5% in 2016 to 320,425 transactions from 362,105 transactions the previous year.
Total value of transactions in 2016 were down by 3% to RM145.41 billion from RM149.9 billion, according to Napic.
In 2015, the total transaction volume was down by 5.7% y-o-y with total value down 8% y-o-y.
Last year also saw fewer new property launches with nearly 53,000 units compared with over 58,000 units in 2015, a decline of 9.8% y-o-y.
The slow market has also led to an increase in overhang units.
The residential overhang numbers grew to 14,792 units worth RM8.56 billion, up a whopping 43.8% in volume and 70.7% in value against 2015.
Industrial overhang at 10-year high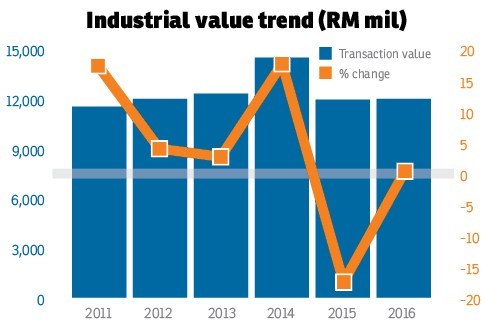 The overhang situation in the industrial property segment escalated last year with the number of overhang units at a 10-year high.
There was a total of 897 units of industrial property worth RM1.18 billion that were completed but remained unsold in 2016, compared with just 243 units (worth RM240.57 million) in the previous year.
According to Napic's Malaysian Property Market Report 2016 released on April 18, the state of Johor held nearly 36% of the national total number of industrial property overhang units, with 154 units worth RM0.5 billion, predominantly made up of semi-detached factories.
However, the number of unsold, under construction industrial properties in the country reduced by 26.8% y-o-y to 1,267 units while the number of unsold units that have yet to start construction was down by 32.2% to 59 units.
Overall, the industrial property sector last year recorded 5,609 transactions worth RM12.02 billion, a fall of 20.4% in volume from 7,046 transactions worth RM11.97 billion in 2015. Of note is that the total value of transactions has increased albeit by a slight 0.4%.
Ratio of housing loan applications to approvals rose in 2016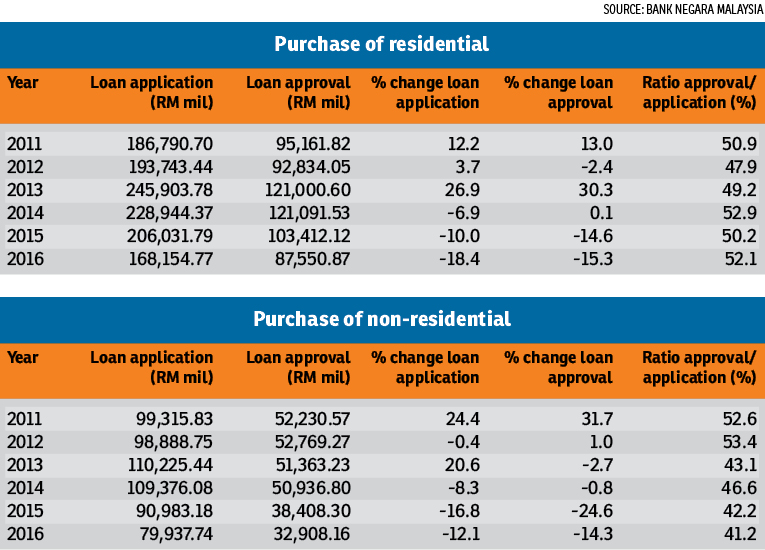 The amount of loan applications for residential property purchases totalled RM168,154.77 million in 2016 with RM87,550.87 million worth of loans having been approved. This translates to a loan applications to loan approvals ratio of 52.1%.
The figure was higher than the 50.2% recorded in 2015 but lower than the 52.9% ratio in 2014. The figures were revealed in Napic's Malaysian Property Market Report 2016, citing Bank Negara Malaysia.
Of note was the amount of housing loan applications which was significantly down by 18.4% from the RM206,031.79 million worth of applications in 2015. The amount of loan approvals also decreased by 15.3% from RM103,412.12 million worth of approvals a year earlier.
Occupancy rate for KL offices down to 77.9% as at end-2016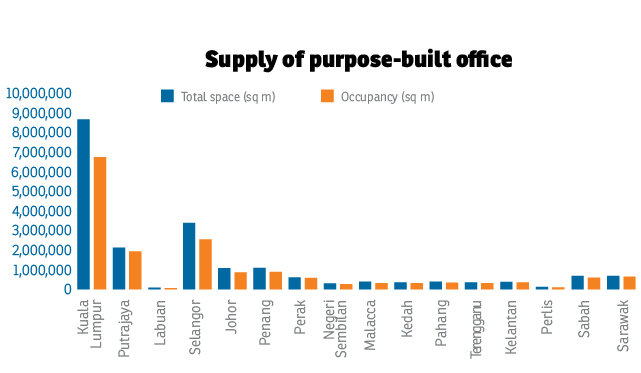 The average occupancy rate for offices in KL declined to 77.9% as at end-2016, from 81.2% a year earlier due to new supply that came on stream, exceeding 320,000 sq m, according to Napic's Malaysian Property Market Report 2016 released on April 18.
The Petronas Twin Towers led the rental market at a premium range from RM97 to RM154 psm. Integra Tower, Menara Shell, GTower KL and Menara Prestige also secured premium rentals.
Overall, the occupancy rate for the country's office subsector moderated from 83.7% in 2015 to 82.3% in 2016 but states that are dominated by government buildings generally secured more than 90% occupancy.
As at end-2016, there were 20.75 million sq m of existing office space in 2,465 buildings. Another 68 buildings will offer an incoming supply of 2 million sq m while 27 buildings will bring in some 800,000 sq m in planned supply.
This story first appeared in TheEdgeProperty.com pullout on April 21, 2017. Download TheEdgeProperty.com pullout here for free.