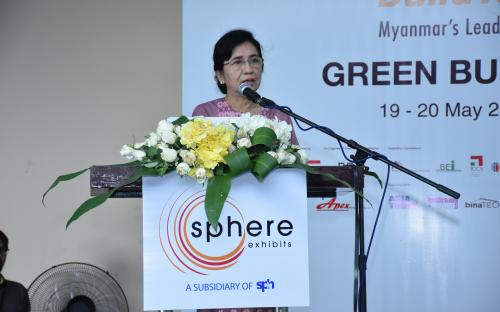 PETALING JAYA (June 16): BuildTech Yangon 2017, which focuses on the value chain for the build environment sector in Myanmar, has helped to establish a green network in the field of green building and architecture in the country.
The three-day conference was held between May 18 and 20. It is organised by Sphere Exhibits, a subsidiary of Singapore Press Holdings, and co-organised by the Myanmar Construction Entrepreneurs Association (MCEA).
"BuildTech Yangon continues to be a key platform for the building and construction sector in Myanmar, with many instances of new relationships forged and existing ones strengthened," said MCEA president U Tha Htay in a recent statement.
"We are particularly excited about the inclusion of the green building network of professionals this year and the contributions it would bring to Myanmar's growing green movement.
"MCEA is supportive of this initiative and believes that it will provide many opportunities for growth. We look forward to seeing the collaborations made during BuildTech Yangon bearing fruit for the industry and the economy," he said.
During the conference, a memorandum of understanding between MCEA and the Singapore Institute of Building Ltd was renewed to further extend their collaboration in advancing the industry.
The World Green Building Council (WGBC) participated in BuildTech Yangon for the first time this year, supported by the Singapore Green Building Council, the country's representative to the eminent international group.
"Myanmar is an exciting frontier market and we are glad that it has taken its first steps in the green building movement through this conference," said WGBC Asia Pacific Network regional manager Joelle Chen.
"We are excited to have participated in this event and have had many meaningful conversations with industry players in Myanmar and the region.
"We hope that through the conference and the support it has received, we will spur sustainable development and green growth in Myanmar, on their own terms, to achieve green buildings for everyone, everywhere," he said.
BuildTech Yangon 2017 was supported by Association of Myanmar Architects; Building Engineering Institute; Central Jakarta Chamber of Commerce and Industry; International Facilities Management Association, Singapore Chapter; International Powered Access Federation; Myanmar Engineering Council; Myanmar Engineering Society; Myanmar Industries Association; Malaysia Heavy Construction Equipment Owners Association; Master Builders Association Malaysia; Singapore Green Building Council; Singapore Institute of Building Ltd; Vietnam Building Ceramic Association; Vietnam Electronic Industries Association; Vietnam Federation of Civil Engineering Association; and Workplace Safety & Health (Asia).