SINGAPORE (Aug 25): Aug 22 saw the launch of collective sale tenders for two former HUDC estates - Florence Regency and Normanton Park - at a reserve price of S$600 million (RM1.89 billion) and S$800 million respectively.
Meanwhile, owners at Park West condominium are attempting a collective sale of the property at $750 million, subject to receiving the required approval of 80% of its homeowners.
So far in 2017, there have been eight successful collective sales – including that of Citimac Industrial Building – at a total value of approximately S$3.5 billion.
The most recent collective sale was that of privatized HUDC estate Tampines Court. On Aug 23, Huttons Asia, the marketing agent for Tampines Court, revealed that the collective sales committee had approved Sim Lian Group's S$970 million bid for the 702,164 sq ft site.
Privatised HUDC estates have been a favourite among developers seeking to replenish their land bank through collective sales this year – Rio Casa was sold to a consortium headed by Oxley Holdings for S$575 million; MCL Land bought Eunosville at S$765.78 million; Serangoon Ville was acquired by another Oxley-led consortium at S$499 million.
Florence Regency
Located at Hougang Avenue 2, Florence Regency comprises 336 apartment and maisonette units, and has a reserve price of S$600 million. Including differential premiums, currently estimated at S$249 million, the land price is about S$799 psf ppr. The tender exercise will close on Sept 27.
Florence Regency's asking price compares favourably to Serangoon Ville, which was sold at S$835 psf, and the Serangoon North Avenue 1 GLS site, which went to Keppel Land and Wing Tai at $965 psf ppr, according to marketing agent JLL.
The Florence Regency site is zoned 'Residential' with a gross plot ratio of 2.8 under the 2014 Master Plan, according to JLL The 389,236 sq ft site, which has about 71 years remaining on its lease, could potentially yield a total gross floor area (GFA) of over 1.1 million sq ft, or an estimated 1,100 to 1,300 apartment units. The site is located close to Hougang and Kovan MRT stations, Hougang Central Bus Interchange and Hougang Mall.
This is the development owners' first attempt in a collective sale, with more than 80% of the owners agreeing and signing the agreement in less than 3 weeks. The owners are expecting offers ranging from S$615 million to more than S$650 million, says Tan Hong Boon, JLL regional director of capital markets.
Normanton Park
Normanton Park, a former HUDC estate named after the road on which it sits has been put up for collective sale at a minimum price of S$800 million (S$898 psf ppr, including development charges and lease top-up premium), according to marketing agent Knight Frank. The tender exercise will close on Oct 5.
The current 23-storey development, located off Ayer Rajah Expressway, consists of 488 units, and can be redeveloped into a property with a maximum permissible GFA of 1.39 million sq ft. This means developers can transform the site into a project of approximately 1,380 units at 1,000 sq ft each, according to Ian Loh, Knight Frank's executive director and head of investment and capital markets.
Based on the 2014 Master Plan, the 661,000 sq ft site on which Normanton Park sits is zoned "residential" with a gross plot ratio of 2.1, and has approximately 59 years remaining on its current 99-year lease.
Park West Condominium
At Jalan Lempeng in south-western Singapore, Park West condominium is making its third collective sale attempt, with an expected selling price of S$750 million. The current expecting selling price is lower than the asking price of S$803 million during its 2011 en bloc tender, which did not receive any bids. In 2007, the first attempt by Park West owners at a collective sale fell through because it did not hit the required 80% approval among homeowners.
After taking into account an estimated $339 million in differential premium and lease upgrading premium (LUP), the land rate for Park West site works out to be about $818 psf ppr, according to marketing agent Huttons Asia.
Located about 600m from Clementi MRT Station and close to Nan Hua Primary School, the existing development houses 432 apartments and four shop units on a 633,644 sq ft site. The site has about 64 years remaining on its lease and is zoned residential with a gross plot ratio of 2.1 under the 2014 Master Plan.
Gross sale proceeds are estimated to be around a S$1.25 million to S$2.1 million for apartment unit owners, and around S$1.1 million to S$1.5 million for shop unit owners, according to Huttons Asia.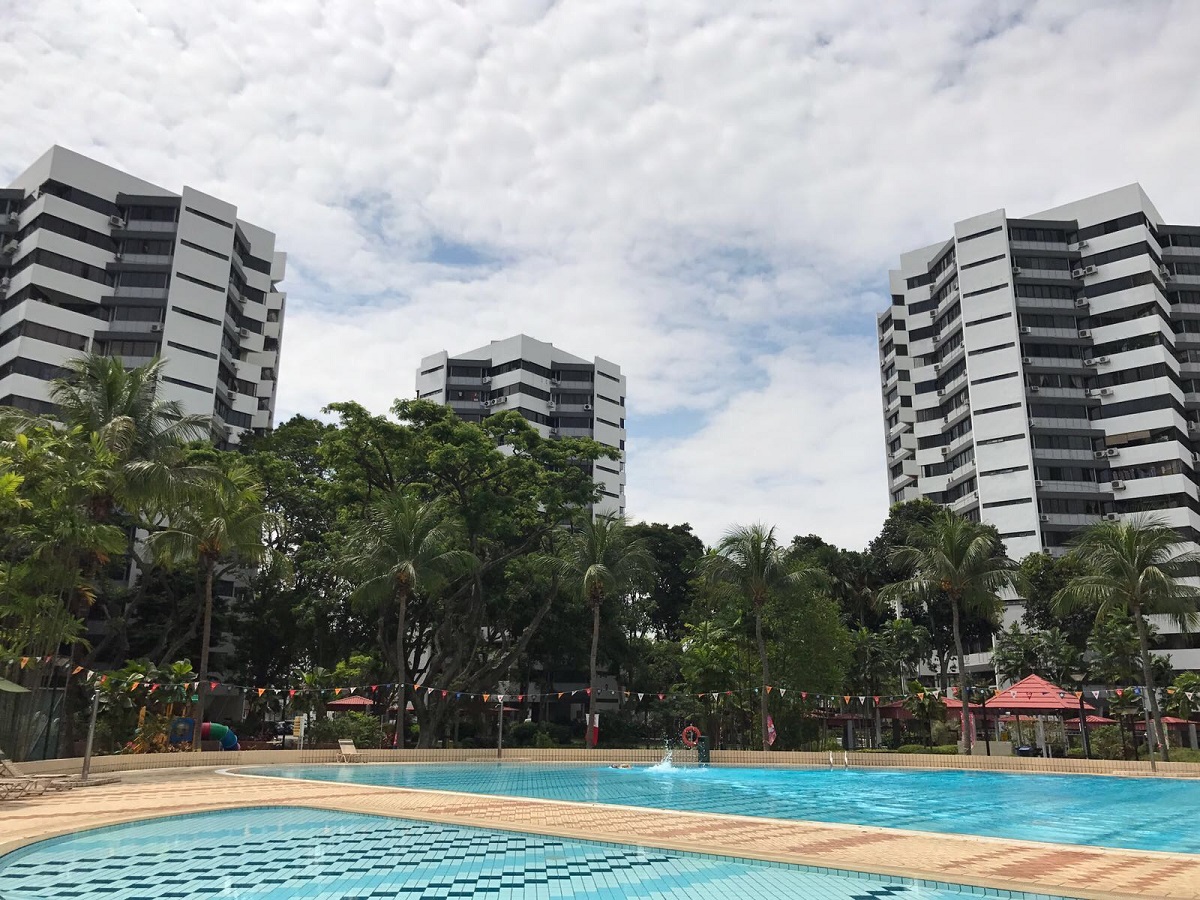 Like our content? Check out
Narratives
– where we curate stories based on topics to keep you well and broadly informed about Malaysian real estate.
Looking for property? Check out
Location Scan
, where we summarize all available options and facts you need in a few clicks. We have updated the tool to include MRT3 stations too.
Curious how much you can borrow? Use
LoanCheck
to get your maximum loan eligibility from various banks, or
LoanReport
to get a FREE CTOS/CCRIS credit report.