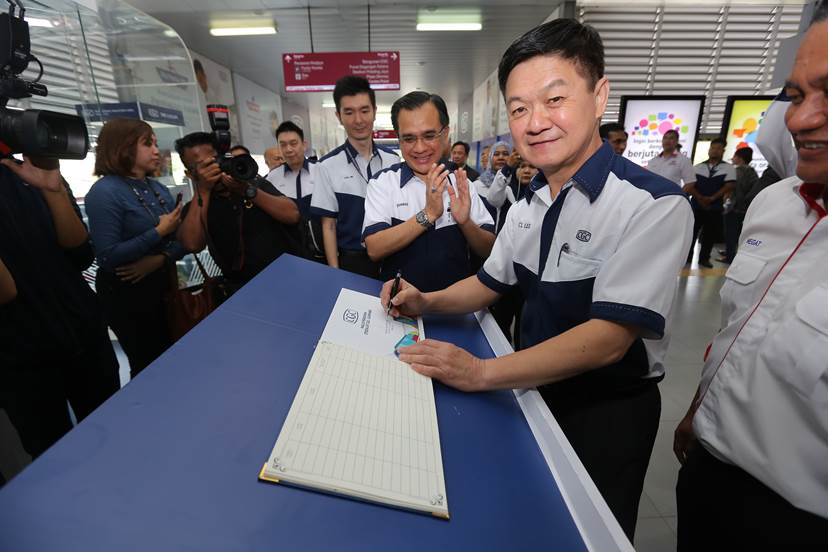 PETALING JAYA (Aug 30): The Glenmarie Light Rail Transit (LRT) station has been renamed CGC-Glenmarie LRT Station by Credit Guarantee Corporation Malaysia Bhd (CGC) today.
The CGC-Glenmarie LRT Station is the fourth to be rebranded under the station naming rights programme by Prasarana Malaysia Bhd, followed by AirAsia-Bukit Bintang Monorail Station, Bank Rakyat-Bangsar LRT Station and KL Gateway-Universiti LRT Station.
"The naming rights of CGC-Glenmarie LRT Station would be our maiden effort to utilise LRT station for corporate branding purpose.
"This is in tandem with our long-term objective and also in line with our ongoing effort to ensure CGC's exposure to the public, in particular LRT passengers," said CGC chairman Datuk Agil Natt in a statement.
"Prasarana Malaysia Bhd would like to record our appreciation to CGC for their support to our Station Naming Rights Programme. We firmly believe that this programme provides a win-win formula for CGC and Prasarana as we take the business of advertising and branding to new heights.
"With the increasing ridership for urban rail and public transport as a whole, this programme provides the perfect platform for corporate companies to reach out to their existing and potential clients of their branding and services," said Prasarana chief financial officer Megat Khairulazhar Khairodin.
According to CGC, the CGC-Glenmarie LRT Station is expected to reach out to more than five million commuters travelling on the Kelana Jaya line monthly.
Located 100m from the CGC headquarters and its main branch in Kelana Jaya, the CGC-Glenmarie LRT Station also has 570 parking bays and feeder bus services for commuters.