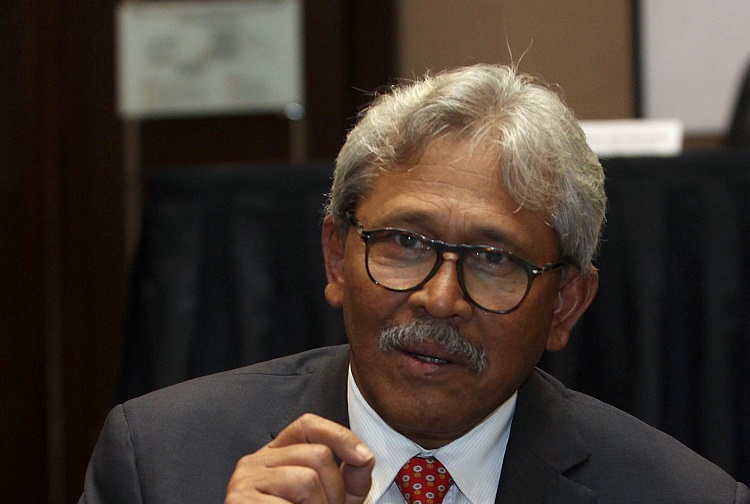 KUALA LUMPUR (Dec 4): Despite booking a 14% year-to-date gain closing at RM2.20 last Friday, Matrix Concepts Holdings Bhd is still undervalued, said chairman Datuk Mohamad Haslah Mohamad Amin.
After gaining over 80% since its listing four years ago, shareholders will be curious to know if the company can break past its current market capitalisation of RM1.63 million, given the softer property market.
After all, like many other property counters, Matrix Concepts has been trading sideways over the past six months.
"I've been telling analysts that Matrix is a jewel, especially as we've been reporting earnings growth despite the weak market," Mohamad Haslah, a former banker, told The Edge Financial Daily in an interview.
Mohamad Haslah also believes Matrix Concepts' price-earnings ratio (PER) and net tangible assets (NTA) indicate that the company is undervalued.
Based on last Friday's closing price, Matrix Concepts is valued at 1.51 times its NTA and 7.7 times earnings.
By those two valuations, the group does not seem to be very far off the mark from some of its peers of the comparable market capitalisation (see table).
For example, LBS Bina Group Bhd is trading at 1.28 times NTA, though its PER is almost double of Matrix Concepts at 13.37 times. LBS Bina had hit an all-time high of RM2.25 per share as at last Friday's closing bell.
Meanwhile, MKH Bhd is seen to be trading at 0.68 times NTA and 6.29 times earnings.
What's standing out, however, is that Matrix Concepts has a return on equity of 17.77%, which is significantly higher than its peers. It also commands "buy" calls by all analysts covering the stock, with a consensus target price of RM2.40, according to Bloomberg data.
The Negeri Sembilan-centric property developer considers itself primed for continuous growth despite the weak sentiment in the property market.
In fact, Mohamad Haslah is confident that Matrix Concepts will be able to sustain its annual property sales at RM1 billion for the financial year ending June 30, 2018.
This sales target is underpinned by the group's plans to launch some RM1.42 billion worth of affordable residential in Kuala Lumpur, Johor and Negeri Sembilan. On top of that, the group also has projects abroad, like its project in Melbourne, Australia.
"We are also confident about maintaining at least annual sales of RM1 billion in FY18," he said, noting that unbilled sales currently stand at around RM1.1 billion, which will be progressively recognised over the next two years.
In its latest financials, Matrix Concepts posted a 12% year-on-year (y-o-y) increase in net profit to RM51.38 million in the second quarter ended Sept 30, 2017, riding on a higher gross profit margin.
In the same period, revenue fell 10% y-o-y to RM202.9 million from RM224.85 million, mainly due to slower revenue recognition for the group's industrial developments.
It is interesting to see that Matrix Concepts enjoys relatively good margins compared with its peers.
Mohamad Haslah boasts that the group manages to sustain a net profit margin of 27% to 28% compared with an industry average of about 20%.
He points out that the group enjoys the advantage of low land costs as well as construction costs. This is because the group managed to acquire its land bank in its home turf, Negeri Sembilan, at relatively low cost. The group also has in-house construction and procurement subsidiaries that keep costs manageable.
Furthermore, the group has a healthy balance sheet, with a net gearing of 0.31 times and would be able to leverage on existing credit lines/facilities if need be. However, Mohamad Haslah does not foresee the group increasing its borrowings anytime soon as the company has already been provisioning for "bad times".
"We have built enough coffers in the event the property market takes a turn for the worse," Mohamad Haslah said.
Against this backdrop, Mohamad Haslah added that the group would maintain its conservative approach towards launching new developments.
Matrix Concepts group managing director and chief executive officer Datuk Lee Tian Hock said that the group will continue to schedule its launches based on market demand.
While the bulk of properties launched will be in Negeri Sembilan, the group has also ventured into Kuala Lumpur. The group's maiden project in the capital city is an affordable high-rise residential project located on a 1.1 acre (0.45ha) piece of land close to the Putra World Trade Centre that is expected to generate a total gross development value (GDV) of RM400 million.
The project is expected to be launched in the first half of next year and Lee said he is "confident that we (Matrix Concepts) can secure a take-up rate of at least 90% within the three months after the launch".
Although prices of the units have not yet been fixed, they are expected to start at around RM300,000 based on prices of RM600 to RM700 per square feet.
Given the pricing of the project, Lee said the group would not be affected by the recently announced freeze on approvals for luxury developments worth over RM1 million.
The group is also looking at its second project in the Klang Valley — a 5.8 acre piece of land in Puchong that is still in the early stages of planning.
"We envisage a transit-oriented development there but [we] are still waiting for approval from the local authority," explained Lee, noting that the project is expected to generate RM400 million in GDV.
On top of that, Matrix Concepts has one ongoing property development project in Melbourne with a GDV of A$32.8 million (RM101.8 million). Named M Carnegie, the 75% sold project is expected to complete construction in mid-2018.
Looking ahead, Mohamad Haslah anticipates that the market is unlikely to see a strong recovery in 2018. However, he believes that there are always "opportunities in the downturn".
Looking at the group's plans to replenish its land bank in the Klang Valley, Mohamad Haslah said Matrix Concepts is in a good position to cherry pick selective land with good values that could be accretive to its future earnings.
"We have been looking for pockets of land, and we are not in a rush [to acquire them]," he said.
On plans to expand its overseas venture, particularly in Australia, Mohamad Haslah said that the group is eyeing pockets of opportunity.
Note that the group has 1,600 acres of land bank. Lee estimated that Matrix Concepts could develop projects worth around RM7 billion in GDV within the next seven to 10 years.
Looking beyond the group's property development arm, Mohamad Haslah maintained that the group is committed to giving back to the community via its wholly-owned education subsidiary, Matrix Global Education Sdn Bhd.
Lee said that the group aims to increase its student base from 780 currently to 1,000 by 2018, which will make its schools profitable. The group operates Matrix International Pre-School, Matrix International School and Matrix Private School in its township of Bandar Sri Sendayan, Seremban, Negeri Sembilan.
Separately, Matrix Concepts is also planning to build a RM400 million 400-bed hospital in the township.
The group is currently in talks with Taiwan's Changhua Christian Hospital and hopes to complete negotiations by February next year and ink a definitive agreement.
"We want them to become not just a hospital operator, but to take an equity stake in our joint venture and act as a strategic partner," Lee said.
If all goes well, Lee said construction could start as soon as next year and would take around 2.5 years to complete.
This article first appeared in The Edge Financial Daily, on Dec 4, 2017.
For more stories, download EdgeProp.my pullout here for free.