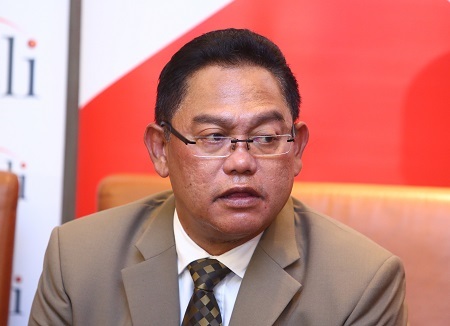 PUTRAJAYA (Feb 14): There is no foul play in the fire that broke out at the Employees Provident Fund (EPF) building in Jalan Gasing, Petaling Jaya yesterday, said Urban Well-being, Housing and Local Government Minister Tan Sri Noh Omar (pictured).
He said that the fire broke out during the External Insulation Finishes System (EIFS) or waterproofing works using "granule bitumen membrane roll" being carried out on the first floor of the building's rear foyer, Bernama reported.
The waterproofing membrane had to be melted using the single-burner flame gun method and liquefied petroleum gas (LPG) so that the material can stick to the concrete floor, Noh explained.
"The contractor was not aware that the cladding for the building from the EIFS-type was made of combustible materials, namely polystyrene foam, when carrying out the melting method.
"The EPF building had gone through renovations involving the installation of the cladding in 2003," he told a media conference at his office today, Bernama reported.
"The source of flames that triggered the fire came from the LPG, which was used on the single-burner flame gun, and was exposed to the cladding installed outside the (building) wall. Subsequently, the fire spread rapidly on the cladding that was made of polystyrene foam," said Noh.
According to the minister, the fire involved just 5% the building — on the left and rear portion of the building, and only a small area on the sixth floor.