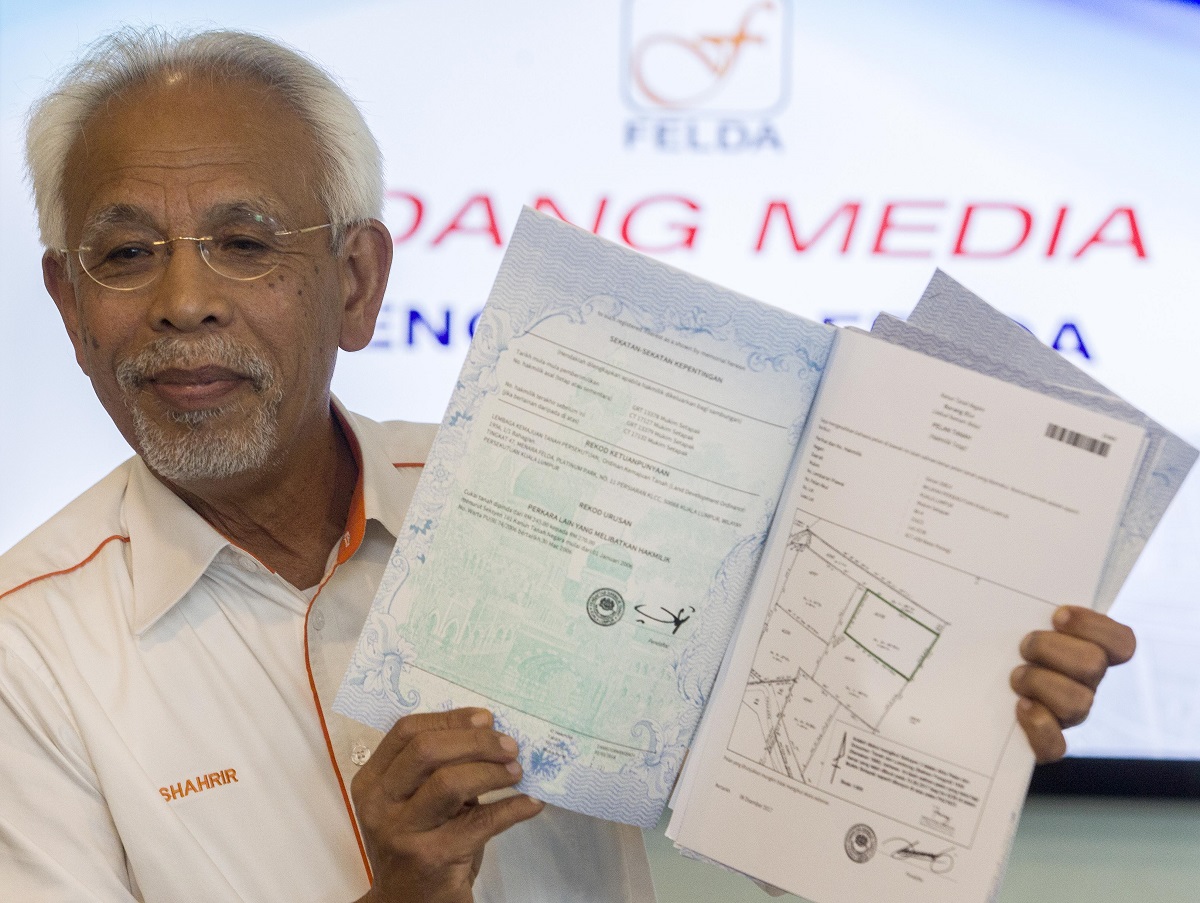 KUALA LUMPUR (March 9): The Federal Land Development Authority (Felda) has confirmed today that the 16 parcels of land in Jalan Semarak involved in a dubious land ownership transfer deal has been re-registered under its name.
As proof, Felda chairman Tan Sri Shahrir Samad showed reporters during a press briefing at its headquarters today, all the land grants of the respective 16 parcels of land with Felda's name printed on them.
Shahrir said the land was returned to Felda following the signing of a memorandum of understanding (MoU) between Felda and local developer Synergy Promenade Sdn Bhd (SPSB) back on Jan 15.
With the signed MoU, Shahrir said two other matters have been agreed upon, besides the return of the lands with no cost to Felda. The second matter is for the master development pact on the land to be renegotiated, and the last is for police investigation with regards to the case to continue.
"Our Special Consultative Committee that was formed on Feb 8 will renegotiate the terms of the master development agreement with SPSB to improve on the terms," Shahrir said. The pact was inked between Felda's investment arm, Felda Investment Corp Bhd, and SPSB to develop Kuala Lumpur Vertical City (KLVC) on the land.
The police investigation, he added, will go on without any interference. Shahrir added that the police have called upon the witnesses to testify for the case, but declined to comment any further.
Shahrir said the plots measured 8.09ha in all, and he stressed that they were returned free from any encumbrances.
Ownership of the plots came under scrutiny after a local daily newspaper reported that Felda's prime parcels in Jalan Semarak, Kuala Lumpur that were worth some RM270 million had been suspiciously transferred to a newly formed developer, SPSB, which was tasked with developing the KLVC high-rise project.
Following the revelation, Shahrir had lodged a police report which stated that the transfer of ownership contained "elements of fraud".
Separately, Felda has denied Sarawak Report's claims in a March 2 report — accompanied by a snapshot of a letter it claimed was from the Felda chairman's office dated April 1, 2013 — that Felda allegedly agreed to invest in Australian company Ladylaw Securities Pte Ltd.
"Felda has never approved any investment with Ladylaw Securities Pte Ltd. Felda would like to stress that the letter attached in the article relating to an investment agreement amounting to US$1 billion was fabricated," it said in a statement.
According to the report, the proposed US$1 billion investment would be used to buy a portfolio of buildings, including offices occupied by Australian government agencies and the Qantas headquarters in Sydney, on top of investments into Canadian oil and gas ventures. — theedgemarkets.com
For more stories, download EdgeProp.my pullout here for free.