Family bonding over a meal is one of Lim Boon Ping's most treasured moments and nothing pleases him more than to see his family enjoying a meal he has prepared.
Indeed, Lim — who is Kim Realty's director of training and development and also the Malaysian Institute of Estate Agents president-elect — loves to cook. "I lost my elder brother and mother when I was 13. That was the year I started cooking for the family," he tells EdgeProp.my.
His love for cooking has grown over the years — today, besides being an accomplished real estate agent of over 20 years, Lim has even started his own cooking "show" on Facebook to share his passion for food and cooking.
He is none other than Ah Pa on the Facebook page called "Cooking Ah Pa" for cooking fans (www.facebook.com/cookingahpa), which was set up by Lim at end-2016. The fan page had about 1,100 followers in its first year but the number has grown tenfold over the past four months.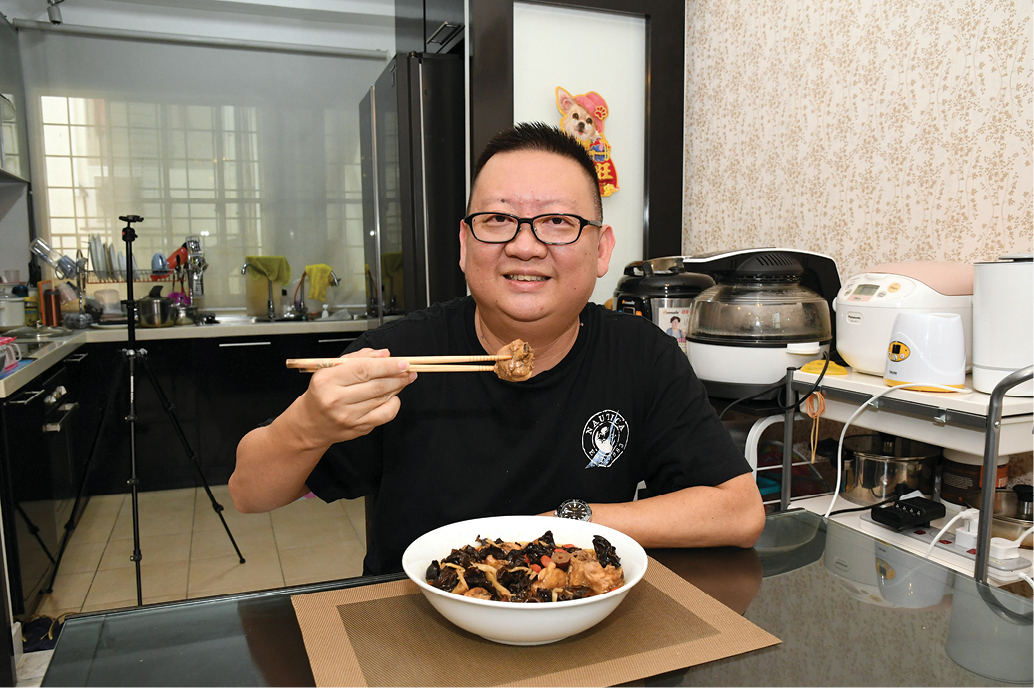 "Earlier in my own personal Facebook page, I had uploaded photos of food and cooking tips, but people started complaining that my Facebook wall is very messy, and for cooking fans, it was difficult to look for my old cooking tips, as they were all jumbled up with my posts about my family as well as my career as a property agent and trainer. So I created a fan page for those who were interested in my cooking tips. This was how Cooking Ah Pa started," Lim recounts in between recording a cooking demo of yellow wine chicken for Cooking Ah Pa.
He initially only shared photos and texts in the first year of the fan page, but this changed four months ago after he received a gift from his wife — a flexible long-arm smartphone holder.
"The holder has a clamp that allows you to secure the mobile phone on the bed frame, so you don't have to hold the phone when you are watching videos in bed. It inspired me to use it to record my cooking on video," he says.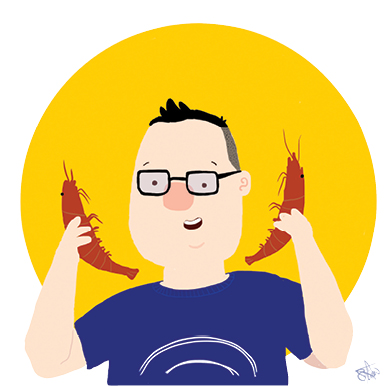 With the help of the smartphone holder and his mobile phone, Lim shot and uploaded his first cooking demo video last year. Since then, he has constantly strived to improve the quality of the videos and has spent around RM2,000 for video-recording gear to shoot more than 120 videos to date. Investing in the videos has certainly paid off. Cooking Ah Pa's Facebook followers have increased from 1,100 to more than 11,000 since the first video was uploaded in December last year.
He has also started a YouTube channel recently (www.youtube.com/cookingahpa), which has garnered more than 760 subscribers and more than 130,000 minutes of viewing time.
"The response is beyond my expectations. I did not do all these to compete with young YouTubers. I try to improve the video quality all the time because I have my own demands on the quality. I enjoy doing it and I want my next video to be better than the previous one," he says.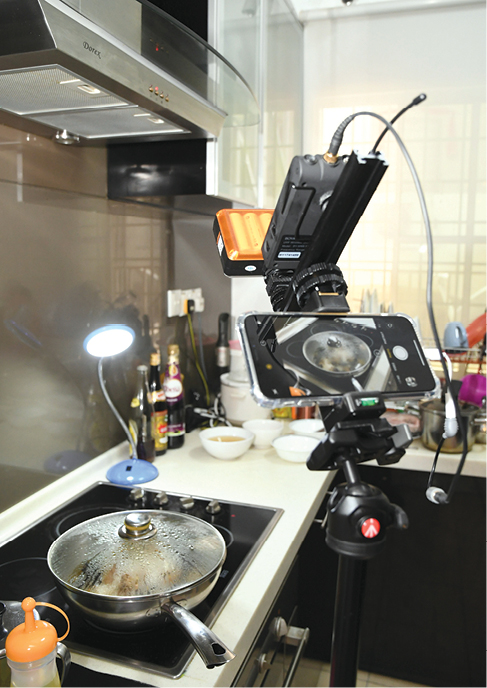 Food bonds a family
To Lim, dinner time is the most important time for the family. "My mum was a very good cook but she passed away when I was only 13. That was the time that my dad, my brother and I ate out quite a lot. So I decided to cook something simple every day so the family would get the chance to sit down at the table together," he says.
He continues to do that now that he has his own family. He lives in a condominium with his wife, daughter and mother-in-law.
"I don't mind eating out, but I always prefer to cook simple, healthy meals and enjoy it with my family at home. Some people hate the oily smell at home after cooking, but to me, that is the smell of a family," he enthuses.
To him, the kitchen is the most important space in a home.
"You do not need a big kitchen. It just has to be very practical and functional, allowing you to cook what you want for your beloved family," he shares.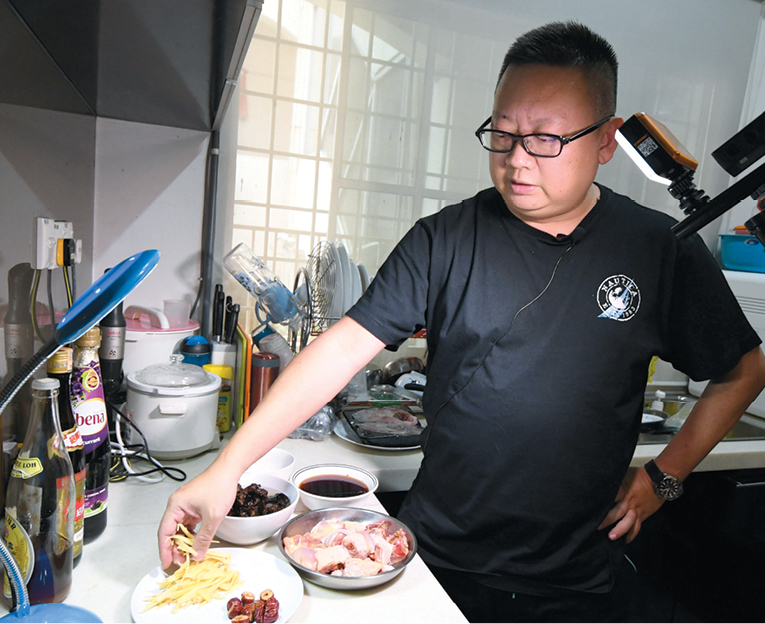 Cooking is also a homage to his late mother. "I did not realise the deep influence she had on me until I started cooking more frequently," he notes, citing one of his cooking habits of tapping the spoon at the side of a pot to make sure nothing is left on the spoon. "Some fans commented that the spoon tapping is irritating so I reminded myself to do it less."
"Where did I get this habit from? It was from my late mother. When I was little, I sat at the kitchen and watched my mum cook. It was her signature move when cooking. The tap was a signal that a dish is almost ready. I did not know I had picked up the habit until I found myself doing it while cooking after I got married. Sometimes I have a feeling that my mum is cooking with me," he says.
The purpose of the Cooking Ah Pa Facebook fan page and the YouTube channel is to share his passion and knowledge about cooking.
"I always tell my followers that I'm not here to teach — because I'm not a professional chef — but to inspire them to come up with more home cooking ideas and to encourage family bonding over the dining table," offers Lim.
This story first appeared in EdgeProp.my pullout on April 13, 2018. Download EdgeProp.my pullout here for free.