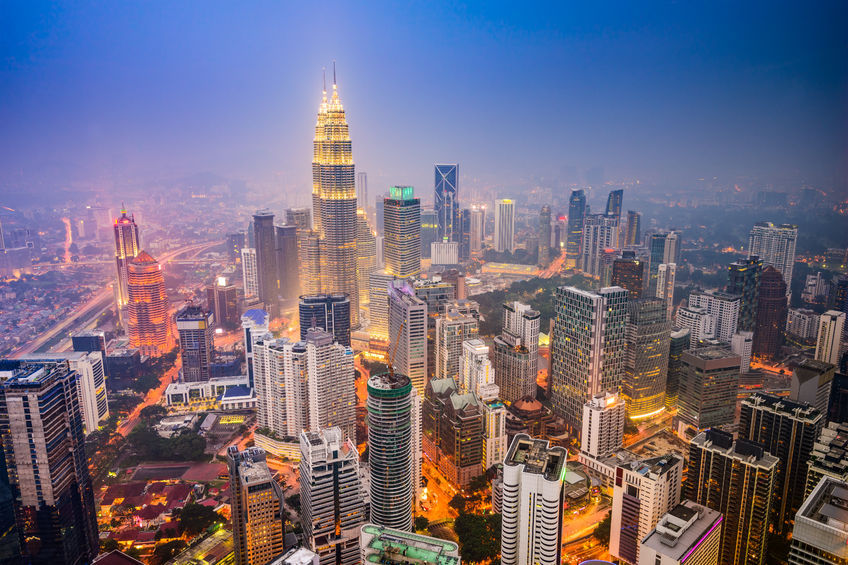 PETALING JAYA (April 26): The positive economic outlook and re-covering ringgit will attract more investors who are currently taking a wait-and-see approach, in spite of the overall weak property market across various segments, said property consultancies Edmund Tie & Co (SEA) Pte Ltd and Nawawi Tie Leung Property Consultants Sdn Bhd.
In their "Kuala Lumpur 1Q2018 — Election provides a brief distraction to market challenges" research report, both firms said that interest from overseas on investment sales will largely come from Mainland Chinese investors and developers, as Malaysia is seen as an important partner in the Belt and Road Initiative and would be unaffected by the recent capital controls imposed in China.
"The recent interest rate hike of 25 basis points will not have any major impact on market sentiments but investors will be monitoring the US Fed's intentions.
"The frequency and magnitude of potential hikes for the rest of the year will have significant implications on local borrowing rates, fund flow and currency exchange rates.
"The outcome of the upcoming election will also have long term implications on the economy going forward. Whether there is a continuation of tried and tested policies of the present administration or a drastic overhaul is dependent on the election results," said the report.
Malaysia's investment property market has been off to a slow start in 2018, with total investment sales in 1Q18 dropping sharply by 76% to RM246.5 million from RM1 billion a year ago.
The report attributed the slowdown in investment sales to seasonal factors and the uncertainty surrounding the impending general elections which may potentially alter the course of the country.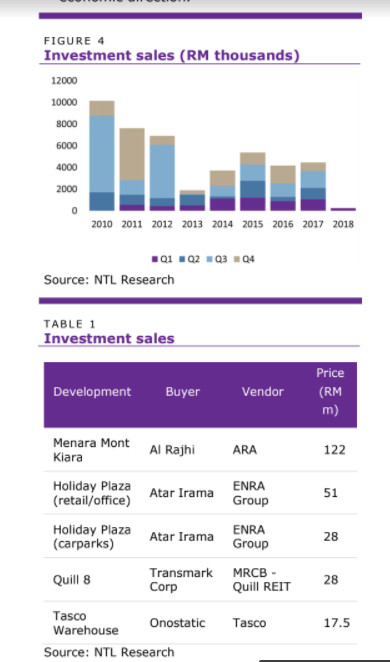 The biggest deal during the period was the sale of Menara Mont'Kiara to Al Rajhi for RM122 million.
On the office sector, the average monthly rent dipped 0.7% from RM6.02 psf to RM5.98 psf quarter-on-quarter (q-o-q) due to low absorption rate and the large amount of supply.
Meanwhile, occupancy levels remained subdued, dropping slightly to 80% in 1Q18 from 80.4% in 4Q17.
The occupancy of retail malls in Kuala Lumpur eased to 86% q-o-q in 1Q18, compared to 87% in 4Q17.
Total retail stock in KL remained at 31 million sq ft without any new completions in the quarter.
The completion of M Square Mall in Puchong increased the total stock outside KL to 31 million sq ft.
Retail sales for 1Q18 is expected to grow by 5.4%, after accounting for the Lunar New Year season; while retail growth for the overall year is expected to be at 4.7%.