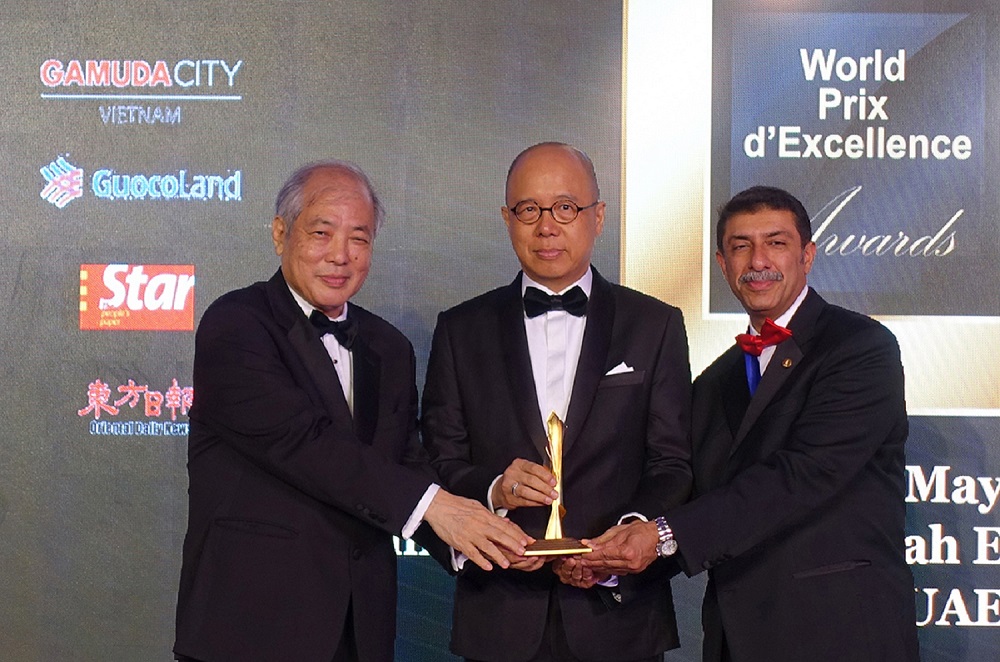 PETALING JAYA (May 3): Gamuda Land's Gamuda City – its first town development in Hanoi, Vietnam – was awarded the World Gold Award for Environmental (Rehabilitation/Conservation) at the FIABCI World Prix d' Excellence Award 2018 held at the Jumeirah Emirates Towers in Dubai last night.
"We are truly honoured to receive this renowned award for Gamuda City, our 172ha town in Hanoi, Vietnam. To receive this award is a big testament to our town-making principles, one of it being 'listening to what the land has to tell us'. When we work closely with nature to restore and rejuvenate the land, we create a better place for the community to call home," said Gamuda Land CEO Ngan Chee Meng in a statement today.
FIABCI World Prix d'Excellence recognises projects that best embody excellence in all the real estate disciplines involved in its creation, and has recognised projects from 60 member countries.
The Environmental (Rehabilitation/Conservation) category judges entries based on the architecture, design and planning, sustainable construction methods, environmental impact, and community benefits, among other criteria.
Gamuda Land had rehabilitated Yen So Park and Yen So Lakes which surround Gamuda City from a wasteland into a scenic parkland.
"When we first came here [Vietnam] in 2007, the absence of a proper sewage system in Hanoi has resulted in contamination of its waterways and lakes and has created a growing concern for public health and the need for better water management practices.
"Backed by our credible experience and expertise in drainage and wastewater treatment projects, a proposal was made to the government of Hanoi to build Yen So Sewage Treatment Plant (STP) as well as to rejuvenate Yen So Park in exchange for land development rights," Ngan said.
Today, the Yen So STP manages and treats up to 40% of Hanoi's wastewater discharge daily, which amounts to 200,000 m3 per day, meeting the sewage requirements of south and eastern Hanoi.
The effluent from the plant fully meets the environmental standards of the Vietnam government, he added.
Meanwhile, Gamuda Land chief architect Eddie Chan said: "The rejuvenation of Yen So Park has also repositioned south Hanoi as an attractive location vis-à-vis the north, which was historically a better-favoured location for development and dwellings. Gamuda Land's mindful planning and rejuvenation of Yen So Park has restored the land to its natural beauty, resulting in a conducive environment for further developments and investments to pour into the area."
"What is most heart-warming for us is to see thousands of Hanoians enjoying the park facilities, especially on weekends and that is a common sight on any given weekend. When we listen to the land in this way, it allows us to create a place where biodiversity thrives and our community can grow up and grow old in, for generations to come," he added.