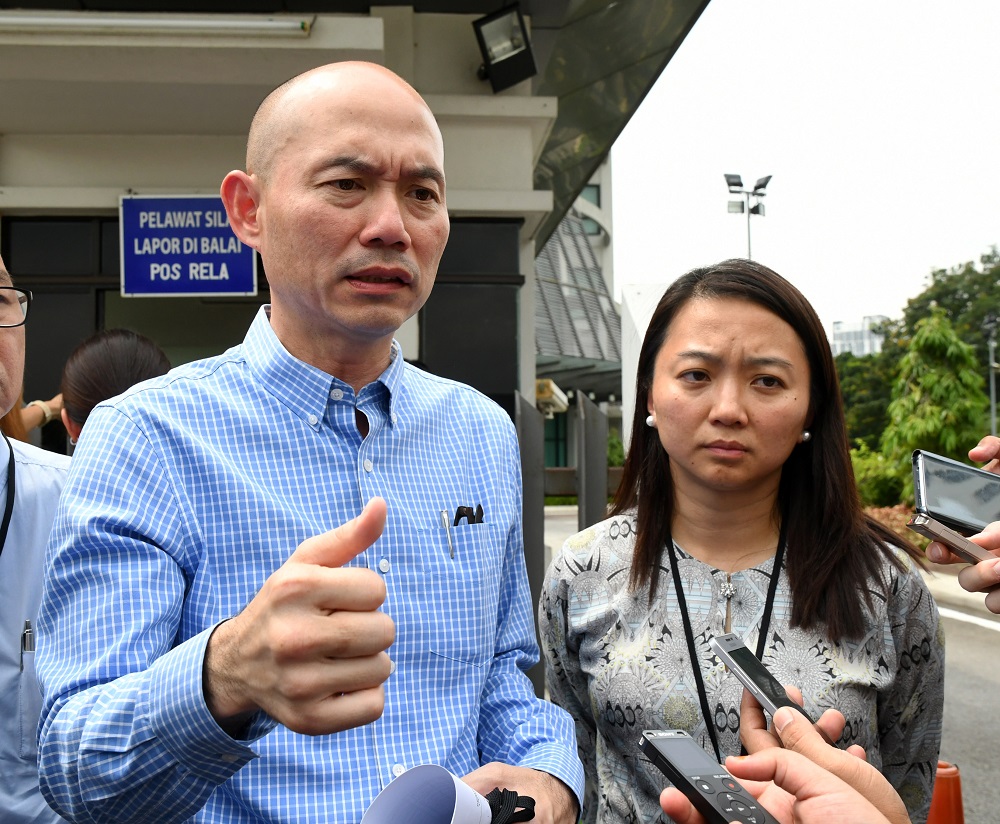 KUALA LUMPUR (May 16): Kepong MP Lim Lip Eng has lodged a report with the Malaysian Anti-Corruption Commission (MACC) today to investigate 64 parcels of land sold by Kuala Lumpur City Hall (DBKL) under the purview of the former Federal Territories minister Datuk Seri Tengku Adnan Tengku Mansor from 2013 to 2018.
According to Lim, the 64 lands have a combined area of 424.29 acres and a total transaction value of RM4.28 billion.
Less than half of the lands were sold for Federal Territories Affordable Housing (RUMAWIP) development while the rest were meant for expensive residential and commercial products priced at market value, he alleged.
"All of the lands were sold without open tender and most of them were transacted at below the market price at that time and without having gone through a valuation report," he told reporters at the entrance of the MACC office along Jalan Cochrane here today.
On top of that, some of the developers who bought the lands have failed to pay the development charges and the premium on the conversion of land use, yet their projects on the lands were able to commence construction works, he continued.
"So, we want to know why the projects are allowed to be undertaken despite the development charges and premium not being paid. In addition, why the developers can collect the 10% down payment from buyers although they did not pay the fees?" he asked.
"We have met MACC officers just now and we have asked them to raid the offices of those who are involved in the land sale, including developers and Yayasan Wilayah Persekutuan (YWP) before the evidence is destroyed. Some of the lands were transferred to Yayasan Wilayah Persekutuan before being sold to developers," he said.
He also said that Tengku Adnan should be the first individual investigated by the commission due to his capacity as the minister of Federal Territories at that time and also the chairman of YWP.
As of today, some of the developments on the 64 plots of land have been completed while the rest are either under construction or have yet to commence construction, Lim claimed.
Lim emphasised that he is not trying to call a stop on the projects on the affected parcels that already started construction, but is only seeking to halt the projects that have yet to commence work.
"For RUMAWIP that are already completed [or still under construction], they can still proceed. Those are public housing for the benefit of the people, even though the whole procedure and transaction was wrong. So, let them proceed and complete and let the buyers get their houses.
"What we are talking about is to go after the developers and person involved in this case. And we also want MACC and DBKL to stop those projects that have not started construction, such as the Taman Rimba Kiara project," he explained.
Meanwhile, Segambut MP Hannah Yeoh lodged a separate MACC report against YWP over the land sale in Taman Rimba Kiara, Taman Tun Dr Ismail to stop the proposed project on the site.
Jointly undertaken by Malton Bhd and YWP, the project involves eight blocks of high-end serviced apartments and one block of affordable housing.
"We are not against the provision of public housing to the people. But I think it is for far too long a vehicle like YWP uses housing as an excuse for them to do deals like this.
"We should seek to recover whatever we can, so I hope that MACC will act immediately," she said.
She added that the land in Taman Rimba Kiara was acquired by YWP under Tengku Adnan's purview and then sold to the developer in the name of providing housing for the longhouse residents.
"We have done a separate survey just to reveal the cost for building houses for the long house residents and it shows that it will only cost about RM15 million to build for them.
"There is no need for [YWP] to pay RM60 million to acquire from the government the land and then do a third party transaction and sell it out to the developer. They are just using housing as an excuse to do this kind of transaction, so I'm lodging a separate complaint just on Taman Rimba Kiara," she elaborated.
Meanwhile, Protect Taman Desa Coalition also lodged a report with MACC Putrajaya seeking a full and thorough investigation of Tengku Adnan's role in the transfer of land belonging to DBKL in Taman Desa and Kuala Lumpur to YWP and private developers.
Following discussions with DBKL over complaints of overdevelopment in Taman Desa, the residents decides to file the report when it was discovered that two parcels of land — one gazetted and designated for a community centre, and another for a public library and park — have been transferred to private developers for development of RUMAWIP and upmarket condominiums respectively, said the coalition in a statement.
Controversial land deals by Dewan Bandaraya Kuala Lumpur
Controversial land deals handled by DBKL start from 2013

No

Land details

Land size (acre)

Transaction price (RM)

SPA date

Proposed development

1

Lot 345 (PT 193) Seksyen 48, Jalan Kolam Air, Off Jalan Kuching, Kuala Lumpur

4.92

41.30 mil

Oct 10, 2014

1,398-unit serviced apartment

2

Lot 28, Seksyen 40, Jalan Munshi Abdullah, Kuala Lumpur

2.78

15.68 mil

May 12, 2014

Commercial

3

PT 9243 H.S. (D) 119590, Mukim Kuala Lumpur (Velodrom)

12.34

133.5 mil

Nov 16, 2015

Mixed development

4

PT 15, Seksyen 90, Jalan Pudu Ulu, Cheras

2.67

32.30 mil

Oct 10, 2014

361-unit serviced apartment

5

Lot 27211 (PT. 5701) HS (D) 80683, Jalan Genting Klang, Setapak, Kuala Lumpur

11.1

56 mil

Oct 1, 2015

3,600-unit RUMAWIP mixed development

6

Lot 48679 (Lot 57575) PN 41541, Mukim Kuala Lumpur Desa Sri Hartamas

1.01

20.21 mil

Oct 16, 2014

Mata Hospital

7

PN 33266, Lot 16, Seksyen 91, Jalan Lombong, Mukim Bandar Kuala Lumpur

31.7

418.22 mil

Sept 30, 2015

Mixed development

8

PN50199, Lot 68303, Mikum Batu, Pusat Bandar Utara Selayang, Kuala Lumpur

5.13

48.2 mil

August 19, 2014

916-unit serviced apartment

9

PN 14236, Lot 127, Seksyen 94, Jalan Syed Putra, Kuala Lumpur

1.34

21.17 mil

Sept 22, 2015

Residential

10

Lot 24344, PT 13975, Lot 37304 (PT 4770) and PT 5328, Mukim Petaling

44.8

189.12 mil

Jan 13, 2015

630-unit medium cost mixed development

11

PM 875, Lot 17911, Mukim Setapak

2.94

35.64 mil

Nov 27, 2014

820-unit servcied apartment

12

Lot 37890, Jalan Raden Tengah, Kuala Lumpur

2.61

30.48 mil

Oct 13, 2014

Mixed development

13

Lot 36464 & 36465, Bukit Jalil, Mukim Petaling, Kuala Lumpur

0.9

14.4 mil

June 4, 2015

954-unit serviced apartment

14

Lot 195, Seksyen 58, (PT38) Jalan Pinang, Kuala Lumpur

1.32

145.05 mil

June 10, 2015

Commercial

15

Lot PT 24 Hs(D) 49324, Seksyen 47, Bandar Kuala Lumpur

1.5

62.64 mil

May 5, 2015

602-unit condominium

16

Lot 54384 Taman Tun Dr Ismail

0.51

11.58 mil

Feb 23, 2015

Mixed development

17

Lot 660 PN 14237, Seksyen 94, Jalan Syed Putra, Kuala Lumpur

3.22

45.41 mil

Oct 10, 2014

872-unit serviced apartment

18

Lot 54838 H.S(D) 101721, Taman Danau

1.7

12 mil

Sept 26, 2016

340-unit condominium

19

Lot 11589, Mukim ampang, Kuala Lumpur

3.06

16.08 mil

Nov 27, 2014

700-unit RUMAWIP

20

Lot 548 (PT 6584 & PT 6585) H.S(D) 103596 & H.S.(D) 103595, Mukim Kuala Lumpur

11.45

65 mil

June 20, 2014

200-unit RUMAWIP, 200-unit low cost houses and 2,060 residential units

21

Lot 38295, Jalan Kelang Lama, Mukim Petaling

0.5

9.72 mil

Oct 13, 2015

149-unit serviced apartment

22

PN 35213 Lot 62221, Mukim Batu, Jalan Batu Muda Tambahan 3, Kuala Lumpur

5.77

25.22 mil

April 29, 2015

1,226-unit RUMAWIP, 28-unit retail shops, 32-unit offices

23

PN 50941 Lot 40401, Mukim Petaling

13.68

105.6 mil

Nov 2, 2015

1,398 RUMAWIP

24

Lot 3338 Seksyen 41, Jalan raja Muda Musa, Kg. Bharu, Mukim, Kuala Lumpur

2.78

20.6 mil

Oct 1, 2014

206-unit RUMAWIP and 320 residential units.

25

Lot 32075 PN 36244 Jalan Kuchai Lama Mukim Petaling, Kuala Lumpur

1.71

10.2 mil

May 11, 2016

556-unit RUMAWIP

26

Jalan Padang Walter Grenier, Seksyen 67, Bukit Bintang

1.08

86.38 mil

March 3, 2015

Mixed development

27

Lot 54853 PN 46467 Mukim Batu

2.09

12 mil

March 10, 2015

254-unit RUMAWIP & 258-unit serviced apartment

28

Lot 3, Seksyen 48, Jalan Ipoh, Kuala Lumpur Mukim Kuala Lumpur

0.22

3.36 mil

Oct 26, 2015

Commercial

29

PT 2648 H.S(D) 119600, Mukim Ampang Kuala Lumpur

8.48

31.82 mil

May 6, 2015

1,920-unit RUMAWIP & 300-unit low cost houses

30

Lot 148 PN 22942 Seksyen 85A, Bandar Baru Sentul, Kuala Lumpur

1.15

8.1 mil

May 28, 2015

351-unit RUMAWIP

31

HS(D) 119648 PT 9902 (Lot 201177) Mukim Setapak

1.82

16.2 mil

April 25, 2017

274-unit RUMAWIP & 274 residential units

32

Mukim Batu, Kg. Chim Lee, Kepong

15.32

40.19 mil

Sept 5, 2016

Mixed development with 638-unit affordable homes

33

Lot 737 – 741 Seksyen 56, Bandar Kuala Lumpur (next to UTC Pudu)

15.24

700 mil

Oct 30, 2015

Mixed development

34

PT54 Seksyen 87 A, Jalan Padang Tembak Kuala Lumpur

0.54

4.92 mil

Oct 10, 2015

Mixed development

35

PN 51176 Lot 20004 (PT117) & HS(D) 118974 (PT118) Seksyen 84 Sentul

1.86

1.23 mil

May 7, 2015

250 low cost homes

36

Lot 365, PN 15226 Lorong Maarof, Jalan Bangsar (Flat Seri Pahang) Kuala Lumpur

9.82

222 mil

Sept 22, 2015

Mixed development with 3,257-unit RUMAWIP

37

Lot 54840 PN 33264 Taman Desa Mukim Bandar Kuala Lumpur

1.07

6.6 mil

Nov 22, 2017

323 affordable homes

38

Lot 40270 Mukim Petaling Kuala Lumpur

1.59

8.99 mil

Sep 8, 2017

983-unit RUMAWIP

39

HS(D) 120079 PT26889 Taman Metropolitan Kepong

9.15

12.25 mil

Feb 19 & April 28, 2016

1,514-unit RUMAWIP & 1,472 residential units

40

PT2204 HSM 9363 Lot 33545 BT 43/4 Jalan Kelang Lama

0.93

20.25 mil

April 19, 2017

Office

41

Lot 53427 & 53653 Bandar Tun Razak (Next to IDB)

4.05

20.53 mil

July 1, 2016

427-unit RUMAWIP & 623 residential units

42

PT 15252 (next to Lot 38469) in Bukit Jalil

6.85

11.65 mil

Nov 25, 2016

1,050-unit RUMAWIP & 1,052 residential units

43

Lot 54967 & 54968, Jalan Midah 1, Taman Midah, Kuala Lumpur

0.11

3.72 mil

June 1, 2016

Commercial

44

Lot 25580 & 25078, Kg. Wirajaya Mukim Setapak

7.63

19.6 mil

May 26, 2017

Mixed development with 953-unit RUMAWIP

45

Lot 28065, PN 35365, Mukim Setapak, Jalan Wangsa Delima 8, Wangsa Maju, Kuala Lumpur

2.8

24.32 mil

April 20, 2017

441-unit RUMAWIP & 435-unit residential

46

PT 14996, HSD 118734 Jalan Sungai Besi, Mukim Petaling

4

16.52 mil

March 10, 2015

512-unit RUMAWIP

47

Lot 80718 PN 51359 Mukim Batu

2.78

6.12 mil

Nov 21, 2016

Mixed development with 708-unit RUMAWIP

48

HS(D) 120080 PT26890 Mukim Batu

10.08

19.5 mil

Sept 6, 2016

1,520-unit RUMAWIP & 1,512 residential units

49

Lot 54779 PN 33204, Jalan 3/109 F, Taman Desa, Mukim Kuala Lumpur

0.76

11.17 mil

Aug 15, 2016

263-unit serviced apartment

50

Lot PT 7176 HSD 11062, KM 5.5, Jalan Cheras toward Loke Yew, Mukim Kuala Lumpur

3.43

31.26 mil

Oct 26, 2017

Commercial

51

PT 1216 – 1219, Jalan Datuk Keramat, Kuala Lumpur

4.48

42.93 mil

Sept 29, 2017

288-unit RUMAWIP, 150 council homes and 798-unit serviced apartments

52

Lot 297 PN 9977 Seksyen 63, Jalan Raja Chulan

1.24

101.06 mil

Apr 13, 2017

Mixed development

53

Lot 80458 Mukim Batu Metro Prima

2.09

2.56 mil

Jan 4, 2018

324-unit RUMAWIP, 329 residential units

54

PT 428, Lot 52958 – 52961 Taman Desa Mukim Kuala Lumpur

42.42

493 mil

Sept 18, 2017

3,002-unit RUMAWIP, 1,120 residential units

55

Lot 160 PN 45357 Seksyen 86A Jalan Pahang

1.46

41.32 mil

Sept 29, 2017

Commercial

56

HSD 118987 PT 15039 (Lot 101245) Mukim Petaling

3.14

17.89 mil

Aug 22, 2017

463-unit RUMAWIP, 479 residential units

57

Land beside Lot 46180 Kuchai Lama, Mukim Petaling

3.17

6.16 mil

Jan 11, 2018

478-unit RUMAWIP, 479 residential units

58

PT 9375, Mukim Kuala Lumpur (beside the redevelopment site of the Razak Mansion)

2

17.42 mil

May 29, 2017

250 council homes, 450 residential units

59

Lot 3799 Jalan Gombak, Mukim Setapak Kuala Lumpur

3.99

8.05 mil

Dec 15, 2017

900-unit RUMAWIP, Commercial building (new market)

60

Lot 80192, Jalan Batu Muda Tamabahan 3, Batu Muda Tambahan

0.61

2.17 mil

Jan 22, 2017

299-unit RUMAWIP, 300 PPA1M, Commercial

61

PT 26634-26641, Jinjang Selatan Tambahan, Segambut Dalam

54.66

279.6 mil

Nov 23, 2017

1,002-unit RUMAWIP, 767 replacement homes

62

PT 184 and PT 201 Seksyen 48 Jalan Ipoh

5.06

169.4 mil

June 15, 2017

Mixed development

63

HSD 95206 PT 188 Bandar Kuala Lumpur, Jalan Tun Ismail (Hentian Putra terminal)

4.45

166.1 mil

June 15, 2017

Mixed development

64

Lot 58601, Batu 2 1/2 Jalan Cheras, Mukim Kuala Lumpur

11.23

82.13 mil

Aug 30, 2017

3,681 residential units, mixed development

TOTAL

424.29

4.28 bil

Source: Kepong MP Lim Lip Eng