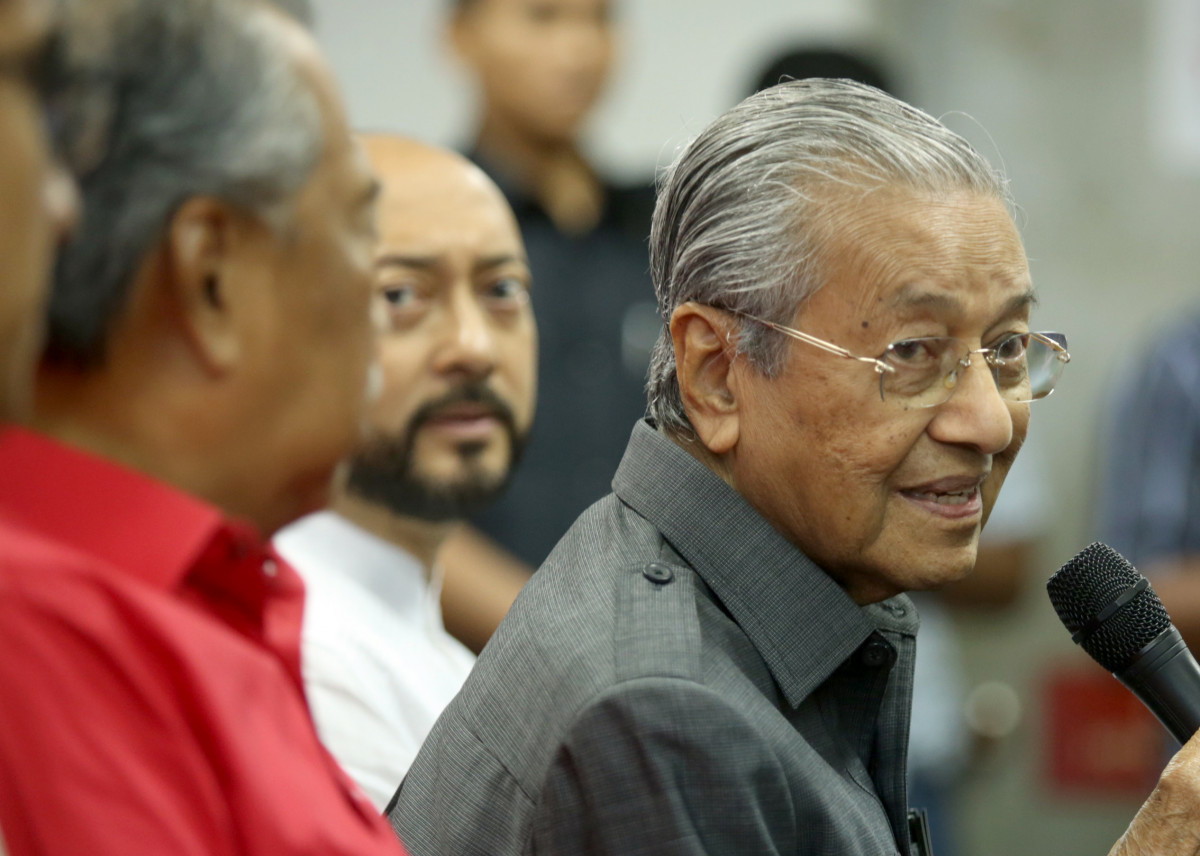 PETALING JAYA (May 30): Prime Minister Tun Dr Mahathir Mohamad has challenged former Minister Datuk Abdul Rahman Dahlan to back up his claims that the cancellation of the Kuala Lumpur-Singapore high-speed rail (HSR) will result in economic losses of RM209 billion.
"Show the proof. When we said the country lost RM1 trillion, we had the papers, proof and documents to show that we lost (the money).
"Why is he simply making claims? Ask him to show proof," he said in a Malaysiakini report last night (May 29).
Abdul Rahman, who headed the Economic Planning Unit under Datuk Seri Najib Razak's administration, had called the cancellation of the mega infrastructure project "short-sighted" and a "big mistake".
In a statement, he claimed the rail project – which the premier had said would cost RM110 billion – would result in losses of RM209 billion in gross national income (GNI) and a prospective 70,000 jobs.
He also cited research by Institute of Developing Economies, Japan External Trade Organisation (IDE-Jetro) which found that the HSR would have contributed economic gains of US$1 billion (RM4 billion) per annum to Malaysia.
Moreover, the scrapping of the HSR would reduce the value of the Bandar Malaysia development in Sungai Besi, Kuala Lumpur, significantly as it was meant to house the line's terminus station, which would in turn affect 1Malaysia Development Bhd's (1MDB) ability to pay off its debts, he said.
1MDB was to have held a 40% stake in the development, before the government called off a deal with a consortium comprising Iskandar Waterfront Holdings Bhd and China Railway Engineering Corp last year.
He added that the rail project could stimulate economic development along rail corridors and urban development around its stations in the form of transit-oriented developments.
"The result of the (KL-Singapore) HSR would be no less than the economic multipliers of the Taiwan HSR, between Taipei and Kaoshiung, and the Tokaido Shinkansen, between Tokyo and Osaka," he said.
Mahathir had said that Singapore would be officially notified soon on the cancellation of the HSR, which he had estimated would cost Malaysia about RM500 million according to terms between the previous Malaysian government and Singapore.