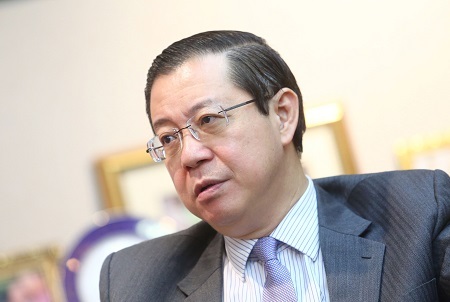 PETALING JAYA (June 2): The development of The Exchange 106 (formerly known as Signature Tower) in the Tun Razak Exchange (TRX) international financial district required financing from the Ministry of Finance (MoF), which was not reflective of the 49:51 shareholding structure of the project between the ministry – via its unit MKD Signature Sdn Bhd - and Indonesia's Mulia Group.
"They [Mulia Group] did put in some money, a substantial sum, but there was a need for capital injection from MoF to keep the project going," said newly-minted Finance Minister Lim Guan Eng in an interview with The Edge weekly.
However, he declined to reveal the amount the ministry had put into the project.
Confirming that the group did not invest a sum that was proportionate to their stake in the project, he said there was also a stipulation that the money forked out by his ministry had to be returned after a certain timeframe.
"If they can't do that, the whole building belongs to MoF," he said.
Lim stressed that the government wants to honour its contractual agreement to provide capital injection into the project, but it is also seeking certain guarantees, safeguards, and assurance that the project will be completed.
"On one hand, if you cut your losses now, you lose everything. But if you go ahead – provided it can be completed, it looks like it can be completed – at least you have an asset there that can be completed at below construction cost," he explained.
"While we want to see the project being completed, we also want to see a better deal. That is basically the government's position," he said.
At 106 storeys, The Exchange 106 will be 492.3m tall upon completion sometime in the second quarter of this year, making it Southeast Asia's tallest building.
The building is expected to have three million sq ft of net lettable area with column-free office floor plates of up to 34,000 sq ft.
TRX City Sdn Bhd, the property arm of 1Malaysia Development Bhd, is the master developer of the 70-acre TRX, which was envisioned as an international Islamic banking and financing hub.
Other developments within the district include Menara Prudential, which was developed and is owned by IJM Corp Bhd, and HSBC's headquarters which is being designed and built by IJM.
Meanwhile, government-linked entities Lembaga Tabung Haji had acquired 1.57 acres in the district whereas Affin Bank had just started work on its 1.25-acre parcel there.
Australian property and infrastructure company Lendlease has entered into a 60:40 joint-venture with TRX City to develop the 17-acre Lifestyle Quarter which will include a retail component known as The Exchange.
The company said on May 28 to EdgeProp.my that it seeks to continue with the JV.