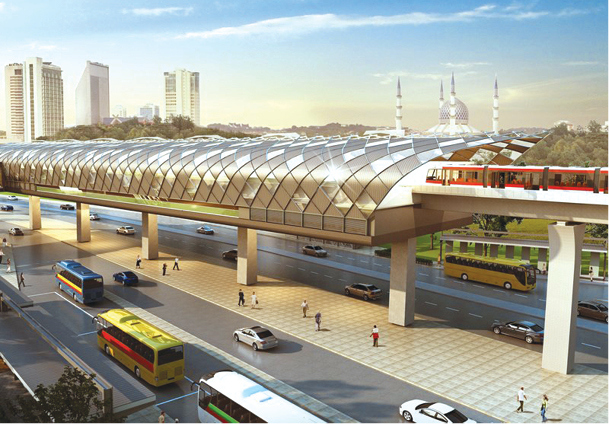 KUALA LUMPUR (July 16): The Ministry of Transport (MoT) today sought to alleviate concerns over the "rigorous cost rationalisation" of the Light Rail Transit Line 3 (LRT3) project, saying the move would lead to higher operational viability and lower ticket fares.
The rationalisation of the 37km line between Bandar Utama and Klang involves reducing the cost of the project by 47% or RM15 billion from RM31.6 billion to RM16.6 billion.
"The size of the stations and the capacity of the LRT trains have been reduced and streamlined purely because the Prasarana Malaysia management has instructed specifications well above the necessary requirement of an LRT system and the projected ridership," MoT said in a statement.
It added that the finance minister was shocked by Prasarana Malaysia seeking an additional financing of RM22 billion for the project on March 30 on top of the RM10 billion already secured in 2015.
MoT noted that LRT3 is expected to serve a two million population with the capacity to transport 36,700 passengers per hour each way.
The ministry said the revised specification of 22 sets of three-car trains, from 42 sets of six-car trains earlier, is more than sufficient to cater for the current ridership demand.
"During peak hours the forecasted maximum number of passengers per hour per direction (pphpd) is 6,185 in year 2034. This ridership can be accommodated by 22 three-car trains which can carry 6,210 pphpd.
"Subsequently, additional three-car trains can be purchased to increase capacity to meet ridership beyond year 2050. The stations can cater for up to four-car trains.
MoT said the LRT3 system is designed to be able to be upgraded from the present interval of six minutes to the shortest interval of two minutes, and accommodate ridership of up to 18,630 pphpd during peak hour, which is about 7,000 passengers higher than the projected demand for year 2050 of 11,584 pphpd.
The ministry also rebutted claims that a six-coach train will be more comfortable to ride in, saying international standards allow for between six and eight passengers per metre square.
MoT added that the current specification for 22 train-sets has taken into consideration the provision for two train-sets to be under maintenance and one train-set on standby, which is in accordance with international standards.
MoT also defended the cost cutting measures, saying that the current stations will be built to cater for four-car train-sets, which will be capable to cater for the ridership beyond 2050.
"Similarly, the platform and concourse sizing will accommodate passenger flows beyond year 2050. The train stations should be designed to cater to actual projected demand of passenger loads and not succumb to unrealistic demands causing cost escalation," it added.
On concerns over the decision to temporarily drop stations — Lien Hoe, Temasya, Persiaran Hishamuddin, SIRIM, Bukit Raja and Bandar Botanic — MoT said the projected ridership for these stations is below 1,500 passengers per day per station in 2020. However, these stations will be built up progressively as ridership and demand increases, it added.
The ministry also said the station redesign and facilities to be provided is benchmarked against existing LRT stations for the Kelana Jaya line and is more than sufficient to cater to the projected ridership. — theedgemarkets.com
For more stories, download EdgeProp.my pullout here for free.