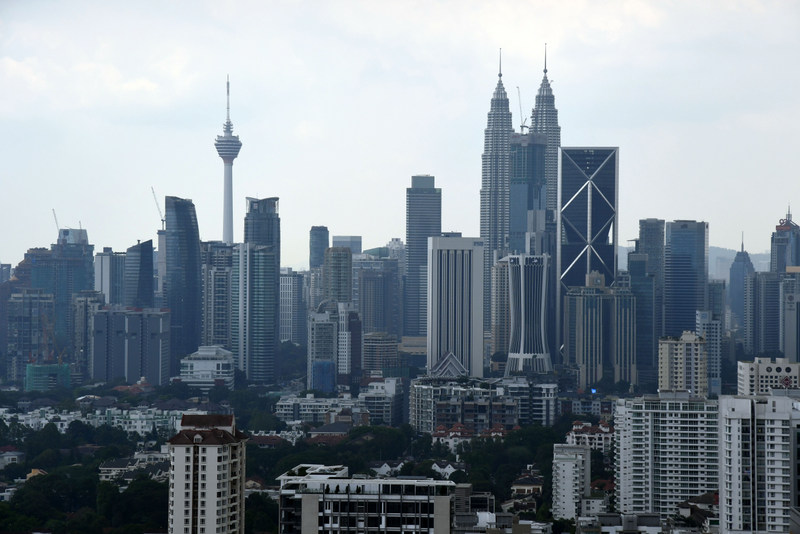 PETALING JAYA (July 26): Leasing enquiries from the oil and gas and related sectors as well as multinationals in other service industries exploring the Kuala Lumpur office market have picked up in the first half of 2018 (1H18) as the crude oil price appears to stabilise, according to Knight Frank Malaysia.
Within the KL and Selangor office markets, there are also active enquiries and leasing activities from co-working operators exploring new set-up or expansion in prime office buildings along with rising demand for flexible work space among several occupiers, Knight Frank Malaysia executive director of corporate services Teh Young Khean said in a press release today.
The property consultancy firm launched its latest research report entitled "Real Estate Highlights 1st Half of 2018" today.
The firm said it expected to see active enquiries and leasing activities from co-working operators exploring new locations or seeking to expand this year, fueled by growing demand for flexible co-working space catering to the growing millennial workforce that comprises a mixture of freelancers, start-ups, small and medium size entrepreneurs and multinational companies.
On top of that, completed and on-going rail infrastructure within the Greater Kuala Lumpur will continue to drive demand for office space in established and upcoming decentralised office locations, said Teh.
However, the outlook for both markets is expected to remain lacklustre as incoming supply coupled with a tight leasing market continues to increase pressure on occupancy and rental levels.
"In this tenant-led market, flight to quality continues to impact older and lower grade buildings as existing tenants, particularly big space occupiers, look to relocate to newer, better quality office space with landlords offering competitive rental packages to entice them," he added.
The report show that the average achieved rental rates for both KL City and Selangor in 1H18 remained under pressure as the mismatch between supply and demand continues to grow.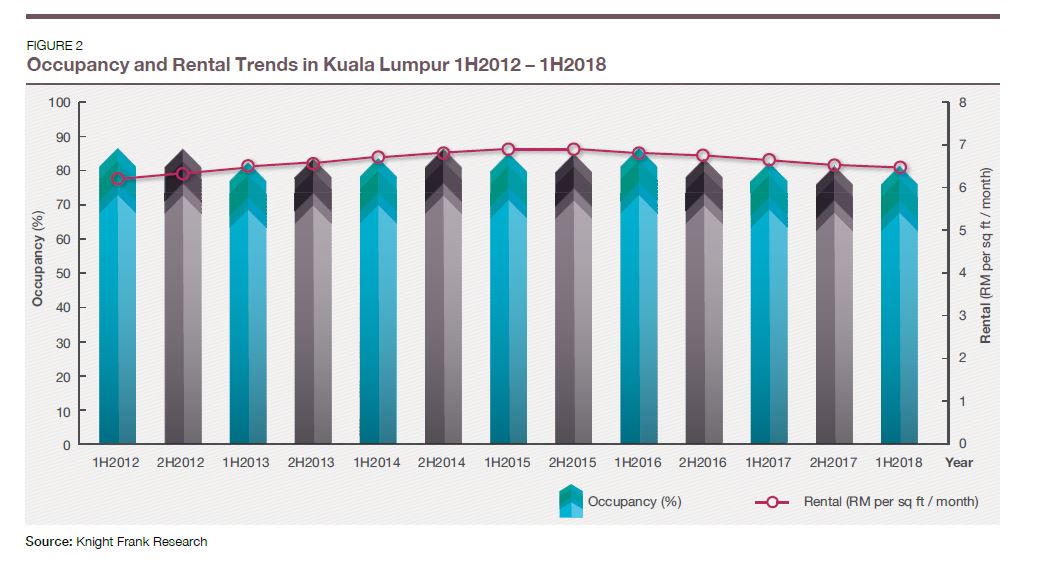 During the review period, the average rentals for KL City and Selangor declined to RM7.16 psf (2H17: RM7.20 psf) and RM4.20 per sq ft (2H17: RM4.22 psf), respectively.
However, in KL Fringe, the average achieved rental rate remained resilient at RM5.72 psf, supported by sustained demand from foreign companies and expansion by co-working operators, according to the report.
In Kuala Lumpur, well-located Grade-A office space continued to command higher asking rents, ranging from RM6 to RM11 psf per month while in Selangor, the asking rents are more competitive, ranging from RM4.50 to RM6.00 psf per month.
Meanwhile, the occupancy rates for offices in KL City, KL Fringe and Selangor all recorded a slight decline in 1H18 to 79%, 83.8% and 79.2% from 79.5%, 83.9% and 79.5% in 2H17, respectively.
As of 1H18, the cumulative supply of purpose-built office space for both Kuala Lumpur and Selangor stood at 101.3 million sq ft following the completion of three buildings with a combined net lettable area (NLA) of approximately 1.21 million sq ft, namely Mercu 2 @ KL Eco City (formerly known as Setia Tower), Celcom Tower and Star Central (Phase 1C).
Office buildings slated for completion in 2H18 include The Exchange 106 and Equatorial Plaza in KL City; South Point Office @ Mid Valley City and Menara Etiqa in KL Fringe; and Nucleus Tower, Menara Star 2 and Tower 6 of Sky Park in Selangor.