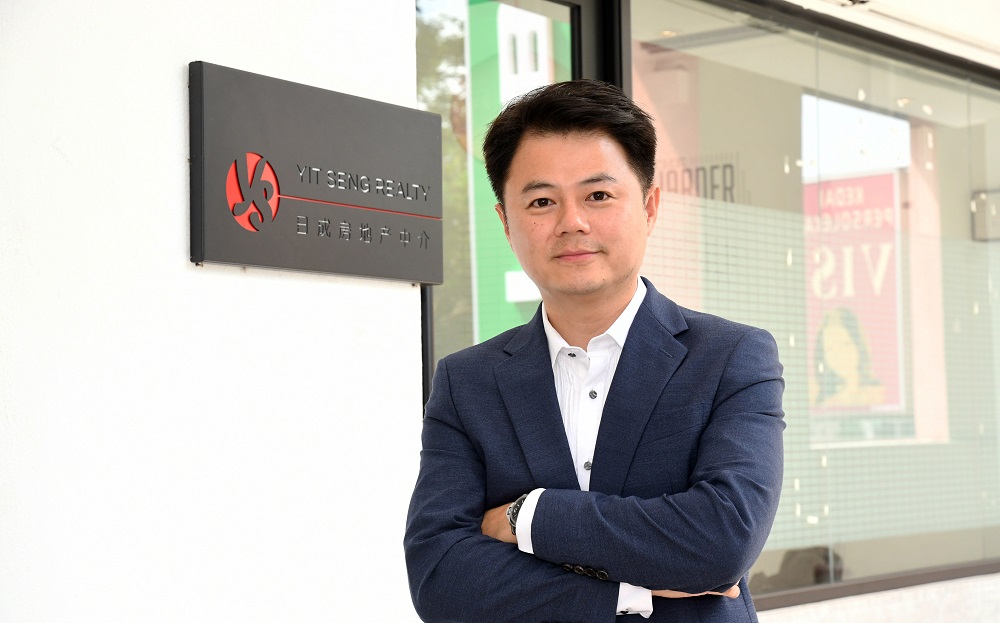 Despite an opportunity to advance his acting career in China back in the 1990s, Ivan Teh decided to return to Malaysia and set himself a new career path instead.
"I was flying to China twice a month. I had this acting job to play some characters for a local television drama series in the late 1990's. I missed my home very much when I was living alone abroad, so when my contract came to an end, it didn't take me long to decide to come home," says Teh, who is currently a senior real estate negotiator with Yit Seng Realty.
The 45-year-old Teh is better known by his Chinese name, Zheng Qi Yuan or Cheng Kei Yun and was active in the Chinese entertainment industry back in the 1980s. He was starring in local Chinese dramas, and later became a voice actor for a Malaysia Chinese radio station.
"I ventured overseas, mainly to China in the 1990s. Every time I returned home after completing a stint in China, I didn't feel like leaving home and going back there. So in the end, I decided to discontinue my acting contract there and joined my girlfriend, who is now my wife, to become a property negotiator," Teh tells EdgeProp.my.
He joined a real estate agency in 2000 and after three years, joined Yit Seng. He is now a senior negotiator who specialises in commercial property and land deals in the Klang Valley.
"Having said that, I also cover residential property — as long as someone needs my help, I will try my very best because after almost 18 years in this industry, money is no longer my biggest driver, but the satisfaction and joy in helping someone solve their problems," he shares.
An agent's social responsibility
Teh strongly believes that while making a living is important, a real estate negotiator has the social responsibility to be the bridge between the buyer and seller in ensuring every transaction process goes smoothly.
"To many, buying a property is a once-in- a-lifetime decision. How can you fail them when they give you their trust and let you handle one of the most important things in their lives? Likewise for the seller, the way that you negotiate with the potential buyer is crucial to them," he notes.
Therefore, he says industry knowledge and commitment towards a client are keys to success in the industry.
"Some agents and negotiators never do anything extra although they know how because it will not bring instant benefits. However, if you are willing to contribute knowledge, experience and time in guiding your client through the entire process, you will realise that you are gaining more than just a commission, but a great sense of personal satisfaction. You also gain experience from every deal because every case is unique," he says.
Teh cites a case which has motivated him to continue with what he does. "This buyer wanted to buy this house very much but he could not get a loan the first time. He tried a second and third time but failed too. But he did not give up. Neither did I. He finally got his loan approved after being rejected six times by different banks.
"We could have just given up after the second or third time. However, to me, no deal is just another deal. This property could be the biggest thing in the client's life and he could only rely on me to make his dreams come true. So I decided to help him find a bank that would give him a loan.
"We went to almost all the commercial banks in town and tried each one by one and finally, the loan was approved at the seventh try. What's interesting was, the bank that finally approved the loan was also the first bank that rejected the loan," he says.
He believes it is because with every loan rejection, they tried to find out how they could be more prepared for their next application.
"When the loan application was approved, the expression on the buyer's face was something that money could not buy. The deal has also reminded me about my social responsibility as a real estate agent," says Teh.
On top of that, he adds, the experience he has in dealing with the many commercial banks has certainly helped him in speeding up future transactions.
The experience also impressed on him that an agent's job is not just a sales job, "you're a problem solver and service provider as well".
"Many people become real estate brokers because they want to earn money fast. Have you ever thought that if you move so fast at the beginning, you may slow down just as quickly as well? When you are too fast, you may not be able to gather solid industry knowledge and build the foundation to solve problems that you may face later. You would probably give up easily when a problem occurs. This also explains the fast turnover in this industry.
"If you want to take this as your career for life, don't go too fast. Equip yourself with knowledge, treat it as a profession," he offers.
This story first appeared in the EdgeProp.my pullout on July 27, 2018. Download EdgeProp.my pullout here for free.