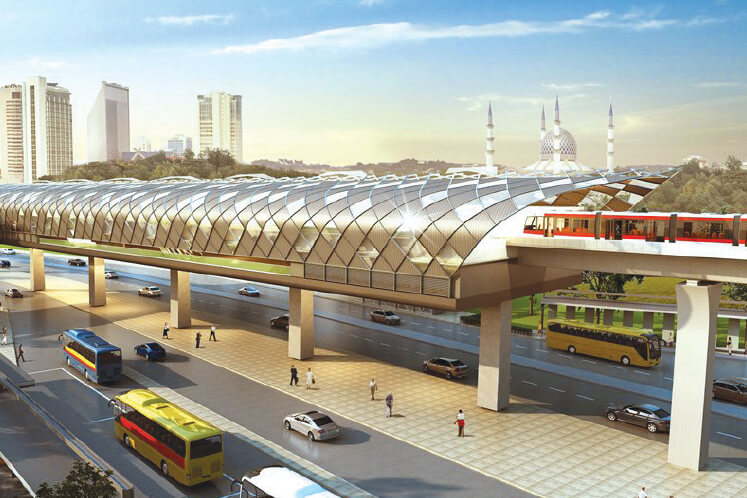 PETALING JAYA (August 20): Kelana D'Putera Condominium residents have discovered that their condominium will be just six metres away from the roof of one of the stations for the LRT3 line.
During a presentation by the project's delivery partners in April, Malaysian Resources Corp Bhd and George Kent Bhd (MRCB-GK), it was revealed that the line will run through the grounds of the condominium, take up drain access, result in trees being cut and be in close proximity to their windows.
The Star reports that residents have expressed concerns over health risks, as well as privacy concerns with their homes windows being so close to an LRT3 station.
Kelana D'Putera Condominium management committee chairman Jeffrey Lau, as quoted by the daily, said he found a Detailed Environmental Impact Assessment (DEIA) from 2015 which showed that the nearest station was initially, approximately 500m away.
Called Persada Plus (now Station 6/SS7) was originally to be located across the New Klang Valley Expressway near the Persada Plus office.
"In that DEIA report, it was stated that even at almost 500m away from us, the residual impact from the LRT3 project would be very strong. It also stated that the noise levels 'exceeded acceptance limits' for both day and night," Lau said.
The residents had no access to any documents, including a new DEIA report on the new location.
Lau said that Prasarana Malaysia Bhd has said that the new location makes it more convenient.
The other issue Lau raised was the narrow 200m footpath, the only entrance to the proposed station, between the condominium and the Kelana Square commercial area.
"Cars are parked along Jalan SS7/26, which is only 5m wide, all the time and the traffic will only increase if a station is added," Lau added.
The station will not have a park-and-ride facility, and as such, LRT users are likely to park their cars along Jalan SS7/26.
Residents feared that in emergencies, fire engines and ambulances will have a hard time maneuvering through the narrow road.
Resident Khoo Poh Hean, speaking to The Star, said the line already has four operational LRT stations – Lembah Subang, Kelana Jaya, Glenmarie-CGC and Ara Damansara – within a 1.5km radius.
"In the LRT3 route map, there will be an additional two which are Station Six and the Temasya Interchange. Why do we need so many stations so close by?" he asked.
He said the Traffic Impact Assessment as well as the Social Impact Assessment have not been conducted.
Residents have held a meeting with DOE director-general Datuk Dr Ahmad Kamarulnajuib Che Ibrahim, MRCB-GK and Prasarana in July, after which a verbal stop-work order was called for six weeks.
MRCB and Prasarana were told to speak to residents in Kelana D' Putera.
The Star reports that LRT3 project director Patrick Hwang Chee Leong said: "Due to cost optimisations directed by the Finance Ministry, we are now undergoing a review and redesign of all stations, including stations near Kelana D'Putera. We shall brief the residents after our new design is completed.
"On a positive note, we believe that when the new LRT station is operational, it will result in a reduction in traffic volume as commuters shift from private vehicles to public transportation, which will cause a 30% drop in forecast future traffic volume."
Hwang also noted that the pedestrian crossing from the commercial area to the original station's location was 700m, while the new location reduced the length to 200m, a more pedestrian-friendly distance.
"We thank the residents of Kelana D'Putera for highlighting their concerns, and hope that our statement offers them greater clarity. We welcome the residents to continue to communicate with us on issues that concern them," he said.