The Pakatan Harapan (PH) coalition had marched into the 14th General Election with a clearly delineated manifesto which promises to revamp the system, wipe out corruption, revive the economy and lower the cost of living, among others. Naturally, since the dramatic victory on May 9, expectations have been running high, and in response, there has been a flurry of announcements from the new government to show its seriousness in fulfilling its pledges.
Focusing on the housing and property sector, EdgeProp.my has listed 20 items under the PH manifesto as well as a few other pertinent issues and tracked some of the announcements and statements that have been made by the relevant ministers up till Aug 20.
1 To build one million affordable homes within two terms of government
June 5 – The Housing and Local Government Ministry (KPKT) announced its proposal to redevelop the site of the Highland Towers condominium in
Ampang, Selangor. Tentatively, the plan is for a mixed development comprising affordable housing, high-end housing, retail, recreational and commercial components.
June 21 – KPKT Minister Zuraida Kamaruddin said it will review the National Housing Policy (NHP) to ensure it caters to the current needs of the people. The minister also suggested forming a National Affordable Housing Council (NAHC) that synchronises all public affordable housing schemes under one roof to enable the ministry to come up with a guideline on pricing, design and distribution of the schemes.
June 27 – The Highland Towers Redevelopment Committee headed by KPKT secretary-general Datuk Mohammad Mentek held its first meeting to study the redevelopment plan. The committee comprises experts and representatives from 10 major stakeholders including federal, state and local authorities.
Aug 11 – KPKT said it would introduce a new NHP sometime at the end of September that will benefit the lower-income groups in Malaysia.
Aug 13 – Zuraida said each of the 13 states in the country will get an average of 10,000 to 15,000 low-cost houses a year if the PH government managed to meet the annual target of building 100,000 houses per year for 10 years.
Aug 19 – Zuraida revealed that the Highland Towers redevelopment committee discovered that the site is not suitable for housing development. Thus, the land will be used to develop a recreational park for the public.
2 To create a special housing loan scheme for first-time homebuyers
July 3 – KPKT said it has met with various agencies including Bank Negara Malaysia (BNM), financial institutions, the Employees Provident Fund (EPF) and the Ministry of Finance (MoF) to discuss the issue of unsold completed property. It said BNM is working on a new housing loan package to ease qualifying requirements, particularly for first-time homebuyers.
Aug 17 – Zuraida said KPKT will follow up with BNM to release new lending guidelines by the end of the month and will seek its advice on a suitable housing price range for B40 and M40 buyers.
3 Work with state governments to convert land for affordable housing projects
July 21 – KPKT urged state governments to support the construction of affordable homes by providing lands to build the properties as this could reduce the cost for affordable homes.
Aug 13 – Zuraida announced that several plots of land in Kota Kinabalu, Sabah, have been proposed for the construction of low-cost housing. She also urged the Sabah state government to provide land to develop low-cost houses.
4 Reform the 1Malaysia People's Housing Programme (PR1MA) programme to prevent cronyism and to be more transparent
June 13 – Zuraida said PR1MA will be rebranded and detached from any political agenda as outlined by the former government, while its focus would be tweaked towards delivering affordable homes for Malaysians — particularly those in the B40 bracket.
July 6 – KPKT said it would initiate an investigation into the business activities, dealings and performance of PR1MA as it had failed to meet its targets despite all the assistance given by the government.
July 20 – Zuraida announced that all public housing projects including PR1MA, PPA1M, Federal Territory Affordable Homes (RUMAWIP) and affordable housing schemes by Syarikat Perumahan Negara Bhd (SPNB) will come under KPKT in August.
5 To increase bumiputera homeownership through incentives while simplifying the process to build affordable homes on land owned by state Islamic authorities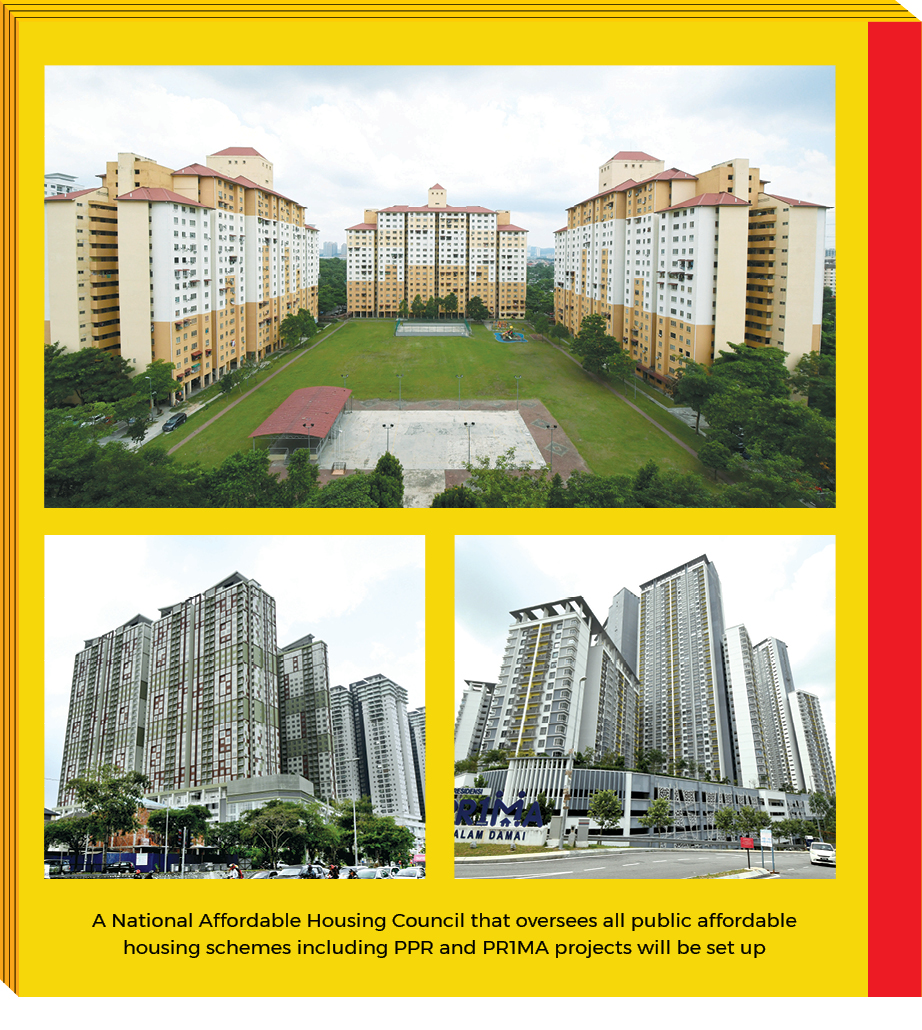 July 15 – KPKT said it would review loan applications for affordable homes by bumiputera homebuyers whose housing loan applications have been rejected by financial institutions. The ministry would also meet up with the EPF and other financial institutions to find a solution.
6 Set up a National Affordable Housing Council (NAHC) that will bring together the functions of various agencies under one roof
May 28 – Zuraida said the ministry will propose to the Cabinet to set up the NAHC to effectively handle all matters related to affordable housing.
June 13 – KPKT has prepared the Cabinet paper on the proposed establishment of the NAHC and expects the council to begin work by August, said Zuraida.
Aug 17 – Zuraida said the NHP and the set-up of the NAHC are in the final stages and will be unveiled by the end of September.
7 Ease the housing loan application process for the B40 and M40 groups
June 21 – Zuraida said the ministry will discuss with the Finance Ministry and BNM on ways to ensure that more low- and mid-income earners can afford to own a home. The ministry will also encourage financial institutions to consider in their home loan application assessment, the second or third income of the B40 and M40 groups.
July 3 – KPKT said it was working with BNM to ease housing loan requirements for homebuyers, in a bid to reduce the number of unsold completed residential units in the country.
Aug 14 – BNM is expected to roll out a special housing loan scheme tailored for the low-
to middle-income group with regard to first-homeownership by September, said the Finance Ministry.
8 Building more comfortable and spacious homes forthe B40 group
Aug 1 – KPKT has proposed to have larger living quarters for the B40 group who are staying in People's Housing Project (PPR) flats. Under the proposal, the layout design for the living quarters will be increased to at least 900 sq ft from the existing 650 sq ft to 700 sq ft.
Aug 8 – KPKT will redevelop Lembah Subang 1 PPR to provide more comfortable homes for the residents next year. The ministry has formed a committee headed by Lembah Jaya state assemblyman Haniza Mohamed Talha to oversee the redevelopment.
9 Create more public spaces and parks to facilitate community activities
Aug 1 – Federal Territories Minister Khalid Samad said the River of Life project which has started its work since 2011 with the objective of reviving and improving the quality of river water should be completed by 2020. He stressed that the water quality should be clean enough for people to wash their
clothes in.
Aug 4 – Khalid met up with Taman Tun Dr Ismail (TTDI) Residents' Association representatives to understand their concerns over the on-going development which is taking place on part of Taman Rimba Kiara in TTDI. He stressed that the development project will not be allowed if it encroaches on the green lung.
Aug 9 – Khalid said the high-end luxury condominium project at Taman Rimba Kiara in TTDI, KL, can be scrapped if KL City Hall (DBKL) is willing to fork out RM110 million as compensation to the developer. He said the ministry will continue to look for possible solutions.
Aug 19 – Zuraida revealed that the ministry plans to redevelop the site of the Highland Towers condominium into a recreational public park
10 Tax incentives for companies that use the latest technologies to reduce the cost of building affordable homes such as industrialised building system (IBS)
July 13 – Zuraida said KPKT was studying Singapore's public housing policies and exploring the idea of introducing HDB-type flats in Malaysia. She said KPKT might consider adopting IBS for all PPR projects to bring down the cost.
11 Prevent land hoarding by setting a time limit for companies to develop their land
May 10 – The PH government said it will set a time limit for companies to hold land for development. The government opined that land hoarding is one of the reasons that is pushing up housing prices.
12 Expand rent-to-own (RTO) schemes in cooperation with commercial banks
May 22 – KPKT proposed the setting up of the NAHC which will combine the functions of various agencies under one roof. The council will be tasked with overseeing affordable home construction matters, coordinating a unified and open data on unsold affordable homes and organise a RTO scheme for the B40 and M40 groups.
June 21 – Penang Chief Minister Chow Kon Yeow said a number of low-cost projects in the pipeline will adopt the RTO concept. Approval was given by KPKT to convert two completed projects in Seberang Jaya to RTO housing schemes.
13 Enable those who are currently renting to migrate to a RTO scheme if they qualify
July 22 – Zuraida highlighted the possibility of a RTO scheme for the B40 group, who may prefer to rent for the first two to three years before making a commitment to buy.
14 Incentives to small developers to help increase their competitiveness for a more level playing field
May 10 – The PH government said it will consider giving incentives to smaller developers to compete with the big companies that hoard the prime plots, for a more level playing field.
15 Have consultation and engagements with stakeholders including local communities to listen and get their feedback on issues
June 21 – Zuraida said she would review the NHP with the Finance Ministry, BNM and developers besides obtaining feedback from buyers.
July 9 – Zuraida said she has met up with Khazanah Institute (KRI) and the Public Works Department (JKR) to discuss public housing issues.
July 16 – KPKT organised a two-day focus group discussion to gather experts' and stakeholders' feedback on the draft of the National Community Policy (NCP).
July 20 – Khalid called for a council meeting with KL Mayor Tan Sri Mohd Amin Nordin Abdul Aziz, senior management of DBKL and 11 MPs in KL to discuss major issues that need to be resolved. The council meeting will be held at least once every two months.
July 29 – Save Kuala Lumpur (SKL) coalition met up with Khalid who said he will direct DBKL to engage with SKL before submitting the Draft KL City Plan 2020 for gazette.
July 29 – KPKT has established an independent committee to study the complaints raised by PPA1M residents in Bukit Jalil after
Zuraida visited the project site.
Aug 4 – Khalid met Taman Tun Dr Ismail Residents' Association representatives to understand their concerns over the proposed development project on parts of Taman Rimba Kiara's land.
Aug 14 – Zuraida had a dialogue session with Sarawak Housing and Real Estate Developers' Association. After the meeting, she said a common policy on housing requirements must be formulated between the federal and state governments.
16 Gazette the Kuala Lumpur City Plan and draft new city plans (or new transportation or town plans)
July 19 – FT Minister said the KL City Plan 2020 will be gazetted by year-end. The 11 KL MPs met KL Mayor to form a consultative council.
July 20 – Khalid chaired the council meeting attended by KL mayor, DBKL's senior officers and all 11 KL MPs to discuss and seek solutions to issues in the city. Khalid said the FT Ministry will start working on the KL City Plan for the period 2020 to 2040 from early next year and it will be drafted by end-2019 and gazetted by 2020.
17 Improve transparency in the government procurement and
project tender process
July 7 – Works Minister Baru Bian said the government will use the open tender system extensively and with transparency for government projects, especially for large scale ones to ensure public funds are well spent.
July 29 – Baru said he would advocate open tenders extensively because they are competitive and fair commercially while the Works Ministry would work closely with other ministries and agencies to ensure that due process and procedures are carried out throughout the procurement and technical assessments.
Aug 6 – Khalid stressed that the ministry will continue to build RUMAWIP projects via the open tender process.
Aug 18 – Khalid said a special task force report on the 64 parcels of land that were dubiously transacted by DBKL has been submitted to Prime Minister Tun Dr Mahathir Mohamed for review. The recommendations include cancelling deals or renegotiateing better terms and conditions.
18 Study ways to efficiently compile and update housing market data
July 25 – KPKT said it was working with the National Property Information Centre (Napic) to streamline housing data by introducing a data input system for developers by the beginning of 2019.
Aug 10 – KPKT Deputy Minister Datuk Raja Kamarul Bahrin Shah stressed the importance of having a central database on homeownership and distribution for affordable homes.
19 Recruit and provide training to local youths to become property managers
June 1 – During an exclusive interview with EdgeProp.my, Zuraida suggested creating work opportunities for young graduates who are interested to venture into the property management industry, by providing them with training to become building managers for PPRs.
20 Take over maintenance of low-cost housing projects
June 1 – In the exclusive interview with EdgeProp.my, Zuraida has proposed to place the government's PPR management under the local authorities as a majority of its residents would not have the capacity to maintain the buildings.
JUne 5 – KPKT said it has started working on the draft of the NCP which aims to upgrade the overall living environment of low-cost housing schemes and to encourage community empowerment. The main stakeholders involved in the policy-making process include developers, local authorities, police, residents' associations and the local community.
July 16 – KPKT organised a two-day focus group discussion to gather experts' and stakeholders' feedback on the draft for the NCP.
July 23 – Penang State Housing, Local Government, Town and Country Planning Committee chairman Jagdeep Singh Deo said the 1Malaysia Maintenance Fund (TP1M), launched three years ago, would be rebranded and continue to be managed by the current federal government.
Aug 6 – Khalid said the ministry is taking steps to comprehensively maintain and upgrade the elevators in public housing including PPR projects in the city.
This story first appeared in the EdgeProp.my pullout on Aug 24, 2018. Download EdgeProp.my pullout here for free.