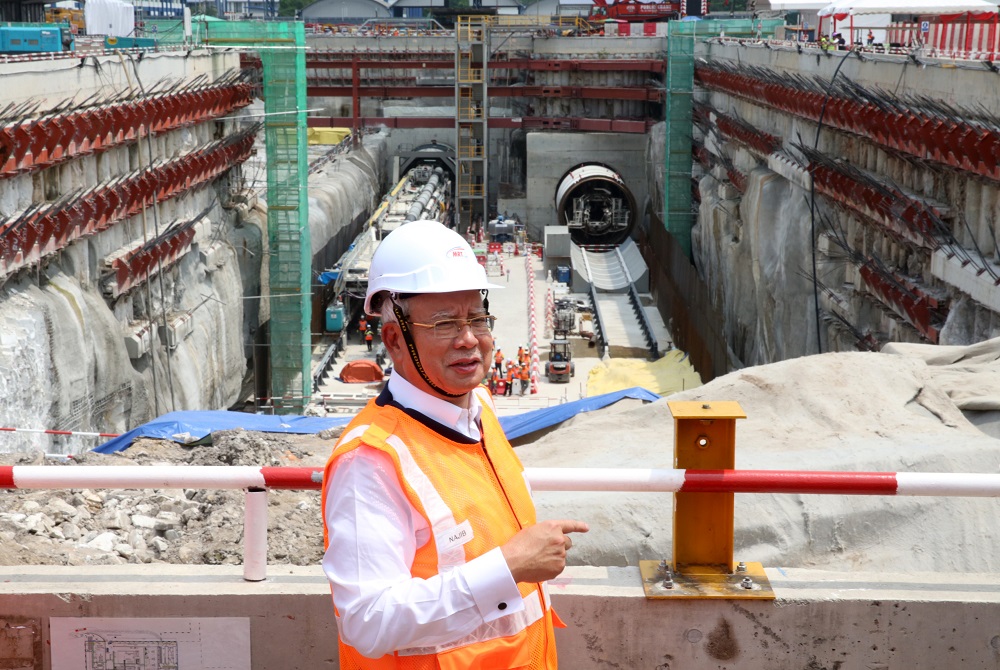 KUALA LUMPUR (Aug 29): Former prime minister Datuk Seri Najib Razak has today asked if the figure of RM10 billion being offered by some parties to build the controversial East Coast Rail Link (ECRL) realistic.
"…the prime minister says that local companies have offered to construct the ECRL for RM10 billion. For a 688km project, it means they will spend RM14.5 million for every kilometre," Najib said in a Facebook posting.
"Is this price realistic when compared with other projects?"
Najib gave three examples of rail projects in the region for comparison.
1. The speed train connecting Suvarnabhumi, Don Mueang and U-Tapao airports in Thailand which was approved in 2018. US$7.2 billion (RM29.5 billion) for 260km = RM113 million per kilometer.
2. The speed rail linking Bangkok with Nakhon Ratchasima which was approved in 2017. US$5.5 billion (RM22.6 billion) for 250km = RM90.2 million per kilometer.
3. Indonesia's speed train from Jakarta to Bandung which was approved in 2017. US$5.9 billion (RM24.2 billion) for 250km = RM96.8 million per kilometer.
Najib also questioned the Finance Ministry's RM81 billion figure disclosed for the ECRL that included interest and operating costs.
"It's like buying a car at RM55,000, then putting oil costs, hire purchase costs, maintenance costs, life insurance costs over the life of the car and saying the cost of the car is RM81,000.
"When other countries announced on their respective rail projects, they did not include such interest and operating costs. For that, Malaysia should do the same."
Najib also explained that the ECRL will have more stations than the rail projects he mentioned.
"We need to know, project costs vary significantly based on tunnel specifications, bridges and stations."
"It also needs to cross the Titiwangsa range and needs to be protected from the frequent flooding of the East Coast. Therefore, the cost of each kilometer to build this ECRL should take into account the challenges."
Najib also said that: "The government today should not use the cost figures to make claims they themselves are incapable of proving or with the support of facts."
It was reported yesterday that Prime Minister Dr Mahathir Mohamad said that some companies have offered to build the ECRL for as low as RM10 billion, a stark contrast to the current price tag.
"We have to talk with them if there is a possibility of reducing the cost from RM55 billion to RM10 billion. We would be stupid not to accept.
"But we have to study whether in fact you can reduce the cost that much," Dr Mahathir said.