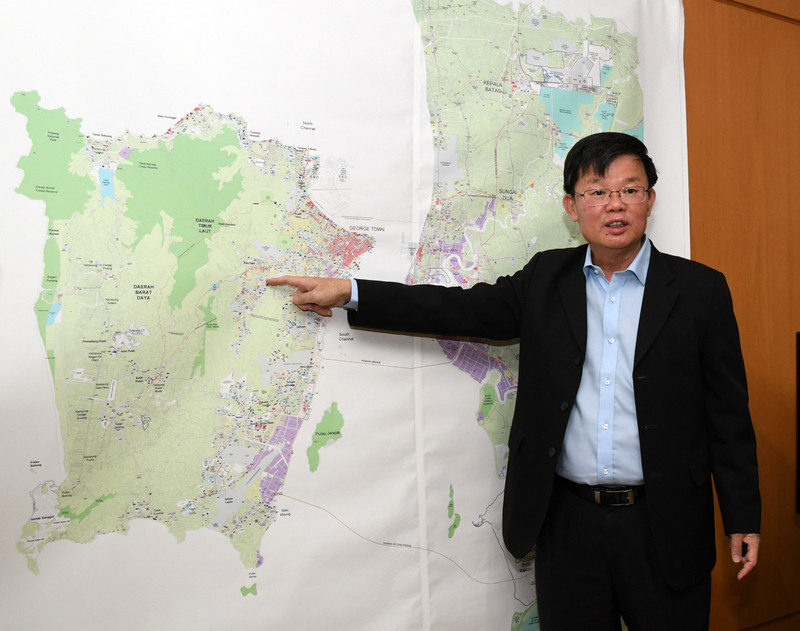 GEORGE TOWN (September 28): A plan to reclaim land along the coast of Pantai Bersih, which had been delayed for nearly 20 years has been revived by the Penang government.
Free Malaysia Today reports that the revival was done through an updated agreement with a company, who said it would take nearly RM2 billion to complete within six years.
Rights to the reclamation had been given to Rayston Consortium (Butterworth) Sdn Bhd (RCSB) in 1999, but "uncertainties" caused the plan to be shelved.
The 650ha of the Butterworth shorefront is directly facing George Town.
The Penang government and RCSB will formulate a reclamation master plan, to determine what will ultimately be built on the land. The government confirmed that the undersea tunnel project's exit portal would be built within the reclaimed area, pending feasibility studies.
The shoreline that will be reclaimed spans from Jalan Tunku Putra in Telok Ayer Tawar in the north to the North Butterworth Container Terminal (NBCT).
If the reclamation is completed, the North Channel would be narrowed, bringing George Town and Butterworth closer.
The news portal reports that rights to the reclamation were given to as part of its work to relocate 1,000 squatters along the path of the Butterworth Outer Ring Road (BORR), a 14km tolled expressway built by the federal government between 2003 and 2006.
RCSB is also part of the consortium that built BORR, along with Etika Gemilang (Butterworth) Sdn Bhd.
Signed today, the supplementary agreement between RCSB and the Penang government will see more of the reclaimed lands go to the state.
Chief Minister Chow Kon Yeow was quoted as saying the state government would receive 90.31ha, compared to 12.9ha in the original agreement.
"As per the agreement signed on June 16, 1999, RCSB has been given the rights to reclaim 650ha of land, with 243ha for Penang Port, 2.5ha for the state government for low-cost and low-medium cost homes, and 7.5ha in lieu of two plots of land given up by the state government on Jalan Pantai Bersih and Jalan Bagan Jermal to relocate residents.
"RCSB was also required to surrender 5% of its net saleable area equivalent to 12.9ha to the state. After negotiations, RCSB has agreed to increase that number to 35%, which means we will receive an additional 77.41ha of reclaimed land," he said.
Also included in the agreement is the surrendering of land, six years on from the commencement of works, the right to reclaim land near the port to a third party, and a comprehensive land reclamation plan to be submitted to the local authorities.
The news portal reports that the agreement was signed between Penang state secretary Farizan Darus and RCSB director Ronnie Lim.
The terms stipulate that RCSB has six months, to apply for planning permission from the local authorities and to submit relevant environmental impact assessment documents to the Department of Environment.