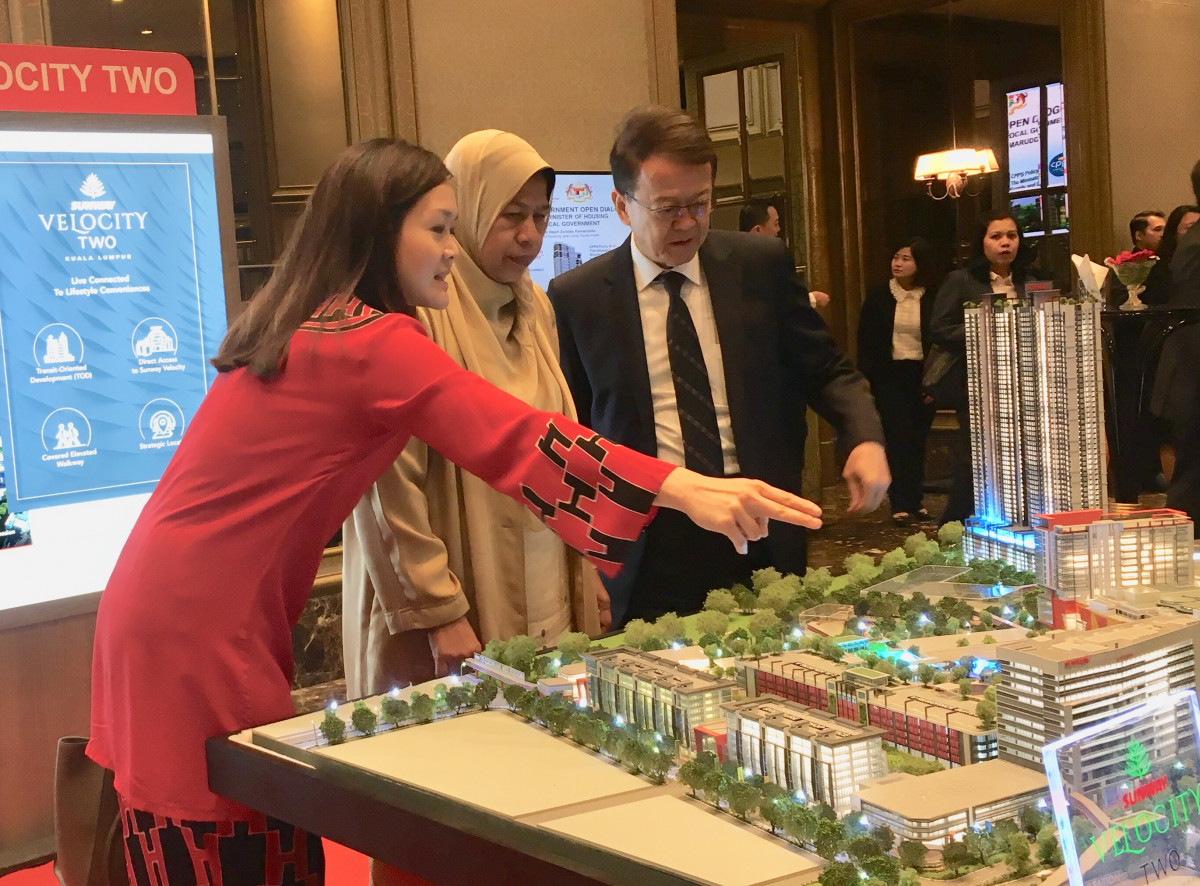 KUALA LUMPUR: (Oct 8): State governments play an important in providing affordable homes for the B40 and M40 groups as they can provide more land suitable for the development of affordable homes to the federal government, said Housing and Local Government (KPKT) Minister Zuraida Kamaruddin.
According to Zuraida, only 27 sites out of 127 for affordable housing projects were supplied by state governments, and she has met up with the Chief Ministers and Menteri Besar in different states to request that they provide suitable land for the development of affordable housing.
"It's the responsibility of the state government to offer land for affordable housing development. We need to address this matter and see a hike in the number of land supplied by the state government," she told the reporters during a press conference after the the Industry – Government Open Dialogue titled "Seeking true value in the property market" today.
Organised by Asian Strategy & Leadership Institute (Asli), the Minister's dialogue session was moderated by InvestKL Corp chairman Datuk Seri Michael Yam.
In terms of the parcels of land that have been given by the state governments to develop affordable homes, Zuraida noted that her ministry is now in the process of identifying suitable land to roll out these projects.
She explained that the land given should not be located too far from the city centre, be suitable for the construction of homes and have infrastructure.
These criteria are necessary to lower construction costs which will in turn make reduce the prices of these homes, she added.
Besides requesting for land from state governments, KPKT has also met up with other ministries to request that they release pockets of land surrounding transport-oriented developments for affordable housing projects.
To recap, Pakatan Harapan government has promised to build one million units of affordable homes within two terms.
While sourcing for project sites, Zuraida said her ministry is also looking into the existing built but unsold properties which can be included into the pool of affordable homes for eligible buyers.
"We have RM22 billion worth of unsold properties in the market, we have categorised these properties under three types by the property pricing: RM300,000 and below, RM300,001 to RM500,000, which could be one of the choices for B40 and M40; The properties priced RM500,000 and above will not be in the [KPKT's] consideration," she explained.
For the B40 group, the suitable properties will be those priced below RM300,000, while M40 group could consider the properties priced between RM300,001 and RM500,000.
However, to help these unsold properties getting suitable buyers, the main concern will be the amount of discount that could be provided by the developers and the end-financing issue.
She added that Rent-to-Own (RTO) scheme may also be applied to these projects to encourage homeownership.
To further enhance KPKT's effort in bringing down housing prices, Zuraida said besides looking into land costs, the ministry is also speaking to other ministries and government agencies such as the Energy Commision Malaysia, National Water Services Commission (SPAN) and Ministry of Communication and Multimedia to collaborate together to bring down utilities and infrastructure building costs.
"As the final cost of homes built not only [comprises] the construction cost element but both land and compliance cost, it is important for the government to ensure that these two costs are minimised as these two alone make up 30% of the overall cost of the homes," she said.
She stressed that taking care of the cost of utilities, land and compliance, combined with the exemption of the Sales and Service Tax (SST) on basic building materials and construction services, should eventually lower housing prices.
Meanwhile, Zuraida noted that the ministry has identified five agencies to be streamlined under the national affordable housing council to avoid overlapping of affordable housing projects.
These agencies including 1Malaysia People's Housing Scheme (PR1MA), UDA Holdings Bhd, Syarikat Perumahan Negara Sdn Bhd (SPNB), Housing Programme for the Hardcore Poor (PPRT) and 1Malaysia Civil Servants Housing (PPA1M).