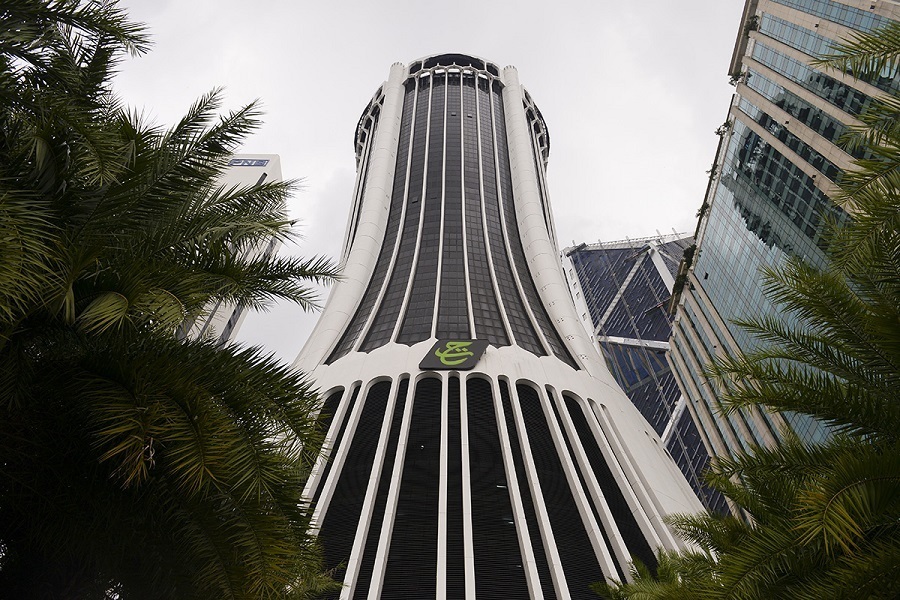 KUALA LUMPUR (Dec 12): A controversial piece of land in Tun Razak Exchange (TRX) here that Lembaga Tabung Haji (pictured) purchased from 1Malaysia Development Bhd (1MDB) three years ago is likely to be one of the underperforming assets that will be transferred to a special purpose vehicle (SPV) under the ministry of finance.
The SPV has been tasked to take over Tabung Haji's underperforming assets — properties generating yields of less than 2% per year and equities seeing impairment of more than 20%. They will be acquired by the SPV at book value.
According to the pilgrims fund's group managing director and chief executive officer (CEO) Datuk Seri Zukri Samat, the 1.6-acre (0.65ha) land is currently not providing any yield to Tabung Haji and therefore could be disposed of.
"One of the assets we have is the TRX land that we bought from 1MDB for RM188.5 million. That piece of land is still idle [years after it was acquired in 2015], and is not giving us any returns ... the yield is zero," he told a media briefing yesterday.
"The SPV could take over the land along with the other assets identified, and maybe do a property development to enhance the parcel's value," said the former CEO of BIMB Holdings Bhd, who took over from Tan Sri Ismee Ismail as Tabung Haji CEO in July.
Tabung Haji's property arm, TH Property Sdn Bhd, was supposed to undertake the development of the property into a high-rise residential tower on the TRX land.
Acquiring the TRX land in 2015 drew heavy criticism from various quarters including Tun Dr Mahathir Mohamad as it was seen as a bailout for debt-ridden 1MDB, leading to then Tabung Haji chairman Datuk Seri Abdul Azeez Abdul Rahim saying Tabung Haji received the offer to buy the plot in April 2013 for RM220 million, but it took a year to evaluate the offer.
Last Wednesday, The Edge Financial Daily reported that Tabung Haji had crafted a turnaround plan where an SPV will take over its underperforming assets.
Zukri said the SPV will acquire RM19.9 billion worth of the pilgrims fund's underperforming properties and equities, in exchange for RM10 billion in sukuk and RM9.9 billion in Islamic redeemable convertible preference shares (RCPS-i).
He added that of the assets to be transferred to the SPV, 80% of the total value comprises equities, and properties the remaining 20%.
Apart from the TRX land, Tabung Haji is also reviewing its stakes in underperforming associate companies.
"We are not doing well in oil and gas and I don't think the hotel operations are doing well either, so these assets are currently being reviewed. After the review is completed, we will dispose of or reduce our stakes in these companies," said Zukri.
He said no cash transactions or government guarantees are involved in the exercise as the SPV will issue a seven-year non-tradeable sukuk, which will be fully subscribed by Tabung Haji, along with the RCPS-i with no maturity or dividend payout.
"We are working hard to complete the transaction before the end of the year, so we can normalise Tabung Haji's financial position in 2018 itself.
"The sukuk and preference shares will take some time to be issued, so the RM19.9 billion will appear as receivables from the SPV for the balance sheet as at Dec 31, 2018. We expect the instruments to be issued within the first quarter of 2019," added Zukri.
Upon completing the restructuring, Tabung Haji is expected to have RM77 billion in assets, including the sukuk and RCPS-i issuance, to match RM77 billion in liabilities for the financial year ending Dec 31, 2018, enabling it to continue paying dividends to its depositors.
Going forward, Tabung Haji will review its asset allocation, which Zukri said had previously been heavily reliant on equities, and opt for more stable investments.
"As Tabung Haji, we should not be competing with the likes of PNB (Permodalan Nasional Bhd) or other banks. Personally, I think we should invest in more stable investments. We will still have some equities in our portfolio, probably about 10% to 15% but it will be largely dividend-yielding stocks," he said, adding the pilgrims fund is looking to invest more in fixed income instruments as well.
With the SPV taking over the underperforming assets, Zukri said Tabung Haji will be left with properties providing a yield of more than 2% and equities still in-the-money, or out-of-money equities not impaired by more than 20%. "We will be left with the good assets. We are confident about returning to business as usual in 2019," he said.
Zukri also cited the differing valuations stated in the financial position review of Tabung Haji by PricewaterhouseCoopers (PwC) and the audit by the National Audit Department, which he said is due to differences in computation.
"I am not going into the computations in the two reports, but the core issue is both reports show Tabung Haji's assets are way below its liabilities, which is what we are addressing."
Citing Tabung Haji's 2017 financial report, Minister in the Prime Minister's Department Datuk Seri Dr Mujahid Yusof Rawa on Monday revealed it had more liabilities totalling RM74.4 billion than its total assets of RM70.3 billion, meaning it had a total deficit of RM4.1 billion as of Dec 31, 2017.
Later that day, some of the PwC audit's key findings showed Tabung Haji performed two suspicious transactions that helped cook up its 2017 profits, enabling it to pay dividends that it would otherwise not be allowed to do. As the profits were not real, the pilgrims fund dipped into depositors' savings to pay the dividends.
This article first appeared in The Edge Financial Daily, on Dec 12, 2018.
Like our content? Check out
Narratives
– where we curate stories based on topics to keep you well and broadly informed about Malaysian real estate.
Looking for property? Check out
Location Scan
, where we summarize all available options and facts you need in a few clicks. We have updated the tool to include MRT3 stations too.
Curious how much you can borrow? Use
LoanCheck
to get your maximum loan eligibility from various banks, or
LoanReport
to get a FREE CTOS/CCRIS credit report.