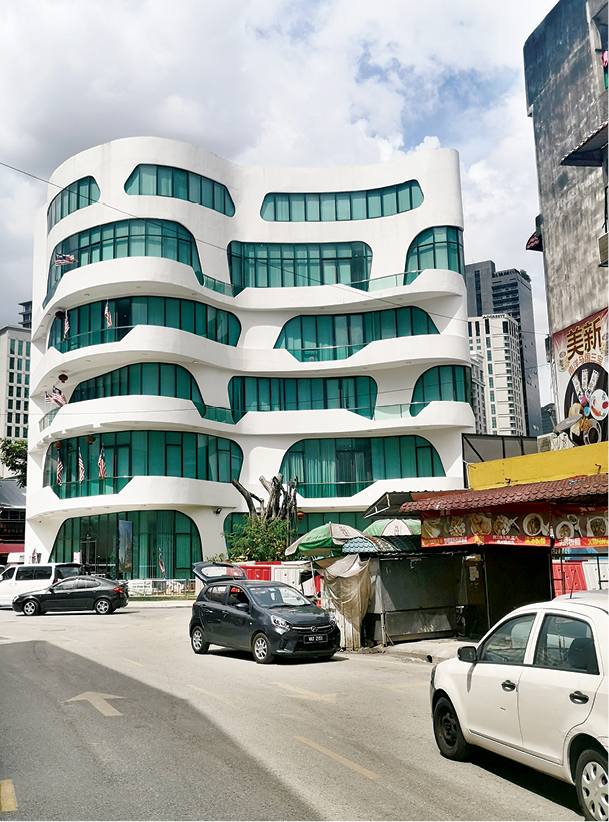 KUALA LUMPUR (Jan 18): The owner of the controversial building built on two plots of government land in Medan Imbi, Bukit Bintang here has been identified as Willowcrest Management Sdn Bhd, a company linked to businessman Datuk Seri Tee Yam @ Koo Tee Yam.
A search on the Companies Commission Malaysia (SSM) website showed that Willowcrest is 99%-owned by Tee Yam, while the remaining 1% is held by Eco Habitat Sdn Bhd.
The shareholders of Eco Habitat are Tee Yam (90%), with Wong Siaw Puie and Ameera Encee Koo Abdullah owning 5% each.
On Wednesday, Federal Territories Minister Khalid Abdul Samad questioned how a development order had been issued to two properties — one an office building "which looks like a six-star hotel" and the other a restaurant — in Medan Imbi when the land did not belong to either the company or Kuala Lumpur City Hall (DBKL).
This follows an internal investigation by the integrity unit of DBKL, which revealed that both pieces of land measuring 0.14ha on Lot 568 and Lot 716 belonged to the Federal Territories Land and Mines Office.
The minister was also reported as saying that the owner of the two properties has until the end of the month to come forward.
Khalid had said an option available to the owner is to apply to the government to purchase the land at the current market price and to pay all premiums and development approvals, as well as the fines to be imposed.
An industry observer, however, pointed out that this may set a bad precedent in the future for any company to build properties on government land and just pay a premium and fines.
An Oct 5, 2015 report by The Edge Malaysia weekly, citing a valuer, said that typically land in Imbi are priced between RM2,400 and RM2,500 per sq ft.
In previous years, land transactions in the Bukit Bintang and Kuala Lumpur City Centre areas have been concluded at between RM3,100 and RM3,600 per sq ft. For instance, the German Embassy parcel in Kia Peng was sold for RM3,188 per sq ft (RM259.15 million for 7,552 sq m) to Malaysian Resources Corp Bhd; Tropicana Corp Bhd disposed of eight contiguous parcels in Jalan Bukit Bintang for RM3,280 per sq ft (RM448.44 million for 12,701.7 sq m); Oxley Holdings Ltd bought a parcel in Jalan Ampang for RM3,300 per sq ft (RM446.7 million for 12,575 sq m); and KSK Group Bhd paid RM3,573 per sq ft for a plot in Jalan Conlay (RM568 million for 3.65 [1.48ha] acres).
A visit to the site by The Edge Financial Daily yesterday showed that the office building has six levels, with Willowcrest listed as one of its tenants.
Other tenants include Excellent Epitome Sdn Bhd and Orion Tower Sdn Bhd.
Another property development company linked to Tee Yam is Viva Impian Sdn Bhd, which is developing a mixed-use, integrated development called Viva Impian Cheras. SSM's data revealed that Viva Impian is 99%-owned by Tee Yam and the rest by Eco Habitat.
According to The Edge Malaysia weekly report on April 10, 2017, Eco Habitat is one of the shareholders of Gabungan Tiasa Sdn Bhd with a 33.33% stake. Gabungan Tiasa is involved in the redevelopment of Plaza Rakyat in Jalan Pudu, Kuala Lumpur.
This article first appeared in The Edge Financial Daily, on Jan 18, 2019.