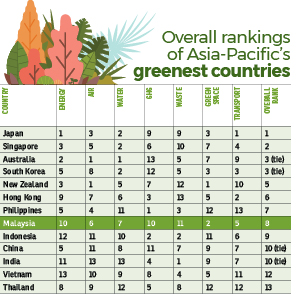 PETALING JAYA: Human activities are contributing to climate change and this has affected the quality of life in some places around the world. It leads us to this question: Is Malaysia environmentally-friendly?
According to an analysis on the Greenest Countries in Asia Pacific by Singapore-based research firm ValueChampion, Japan is the greenest country, followed by Singapore. Australia and South Korea are tied for third place, and New Zealand is in fourth. Malaysia came in at number eight, out of a total of 13 countries assessed.
To determine how green a country is, seven factors or categories of impact were considered: energy, air pollution, water pollution, greenhouse gas emissions, waste, forest and green spaces, and public transport.
For energy, countries were ranked by their electricity production from renewable sources (excluding hydroelectric) as a percentage of total energy production coupled with electric power transmission and distribution losses as a percentage of total output. Malaysia produced a relatively low 0.7% of total output compared to Japan with 7.8%. This led to Malaysia being placed near the bottom, in 10th place in the energy category.
As for air pollution, Malaysia's average particulate matter (PM2.5) concentration in 2018 for country and capital city were 18 and 19.3 respectively, placing it in sixth position in this category. Australia and New Zealand each recorded less than half of the PM2.5 concentration of Malaysia.
On water pollution, the study used the World Economic Forum's estimates of the percentage of a country's population that is exposed to unsafe drinking water. Malaysia took the seventh spot with 10.7% exposure while Australia has the least water pollution exposure, with a low 2.2%.
Moving on to greenhouse gases, the study focused on carbon dioxide (CO2) emissions in particular. Two forms of statistics were utilised to better reflect the ranking between very populous and very rich countries — CO2 emissions (metric tons per capita) and CO2 emissions per unit of GDP (PPP) (kg/CO2/2010 USD) which saw Malaysia emerge in 10th place for air pollution while the Philippines seems to have the best air in the region.
In terms of waste, Malaysia generated about 0.198 kilograms of plastic waste per person per day which puts the country nearly at the bottom of the ladder in 11th place in the waste category. India leads the pack here with just 0.010 kilograms of plastic waste per person per day.
Malaysia however, did well in the green spaces category which covers two aspects: forest area (% of land area) and green spaces per person (m2/person). Malaysia scored highly in this regard, coming in second with 67.6% and 43.9 m2/person just below New Zealand.
To gauge public transportation, the World Economic Forum's "Effectiveness of Train Services" scores were used as a proxy to measure this. On a scale of 1 to 7, Malaysia obtained a respectable 5.2. The leader of this category was of course Japan which scored a 6.6.
The average scores from all seven categories led to Malaysia being placed eighth overall, out of the 13 Asia-Pacific countries. It is certainly not a remarkable score. Simply put, we still have a long way to go in changing our ways to generate less impact on the environment.
This story first appeared in the EdgeProp.my pullout on April 19, 2019.You can access back issues here.