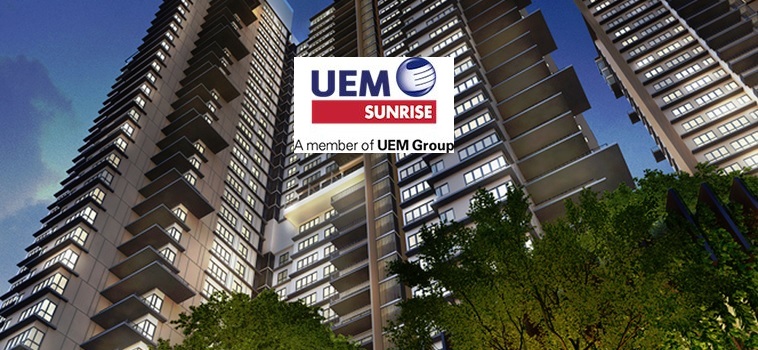 KUALA LUMPUR (May 24): Property developer UEM Sunrise Bhd's net profit for the first quarter ended March 31, 2019 (1QFY19) grew by 19.02% to RM30.1 million from RM25.29 million last year, thanks mainly to contributions from its international projects and gains from cost-cutting measures offsetting lower results from joint ventures and associates.
Its quarterly revenue was also up 45.71% to RM419.26 million, from RM287.74 million in 1QFY18, largely due to partial settlement of the Conservatory and Aurora Melbourne Central projects in Australia.
"The contribution from international revenue cushioned the impact of lower revenue from domestic projects, following the completion of Almas and Estuari in the previous year, while Residensi Astrea and Eugenia-Serene Heights in Central, as well as Aspira Park Homes and 680 Avenue in Southern, are still at early stages of their development cycles," UEM Sunrise said in its filing with Bursa Malaysia.
On prospects, the group said it acknowledges the challenging outlook, but believes products with unique value propositions, strategic locations and attractive prices will continue to generate demand and create sales.
In addition, the developer has included affordable and mid-market properties in its launches.
"The reduction in interest rate is also viewed positively, as it lowers borrowing costs for potential home buyers, benefitting the property sector," the developer said.
UEM Sunrise said the group will continue its smart spending initiative to attain gains from project cost-savings, general and other operational costs to preserve the group's consolidated margins.
The developer is also poised to continue with its asset divestment and land portfolio rebalancing strategy, having earmarked few non-strategic lands for divestment amounting to RM300 million.
"We are mindful of the challenging market environment and remain pragmatic on our RM1.2 billion gross development value (GDV) target. Additional launches depend on market conditions and demand. We will also remain prudent in our sales target of RM1.2 billion," its managing director and chief executive officer Anwar Syahrin Abdul Ajib said in a statement accompanying the quarterly results today.
Moving forward, Anwar Syahrin said UEM Sunrise is planning to launch other mid-market products in both Iskandar Puteri, as well as the Central region in the second half of this year, including the much-awaited development in Kepong towards the end of the year. He added that the developer is also eyeing to launch a new commercial development in Gerbang Nusajaya.
Shares of UEM Sunrise closed half a sen or 0.59% higher at 85 sen yesterday, giving it a market capitalisation of RM3.86 billion.