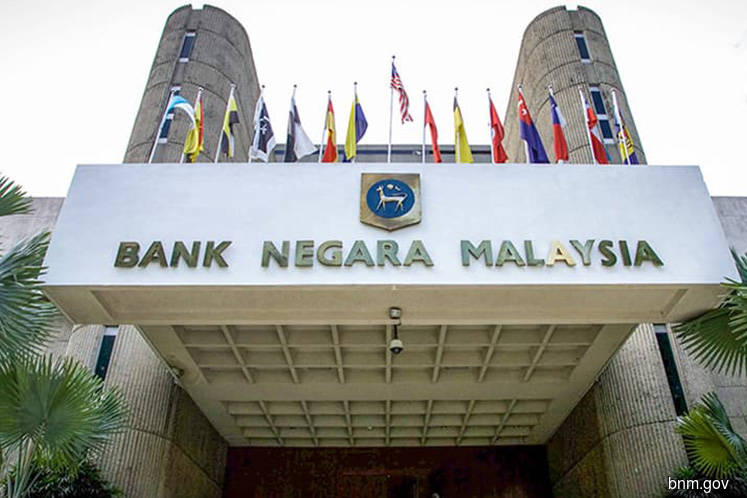 KUALA LUMPUR (July 9): Bank Negara Malaysia (BNM) is unlikely to cut interest rate when the monetary policy committee meets today.
MIDF head of research Mohd Redza Abdul Rahman opined that any rate cut will most likely be in 2020, if global macroeconomic figures deteriorate significantly later this year or early next year. "For now, we opine that no further change in monetary stance is required," he said.
"We anticipate that BNM will maintain the OPR (overnight policy rate) at 3% for the rest of 2019, as long as gross domestic product growth is over 4% and the core consumer price index remains positive."
According to Mohd Redza, despite concerns over China's debt issues and the US Federal Reserve's (Fed) potential rate cut, Malaysia's macroeconomic numbers are still holding up, judging by private consumption, private investment and government spending.
Sharing similar sentiments, FXTM market analyst Han Tan said BNM is set to leave the OPR unchanged at this round as it had pre-emptively lowered the benchmark interest rate by 25 basis points (bps) to 3% in May.
He, however, pointed out that given expectation of the OPR to remain unchanged this month, as global central bankers keenly await the Fed's upcoming decision on interest rate, the ringgit is primarily exposed to external factors.
"Further US dollar weakness, sparked by signs that the Federal Reserve is leaning closer to a US interest rate cut, could translate into USD/ringgit trading closer to its 100-day moving average of 4.12 in the week ahead," he wrote in a note dated July 5. At the time of writing, the ringgit was trading at 4.1398 against the greenback.
Similarly, Standard Chartered Global Research sees an unchanged OPR, after cutting it by 25 bps at its May meeting.
In a note, it said the rate cut in May was intended to address some signs of tightening of financial conditions, rather than any significant growth deterioration or fall in inflation, pointing out that policy stance sounded neutral in its previous monetary policy statement.
Only three of 24 economists surveyed by Bloomberg have forecast a 25bps cut at today's meeting.
Policymakers are expected to consider another rate cut after the previous one last May, only if the country's export growth slows down and the country sees a tepid inflation. In addition, the need to rekindle interest in the ringgit bond market may also prompt BNM to trim the OPR one more time.
Nonetheless, HSBC Global Research sees the likelihood of a rate cut by year end, amid expectations that the domestic economy may experience a slow down next year, as a pre-emptive move.
"Growth is to hold up this year, but a further 25bps rate cut is possible in the fourth quarter of 2019 to offset new downside growth risks in 2020," its chief economist Joseph Incalcaterra wrote in a note yesterday.
These risks include slowing exports, a decelerating wage growth, a continued slowdown in private consumption and subdued private investment, as well as a dampening impact of the overall budget stance on growth and tax-adjusted core inflation in 2020, he added.
Historically, interest rate cuts are front-loaded when a need to cushion the economy from a rapidly weakening global economy arises. The central bank had kept the key interest rate at 3.25% since Jan 25, 2018, before lowering it by 25 bps on May 7.
This article first appeared in The Edge Financial Daily, on July 9, 2019.