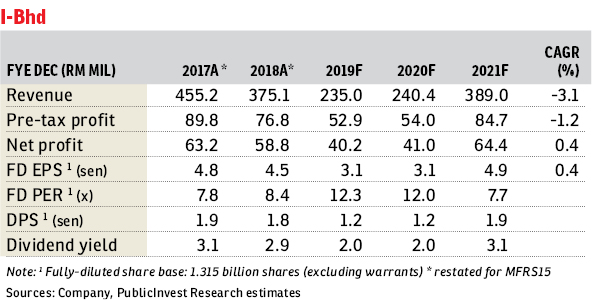 I-Bhd (July 11, 36.5 sen)
Maintain outperform with an unchanged target price of 75 sen: The group announced two corporate exercises overnight: i) the raising of up to RM150 million via a rights issue of preference shares; and ii) the extension in maturity of its RM201 million redeemable convertible unsecured loan stocks (RCULS) issue by a further three years to 2022. Operating conditions have remained challenging in recent times, hence fund-raising activities of this nature are increasingly common among property players.
While we are slightly surprised at the relatively short tenure of the preference share issue, we are nonetheless encouraged to see the major shareholders' unwavering support for the group's successes. We like the group's value proposition and attractive locations in benefitting from the urbanisation of the outer Klang Valley. Our valuations and earnings estimates have not accounted for additional shares to be issued should the preference shares be converted, though not likely to be immediately dilutive.
The three-year redeemable convertible cumulative preference shares (RCCPS) issue is aimed at raising up to RM150 million in gross proceeds, subject to a minimum of RM100 million which incidentally is proportionate to the owners' shareholding in the group of about 68%. While undertakings will be procured for their subscriptions in full, we believe this is largely academic as we gather the owners are already fully committed in this exercise. Priced at a 20% discount to the five-day volume weighted average market price (ex-rights) and carrying an annual 5% dividend rate on a cumulative basis, the RCCPS issue (on an indicative 11-for-20 basis) will see gross proceeds utilised for property investment, hospitality and property development.
Separately, the RM201 million RCULS issue comprising two separate tranches — RM132 million and RM69 million — will see maturity dates extended by another three years to August 27, 2022, with the group reserving cash for its business growth instead. Recall that these issues were the result of a 2014 corporate exercise which saw land injected into the group by the owners, with the RCULS issued as payment. The decision to extend is a strong statement of intent by the owners — that is, foregoing an immediate RM201 million to the benefit of minority shareholders. — PublicInvest Research, July 11
This article first appeared in The Edge Financial Daily, on July 12, 2019.
Click here for more property stories.