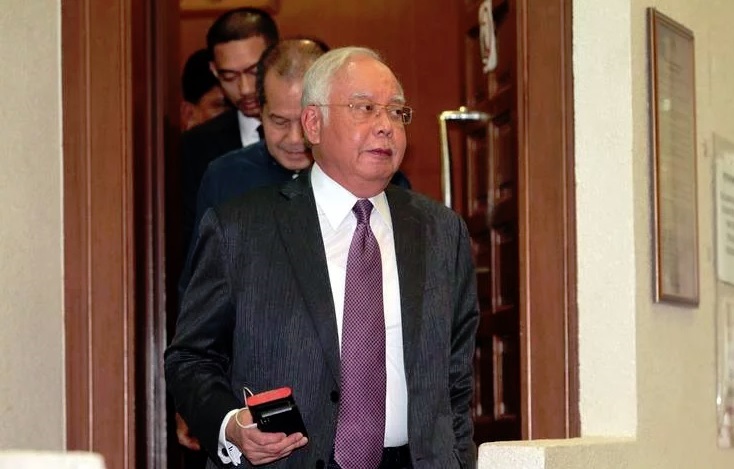 KUALA LUMPUR (July 24): Proceedings for Datuk Seri Najib Razak's (pictured) SRC International Sdn Bhd trial at the High Court here today had to be postponed until tomorrow as defence co-counsel Harvinderjit Singh is unwell.
Najib's lawyer Wan Aizuddin Wan Mohammad had asked for an adjournment and told the court that Harvinderjit, who had been cross-examining former AmBank relationship liaison manager Joanna Yu Ging Ping, was sick.
"[Lead counsel] Tan Sri Muhammad Shafee Abdullah has another case at a High Court here which has to go on as Justice Su Geok Yiam is retiring at the end of this month," he said.
"For this reason, we sought an adjournment of today's proceedings."
Shafee has an ongoing National Feedlot Corp Sdn Bhd case whereby its chairperson Datuk Mohd Salleh Ismail has filed a suit against Public Bank Bhd over purported leakage of information.
This led Justice Mohd Nazlan Mohd Ghazali to ask whether there are no other lawyers who can conduct the cross-examination of the witness, to which Wan Aizuddin replied: "No, as lawyer Farhad Read is also unwell."
The judge also asked as to what happened to Najib's other lawyers, namely former solicitor general II Datuk Yusof Zainal Abiden, Datuk Kamarul Hisham Kamaruddin and S Devanandan, to which Wan Aizuddin replied he does not know.
Senior lawyer and appointed prosecutor Datuk V Sithambaram told the court that while the prosecution objects to the postponement, he had received a call from Harvinderjit this morning at 6.30am to say that he was unwell.
"We can replace today's date [with] Aug 9. The prosecution did not call any new witnesses as we expected the cross-examination of Yu will take the whole day.
"There is no time to call the new witnesses even for this afternoon as we expected to call them next week," Sithambaram added.
Hence, he said the prosecution leaves the matter to court.
With this, Justice Nazlan allowed for the adjournment and directed that it would continue tomorrow.
He also asked the defence to produce Harvinderjit's medical certificate tomorrow and directed the prosecution to put the other witnesses on standby should the defence not be able to continue with Yu's cross-examination tomorrow.
"The trial will also be done on Friday, Aug 9 for the whole day. The trial will resume tomorrow," he said before leaving for his chambers.
This is the first time the SRC trial had been postponed because some members of the defence team had fallen ill.
Najib is facing three counts of criminal breach of trust, one count of abuse of power and three counts of money laundering involving RM42 million of SRC funds.
The trial was supposed to enter its 43rd day today.