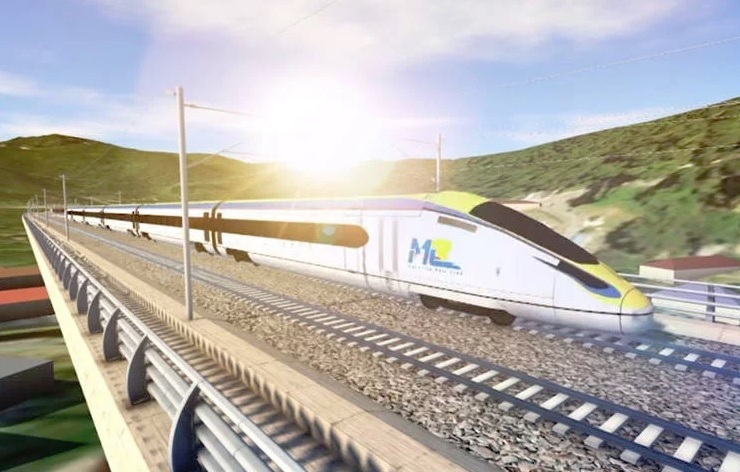 DUNGUN (July 25): Malaysia Rail Link Sdn Bhd (MRL) is expected to submit Environment Impact Assessment, Social Impact Assessment, and Heritage Impact Assessment in relation to the changes in East Coast Rail Link (ECRL) rail alignment by the first quarter of 2020 (1Q20).
In a statement today, MRL chief executive officer Datuk Seri Darwis Abdul Razak said soil investigation works and topography survey have commenced on the new stretch of the alignment from Kota Bharu to Dungun and the Southern alignment from Mentakab to Port Klang in an effort to firm up the final alignment and proceed with the land acquisition process under Section 4 of the Land Acquisition Act 1960.
"We have proceeded with the land acquisition process under Section 8 of the Land Acquisition Act for Dungun to Mentakab stretch involving 1,700 lots. In fact, most of these lots in Pahang have been gazetted by the authorities. We are ready for full-scale civil works be it earthworks, foundation works and piling works on multiple sites along the 223-km stretch in a bid to ensure the entire project is delivered in seven years," he said.
Darwis added that potential local contractors eyeing the 40% civil works portion of the ECRL project would be notified in writing in a matter of weeks, adding that the ECRL Pre-Qualification Evaluation Committee is the final stages of evaluating and shortlisting the documents submitted by 1,321 Malaysian construction firms.
In the statement, MRL said the ECRL project will prioritise the works on its tunnels and viaducts along the proposed alignment from Dungun, Terengganu to Mentakab, Pahang over next 6-12 months in a bid to propel the construction of the RM44 billion rail network.
In a statement today, MRL said the prime focus would be on the design and physical works of 14.13 km of tunnels in 23 locations as well as preparatory works for 39.03 km of viaducts in 65 locations, which are situated within the 223-km stretch from Dungun to Mentakab where no rail alignment changes were made under the improved ECRL project.
MRL said earthworks and excavation works have commenced on several ECRL tunnel portal sites including the 871-meter Dungun Tunnel, 1.1-km Paka Tunnel, and 2.8-km Kuantan Tunnel, while site clearing and pile testing on multiple sites for viaducts are taking shape mainly in the coastal areas of Terengganu.
A supplementary agreement inked between MRL and China Communications Construction Company Ltd (CCCC) on April 12, 2019 in Beijing paved the way for the resumption of the ECRL project to proceed at a lower cost of RM44 billion compared with its original cost of RM65.5 billion.
The project, which involves a 640-km length, will see rail alignment changes between Kota Bharu, Kelantan and Dungun, Terengganu together with introduction of a new Southern alignment from Mentakab, Pahang to Port Klang, Selangor that runs through Negeri Sembilan and Putrajaya.
The entire ECRL project is expected to see the construction of 30-40 tunnels along its alignment from Kota Bharu to Port Klang, with the longest tunnel measuring about 7 km to be built in the Jelebu-Semenyih area.
The project will also witness the construction of multiple viaducts with a total length of approximately 100 km.
In line with the resumption, MRL said all seven ECRL base camps together with their satellite camps and batching plants in Kelantan, Terengganu, and Pahang have been reactivated to facilitate the implementation and construction of the project, and with locals expected to make up 70% of the workforce.
MRL said it would soon submit the conditional Railway Scheme for the ECRL, which involves changes to its rail alignment, to the Land Public Transport Agency (APAD) for consideration, adding that a three-month Public Inspection is expected to be commissioned towards year-end for the public to evaluate and provide feedback.
MRL said the ECRL would be well positioned as a national infrastructure to link cities and towns as well as upgrade public transportation in the rural areas along its entire 640-km rail network that now traverse five states and Putrajaya in Peninsular Malaysia.
ln an effort to produce more rail industry professionals and in line with the planned establishment of the National Rail Centre of Excellence (NRCOE), MRL also announced that the Program Latihan Kemahiran Industri ECRL (PLKl-ECRL) would continue with an enhanced program structure.
MRL said the new PLKl-ECRL would now be extended into operation phase and expected to benefit up to 5,000 local trainees, up from 3,600 previously.
It said the new structure will focus on training and developing Malaysian skilled workers during the construction phase of the ECRL project while cooperation with local higher education institutions will continue to develop local rail expertise especially in the area of operation and maintenance (O&M).
MRL, a wholly-owned subsidiary of the Minister of Finance Inc, is the project and asset owner of the ECRL while CCCC is the engineering, procurement, construction and commissioning (EPCC) contractor. The 640-km rail network is scheduled for completion by December 2026 and is expected to link Kota Bharu to Putrajaya in approximately four hours.