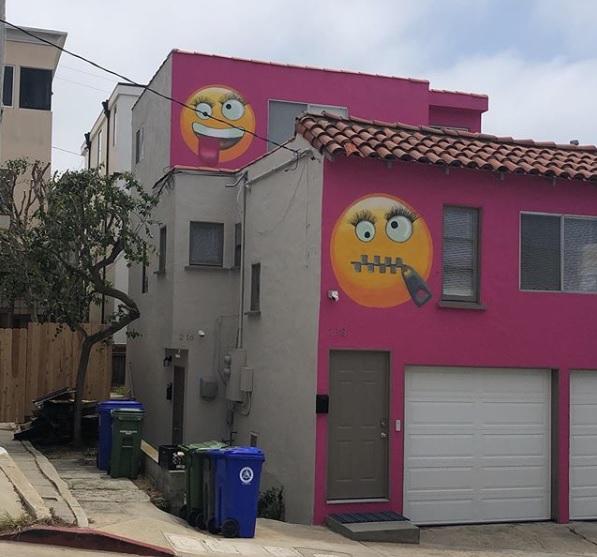 In a move that neighbours consider to be a taunt, a Manhattan Beach, Los Angeles homeowner has had her house painted a bright bubblegum pink with two emojis.
The Los Angeles Times writes that homeowner Kathryn Kidd had been reported to the municipality by her neighbours for renting out the home for short-term stays, which is illegal in Manhattan Beach.
"I did a four-day short-term rental and got fined $4,000," Kidd told Easy Reader News, who first reported the matter. "Now I only do long-term rentals. I didn't realize it was illegal."
The neighbourhood is otherwise filled with neutral tones of white, beige and gray, with the occasional muted blue or yellow. But the standout colour aside, the emojis are being described by the neighbours as "mocking".
One emoji depicts a smiling face with its tongue sticking out and eyes looking in different directions, and sports overly long eyelashes, while another large emoji on the lower level features the same eyes and lashes but this time with a zipper across the mouth, representing the "shut up" emoji.
Susan Wieland, the neighbour who had first reported Kidd for short-term renting is reported as saying that she had been wearing eyelash extensions when she first met Kidd, and feels "bullied" by the emojis.
An artist who goes by @ztheart on Instagram is reportedly the one who painted the design, and initially shared a picture of the painted home in May with a (since deleted) caption that read "Are your neighbors constantly ratting you out? Have they cost you thousands in fines? Why risk a case when you can send them a pretty message?"
"I'm trying not to offend anybody," Kidd was reported as saying. "I did it for the purpose of being happy, being positive, and I think it's cute and quirky and kind of funny, and certainly was a time for the emoji."
Wieland says that neighbours have sent letters and emails to city officials, hoping for action to be taken against Kidd by city officials, but no action had been taken thus far.
"It's almost like they're afraid of her. And we really feel it is our city's responsibility to have these regulations in place because people can do anything," Wieland was reported as saying. "That's the most frightening thing. I feel like we're not being protected against bullying."
A city attorney has said that research was being conducted, into what could be done regarding murals and art on private buildings in residential neighbourhoods.
Another neighbour, Chris Strickfaden is reported as having written via email: "Besides the obvious ugliness — and no one believes this is just artistic expression — it has now become a traffic nuisance issue with people stopping by to take selfies in front of the emoji house. It's nuts."