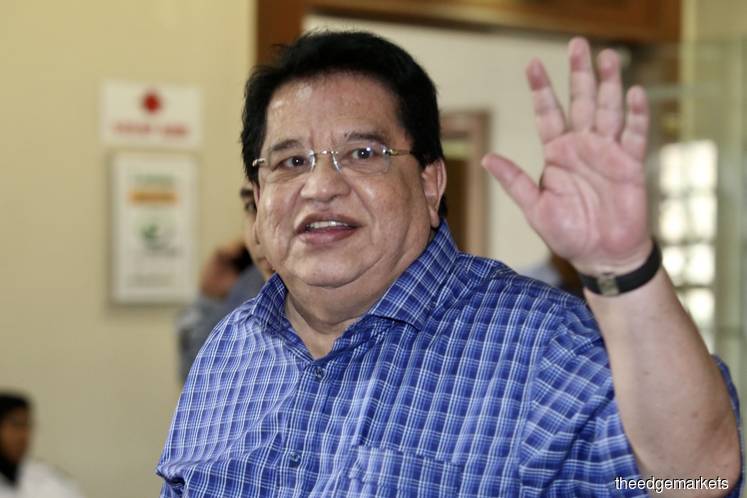 KUALA LUMPUR (Aug 16): The trial of Datuk Seri Tengku Adnan Tengku Mansor for allegedly receiving RM1 million bribe in relation to a development along Jalan Semarak will likely be postponed from its initial commencement of Sept 3.
This came as the lawyer representing Paragon Globe Bhd ex-chairman Datuk Tan Eng Boon, who has been instructed by the High Court to undergo a joint trial with the former territories minister for the case, is not available on that date.
Deputy public prosecutor Julia Ibrahim informed this to High Court judge Mohd Nazlan Mohd Ghazali during case management for Ku Nan, as Tengku Adnan is commonly known, earlier today.
After discussions with Ku Nan's lawyer Datuk Tan Hock Chuan, Justice Nazlan has set case management for the joint trial on Aug 23, when all parties could attend and decide on the new trial dates.
This, however, hinges on the availability of Tan's lawyer Faisal Moideen on that date, which may be first revealed to the High Court during Tan's case management on Aug 20.
Earlier this month, Justice Nazlan allowed the prosecution's application for Tan's trial to be heard jointly with that of Ku Nan, considering the transactions in the charges against the duo are identical and that the Criminal Procedural Code terms for a joint trial have been met.
Prior to that decision, Tan's trial was initially set to begin on Sept 17. It remains to be seen whether the businessman will appeal against the decision for a joint trial.
Tan is accused of giving — and Ku Nan receiving — RM1 million for the approval of Nucleus Properties Sdn Bhd's application (now known as Paragon City Development Sdn Bhd), to increase the plot ratio relating to the development of Lot 228 along Jalan Semarak here.
Tan was charged under section 16(b)(A) of the Malaysian Anti-Corruption Commission (MACC) Act 2009, while Ku Nan was accused under section 16(a)(A) of the MACC Act. The duo was charged separately at the Sessions Court on Nov 15 last year.
The charges also carried alternatives under Section 165 of the Penal Code — where Tan is charged for allegedly abetting Ku Nan in committing the same offence, while Ku Nan is accused of receiving the monies without anything in return knowing that he had official dealings with Nucleus Properties at the time.