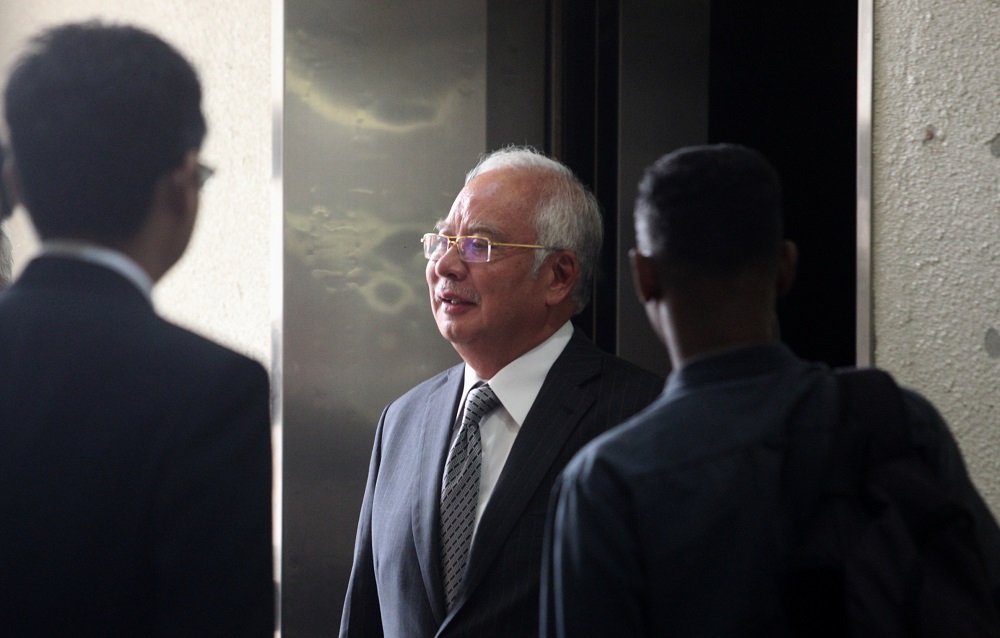 KUALA LUMPUR (Aug 22): The hearing of former Prime Minister Datuk Seri Najib Razak's (pictured) alleged involvement in the embezzlement of RM2.28 billion worth of 1Malaysia Development Bhd (1MDB) funds may be postponed to next Tuesday (Aug 27).
Trial judge Justice Collin Lawrence Sequerah will make a final confirmation at 4.30pm tomorrow on whether to start the hearing on Tuesday or Sept 3 as requested by the defence after receiving updates from Datuk V Sithambaram, the appointed prosecutor in the ongoing SRC International Sdn Bhd case.
The High Court here was told that there will be a judicial review to disqualify 1MDB case appointed prosecutor Datuk Seri Gopal Sri Ram (pictured) as the prosecutor on Monday (Aug 26).
Lead defence counsel Tan Sri Muhammad Shafee Abdullah said the judicial review would take at least half a day, and that it is better to start the hearing on Sept 3, as the defence would then have one week to study the 15 volumes of documents.
Shafee said there are 722 documents within the 15 volumes.
The senior lawyer also said the defence may require further two-and-a-half-days to complete their cross-examination of the final prosecution witness, MACC investigating officer (IO) Senior Assistant Commissioner Rosli Hussain, in the SRC trial.
Sri Ram said the prosecution could prepare formal witnesses to testify on Tuesday without witness statements.
Meanwhile, Sithambaram said the prosecution's re-examination session of the witness should be short.
Sithambaram also suggested that the court make the final confirmation by updating Justice Sequerah again at 4.30pm tomorrow (Friday, Aug 23) on whether to start the hearing on Tuesday, or Sept 3.
The High Court judge agreed to get formal witnesses ready by Tuesday.