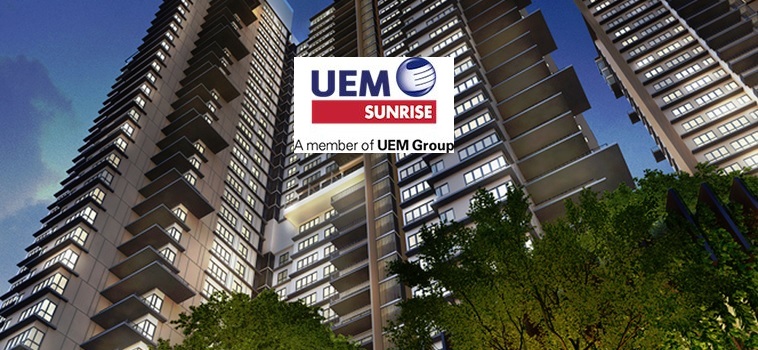 KUALA LUMPUR (Aug 28): UEM Sunrise Bhd's net profit came in 81.1% lower at RM40.36 million in its second quarter ended June 30, 2019 (2QFY19), compared with RM213.79 million in the year-ago quarter, despite revenue nearly doubling to RM1 billion, from RM573.35 million in 2QFY18.
This resulted in a first half (1HFY19) net profit of RM70.46 million, down 70.5% from RM239.08 million in the same period a year ago, while cumulative revenue for the first six months of the year was 64.9% higher at RM1.42 billion compared to RM861.09 million in 1HFY18.
In an exchange filing, the property developer attributed the sharp decline in its net profit to the absence of contribution from land sales compared to the corresponding period last year which carried a significantly higher margin, cushioned by the partial settlement income of Aurora Melbourne Central and Conservatory projects.
Besides the partial settlement of Aurora Melbourne Central and Conservatory, UEM Sunrise said the higher contribution from its international revenue helped mitigate lower revenue from domestic projects.
It said this was as Residensi Astrea and Eugenia-Serene Heights in Central and Aspira ParkHomes and 680 Avenue in Southern are still at early stages of their development cycles apart from the completion of Almas and Estuar.
Commenting on the results, UEM Sunrise managing director cum chief executive officer Anwar Syahrin Abdul Ajib said the successfully completed mixed development project Aurora Melbourne Central, which fetches a total gross development value (GDV) of A$750 million (or RM2.13 billion), as well as the positive settlement of its SP3 and SP4, is evidence that the decision to make its first international foray into Australia was one of the company's best decisions.
He added that SP5 is expected to be handed over for settlement in October 2019.
"Our revenue this period was largely from our projects in Melbourne, Australia.
"For the A$322 million Conservatory, the settlement rate to-date is 78%. In relation to Mayfair, we have decided to divest the site to realise its immediate potential value.
"The proposal has garnered interest from several potential buyers and we plan to complete the transaction before year-end. We have made it our top priority to inform our buyers of the decision and will terminate the sale and purchase agreements as well as refund the deposits plus interest accordingly," he added.
Back home, Anwar Syahrin said UEM Sunrise is on track to unveil its Kepong Metropolitan development in the fourth quarter, where two residential blocks and retail will be launched at an estimated GDV of RM656 million.
In relation to developments in Johor, he said the group aims to complete the acquisition of the retail assets and a theme park building owned by Themed Attractions Resorts & Hotels Sdn Bhd by the fourth quarter of 2019.
"We plan to improve the assets' overall design and secure the right tenant mix to increase vibrancy and footfall. This is expected to unlock Puteri Harbour's development potential and allow us to achieve operational cost savings.
"The acquisition of the assets will also see us reducing our exposure in Desaru by developing 228 acres of residential lands as opposed to the original 680 acres," he said, adding that settlement amount derived from the arrangement will be used to partly set-off the acquisition price of the assets.
Overall, Anwar Syahrin said the group remains prudent in its GDV launch and sales target of RM1.2 billion each, given the challenging market environment.
"Our asset divestment and land portfolio rebalancing strategies are ongoing. We also continue to consolidate our margins through smart spending initiatives, project cost savings and containment of operational overheads," he further said.
At 2.40pm, shares of UEM Sunrise were half a sen higher at 67.5 sen, bringing a market capitalisation of RM3.06 billion.