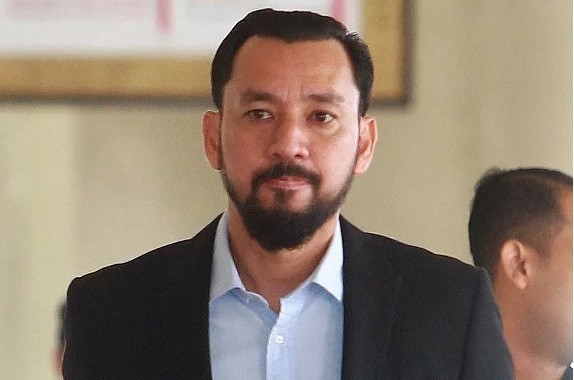 KUALA LUMPUR (Sept 4): If fugitive businessman Low Taek Jho (also known as Jho Low) was the "unofficial adviser" to Datuk Sri Najib Razak, the late Datuk Azlin Alias, who died in a helicopter crash in April 2015, and Datuk Amhari Efendi Nazaruddin would be the sidekicks of the former prime minister in handling 1Malaysia Development Bhd (1MDB) affairs.
The 43-year-old Amhari, a former Bank Negara Malaysia scholar-turned-official, had been a special officer to Najib since his days as deputy prime minister in 2008. Initially, he was tasked to manage Najib's digital media presence, and to streamline economy-related works initiated under the 1Malaysia brand.
Prior to that he was a special officer to the then minister in charge of the Economic Planning Unit, Datuk Seri Mohd Effendi Norwawi.
In 2007, Dennis See introduced Amhari to Jho Low — who at that time had already presented himself as someone who was in the inner circle of Najib and his wife Datin Seri Rosmah Mansor. Jho Low's associate See was a communication officer for Effendi.
Jho Low knew Najib and Rosmah through Riza Aziz (Najib's stepson). Jho Low and Riza had been friends since teenagers. Rosmah often telephoned Jho Low, according to Amhari.
Amhari started working closely with Azlin, who was dubbed as one of Najib's most trusted men, when Najib became the country's prime minister. Azlin's designation was director of Prime Minister's Office's (PMO) economy division at that time.
Then, the duo got involved in setting up state-owned Terengganu Investment Authority (TIA) which aimed to manage the state's oil money. TIA was the origin of 1MDB. At that time, Azlin and Amhari were already dealing with Jho Low. The trio continued working together when TIA evolved into 1MDB under the purview of the federal government.
Azlin and Amhari were handling the money matters of 1MDB between PMO and the ministry of finance as well as externally.
In 2014, Azlin was promoted to chief private secretary to the prime minister, and Amhari took over Azlin's position. A year later, Azlin was involved in a fatal helicopter crash together with Tan Sri Dr Jamaluddin Jarjis after they attended Najib's daughter Nooryana Najwa's wedding reception.
Amhari was arrested in June 2018 amid the reopening of the 1MDB probe after Najib fell out of power in the 14th general elections in May that year.
Below are the 'talking points' from Amhari's testimony, which had yet to conclude as of yesterday
Amhari described Jho Low as an "important unofficial adviser" to Najib.
Jho Low was Najib's political planner and one who arranged funds for the ex-PM. His role extended to include government-to-government negotiations. When TIA was formed Jho Low claimed to be an adviser to then-Terengganu Sultan Mizan Zainal Abidin.
Amhari was involved in the formation of the TIA. He once joined a meeting chaired by Sultan Mizan Zainal Abidin — the then agong. Jho Low, and Sultan Mizan's brother-in-law Datuk Aziz attended the meeting.
Amhari was involved in almost every single matter related to 1MDB including the negotiation with the United Arab Emirates on the outstanding amount that 1MDB owed to International Petroleum Investment Company PJSC (IPIC), making sure that the matter would not be brought to the court.
The late Azlin, as a director in PMO then, was tasked to handle 1MDB matters within PMO and the ministry of finance.
Anything done by Azlin — opening of Najib's AmBank accounts, facilitating former SRC International Sdn Bhd chief executive Nik Faisal Ariff Kamil to manage the accounts — must have been done via instruction from either Najib or Jho Low.
Amhari and Azlin were consistently in discussions with Jho Low at secret meetings held once or twice per month at the Prince Hotel (likely referring to the old hotel in Jalan Imbi). Najib was never present.
Najib divided top-secret and confidential tasks within his inner circle such that the officers were unable to get the full picture on the final objective of the missions. The officers worked in silo on need-to-know basis to keep matters confidential.
When 1MDB issue blew up in 2014-2015, the meetings were held in different rooms every time. Azlin and Amhari were always held in a waiting room for up to an hour. Amhari testified that he was rarely privy to the gist of discussions as "they happened very quickly" between Azlin and Jho Low. At that time, Jho Low put passwords on emailed documents.
When 1MDB matters got reported in the media, Jho Low asserted they were manipulation by the opposition. Jho Low had formed a set of answers to Azlin and Amhari for whenever anyone from PMO enquired "frequently asked questions" about 1MDB matters.
Jho Low instructed Amhari and Azlin to destroy documents, messages and emails that were produced in relation to the secret meetings. If a matter on 1MDB arose, Jho Low would deal with 1MDB chief, while Azlin would undertake a related task as a director in the PMO.
Despite some suspicion towards Jho Low's instructions, Azlin was extremely loyal to Najib. It was once in January/February 2015 after meeting with Najib that Azlin was notably upset when he told Amhari "it's 1MDB's money", likely referring to dealings they made based on instructions they received from Najib through Jho Low.
Amhari is of the view that Azlin's concern stems from the RM2.6 billion chanelled into Najib's accounts, on top of the spending done by Riza to purchase luxury property in the US and to fund his production house Red Granite Pictures that produced movies like The Wolf of Wall Street.
Earlier, Jho Low said TIA needed to be formed as it was Najib's instruction and it was Najib' "baby project" while it was also Jho Low's idea. Jho Low ensured Amhari's appointment to TIA's secretariat. Jho Low was also a coordinator for TIA to set TIA's agenda.
Amhari described Jho Low as a 'master manipulator' who put people he can influence in different positions in governments and in private entities, including foreign banks.
When 1MDB was investigated by authorities over dubious joint ventures and leakage of funds, Jho Low influenced his network in Saudi Arabia and Malaysian embassies, as well as Banque Saudi Fransi and JP Morgan to produce support letters on 1MDB's joint venture partner PetroSaudi International Ltd.
It is alleged that 1MDB signed a deal with a phony PetroSaudi unit registered in Cayman Islands to allow for the embezzlement of US$700 million into Low-linked Good Star Ltd, from where US$30 million was diverted to Najib's AmBank accounts.
This article first appeared in The Edge Financial Daily, on Sept 4, 2019.