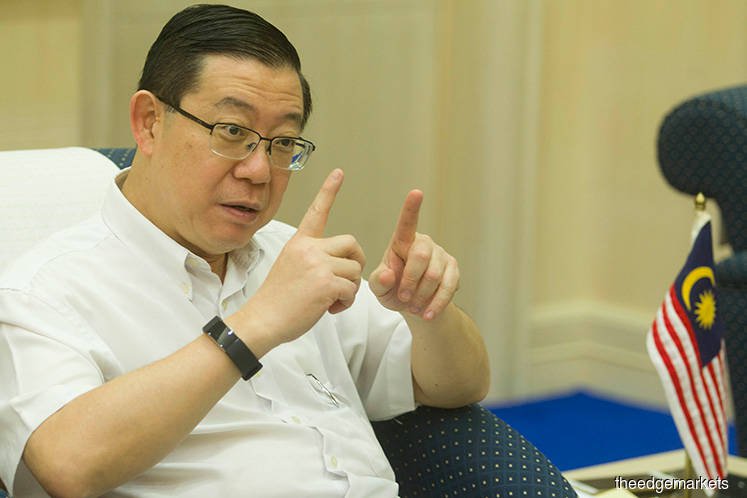 KUALA LUMPUR (Sept 17): Finance Minister Lim Guan Eng said yesterday Petroliam Nasional Bhd's (Petronas) revenue and the Malaysian government's fuel subsidy will increase after crude oil prices spiked following an attack on Saudi Arabia's oil facilities.
It was reported that the Saturday attack had cut more than 5% of world crude oil supply. Yesterday, news reports quoted Lim as saying that for the time being, Malaysia's RON95 fuel price cap will, however, remain at RM2.08 a litre.
He was quoted as saying the country's fuel subsidy will need an organised and a detailed assessment for the long term. "For Petronas, if we are to look in terms of revenue, there will be an increase. But for the country and consumers, there will be an impact on the subsidy we are going to pay. It will definitely increase," he said.
News reports quoted Lim as saying this to reporters after he attended the Inland Revenue Board Of Malaysia's briefing on the Special Voluntary Disclosure Programme in Petaling Jaya, Selangor yesterday.
Global crude oil prices surged close to 20% yesterday amid supply concerns after the attack on Saudi Arabia's oil facilities. Reuters reported that oil prices surged nearly 20% at one point on Monday, with Brent crude posting its biggest intraday gain since the Gulf War in 1991, after the attack on Saudi Arabian oil facilities at the weekend halved the kingdom's production.
It was reported that prices came off their peaks after US President Donald Trump authorised the use of his country's emergency stockpile to ensure stable supply.
"Brent crude futures, the international benchmark, rose as much as 19.5% to US$71.95 (RM300.80) per barrel, the biggest intraday jump since Jan 14, 1991. By 0940 GMT, the contract was at US$65.77, up US$5.55 or 8.4%. US West Texas Intermediate futures climbed as much as 15.5% to US$63.34, the biggest intraday percentage gain since June 22, 1998. The contract was later at US$59.54, up US$4.69 or 7.88%.
"Saudi Arabia is the world's biggest oil exporter and the attack on state-owned producer Saudi Aramco's crude-processing facilities at Abqaiq and Khurais has cut output by 5.7 million barrels per day. The company has not given a timeline for the resumption of full output," Reuters reported.