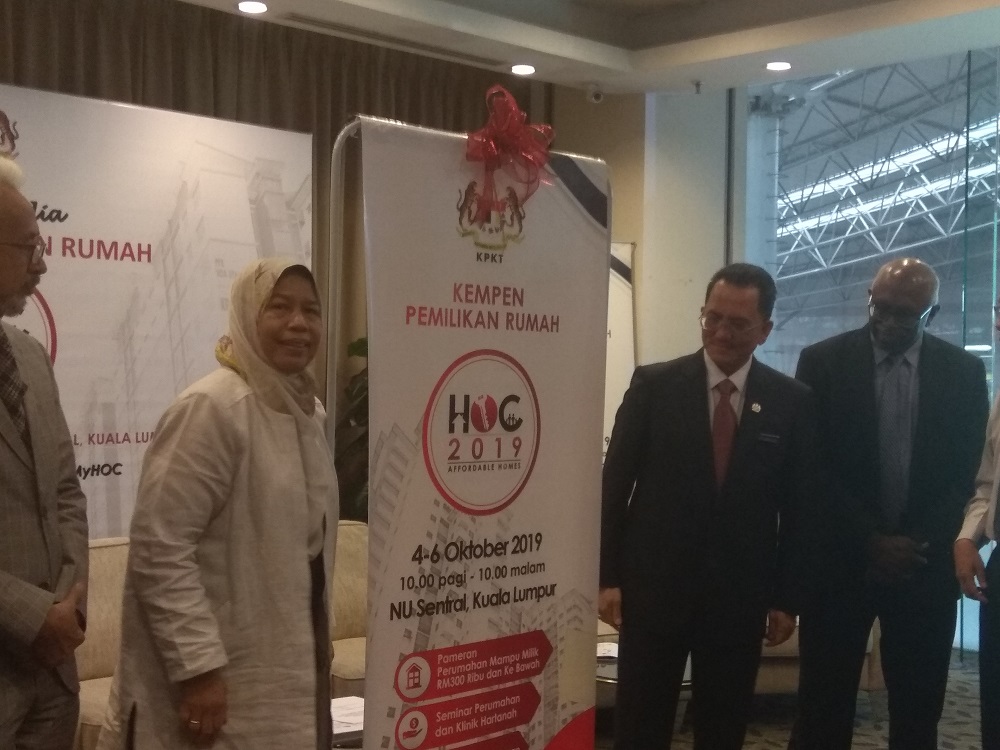 KUALA LUMPUR (Sept 23): The Home Ownership Campaign (HOC), which started in January this year, has secured bookings for houses worth RM10 billion, said the Housing and Local Government (KPKT) Minister Zuraida Kamaruddin.
Out of these purchases, RM6 billion worth of houses have obtained home loans from banks, while RM4 billion worth of houses were still pending loan approvals.
Zuraida observed that the bank approval rate for the affordable homes' purchase has also improved. "From what I have seen in the previous [exihibitions under] HOC, bank loan approval rate has been surprisingly high. I see there is a tendency of high rate of approval," she added.
During the media conference after the launch of "HOC Affordable Homes" property exhibition, she told the reporters that 1Malaysia People's Housing Programme (PR1MA) also achieved good take-up rate under HOC.
A total of 16,200 affordable homes under PR1MA were sold after participating in HOC related events, of which 4,000 units' home loans are currently pending loan approval.
As of now, a total of RM3.4 billion worth of houses have been sold so far, exceeding PR1MA's sales target of RM1.5 billion.
HOC was launched by Prime Minister Tun Dr Mahathir Mohamad in March this year. The six-month campaign which kickstarted in January this year has been extended till Dec 31, 2019 owing to the good market response.
KPKT to hold HOC for properties under RM300k
Organised by KPKT, the HOC Affordable Homes property exhibition will be held from Oct 4 to 6, featuring 10,500 completed and under construction residential properties priced below RM300,000 to interested buyers.
Out of the 10,500 properties, she noted that around 7,177 are from private companies, while another 3,400 units are offered by government agencies such as PRIMA and Syarikat Perumahan Negara Bhd (SPNB).
"These properties are worth about RM2 billion, our target is 80% of sales, which is equivalent to RM1.6 billion of sales," she said.
"The houses are targeted at the M40 and B40 group, this is also the first time we focus on homes priced under RM 300,000" emphasised Zuraida.
According to National Property Information Centre (Napic), as of 1Q2019, there were 48,585 homes priced under RM 300,000 unsold, of which 36,512 units are under construction and 12,073 units have been completed.
Zuraida also announced that that KPKT will meet up with the Ministry of Home Affairs and the Ministry of Tourism, Arts and Culture about the proposed Malaysia My Second Home (MM2H) programme for potential homebuyers from China and Hong Kong.
"I think it will take at least one month to come up with the proposal, and it will be presented to the cabinet later," she said.
In mid-September, Zuraida reportedly proposed that the MM2H campaign should promote high-end homes to buyers from China and Hong Kong in order to solve oversupply issues.