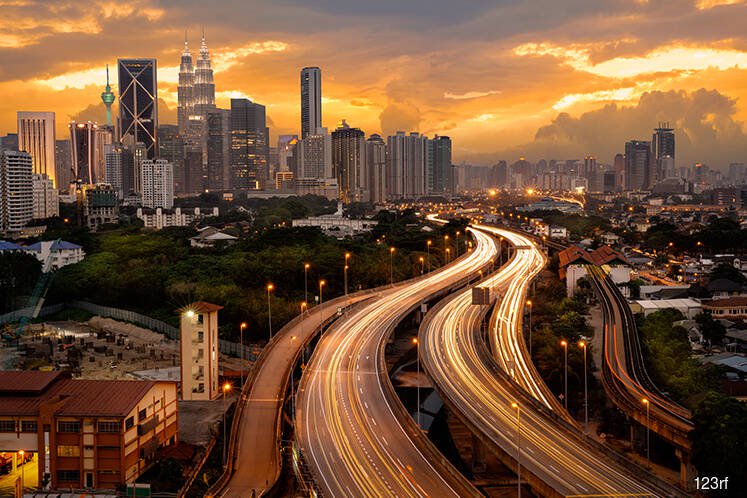 KUALA LUMPUR (Oct 11): Malaysia's real gross domestic product (GDP) is expected to grow by 4.8% in 2020, which is slightly stronger than the pace of 4.7% in 2019.
The stronger growth is underpinned by resilient domestic demand, particularly household spending, thanks to stable labour market and low inflation.
Nevertheless, in the Economic Outlook 2019/20 report, the Ministry of Finance (MoF) warned that despite the anticipated expansion, external uncertainties may pose downside risks to growth prospects.
Private sector expenditure will remain the key growth driver in 2020, with private consumption and investment rising 6.9% and 2.1%, respectively.
"Private investment is expected to grow at a slower pace in 2019 and gain traction in 2020, following the resumption of infrastructure projects coupled with ongoing capital spending in the services and manufacturing sectors.
"Favourable private sector expenditure activity will offset the impact of lower public expenditure in 2019. However, economic growth is expected to rebound in 2020 with improvement in public corporations' capital outlays," read the report.
Public sector expenditure is expected to rebound to positive growth of 0.8% in 2020 after registering 1.8% decline in 2019, largely driven by the acceleration of projects towards the tail-end of the Eleventh Malaysia Plan coupled with the revival of strategic projects.
In line with the fiscal consolidation path, MoF said the public consumption is projected to stay moderate at 1.5% in 2020, which is lower compared to 2% in 2019.
On the supply side, the services sector is projected to remain firm backed by robust household spending. The sector is mainly driven by the activities of wholesale and retail trade, information and communications, as well as finance and insurance sub-sectors.
The manufacturing sector is expected to grow at a slower pace in 2019 due to the electronic and electrical (E&E) sector's downcycle, which is anticipated to pick up in the second half of 2020, supported by better semiconductor outlook.
Meanwhile, public investment is projected to improve with a mild decline of 0.6% in next year after an 8.1% decrease expected in 2019.
The improvement on public investment is backed by the development of new projects in oil and gas industries such as Kasawari Gas Development, coupled with ongoing projects such as floating liquefied natural gas — 2 (LNG 2), The East Coast Rail Link (ECRL), Mass Rapid Transit Line 2 (MRT2), the Light Rail Transit 3 (LRT3), Tekai hydroelectric and Pasir Gudang combined cycle gas turbine power plant projects.
To minimise the external risks, MoF said the government will implement measures to harness economic opportunities, improve human capital, ensure inclusivity and revitalise public institutions and public finances.
"This will lay the foundation for the crystallisation of the objectives of Shared Prosperity Vision 2030 and for Malaysia to remerge as an Asian Tiger," said the ministry.