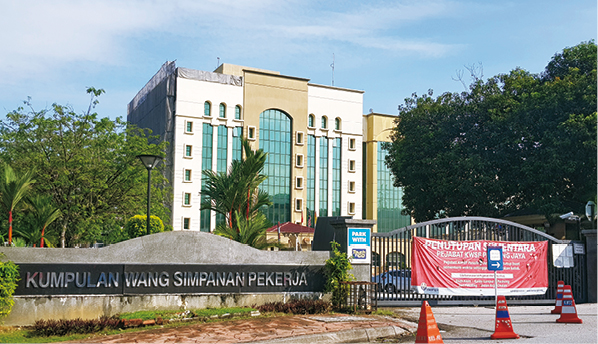 PETALING JAYA (Oct 17): What can be developed on the site of the former Employees Provident Fund (EPF)'s PJ office (pictured)?
The Edge Malaysia spoke to some valuers for their views and they said "apart from an outright sale, EPF can redevelop the site or repurpose it".
The same report by the weekly stated that "the estimated gross development value of developing serviced apartments on the land would be RM400 million to RM500 million".
"In view of its prime location and visibility from the Federal Highway and the age of the building, the land is ripe for redevelopment, provided the land use can be changed to commercial from institutional," VPC Alliance Malaysia Sdn Bhd managing director James Wong told the publication.
If the outright sale option is taken, Wong "pegs" the market value of the leasehold land at RM450 to RM500 psf, so most probably totalling RM71 million to RM79 million.
Wong also said the land "possibly has less than 50 years on the lease".
"If the building is left in its original condition, it can be used as an office, but there is an oversupply of office space.
"Since it is located across the Federal Highway from University Hospital, one suggestion would be an extension to the hospital by opening complementary services such as a rehabilitation centre or a halfway house," chief real estate consultant at ExaStrata Solutions Sdn Bhd Adzman Shah Mohd Ariffin told The Edge.
The now closed six-storey EPF PJ office (owing to a fire in February 2018) sits on a 157,488 sq ft leasehold site. The building has 134,389 sq ft of gross floor area and 106,335 sq ft of net floor area.
EPF was also reported to be moving its HQ in Jalan Raja Laut, Kuala Lumpur to a new building in Kwasa Damansara, Selangor.
The Jalan Raja Laut office is a 28-storey building with 441,476 sq ft of NLA located on a 1.7-acre freehold parcel.
EPF said "It is not the right time for us to comment," when asked by the weekly about "plans for the assets after the relocation".
Adzman commented that if "the EPF decides not to maintain a branch office in Jalan Raja Laut after it relocates to Kwasa Damansara, it could consider redeveloping the site to raise the image of the area".