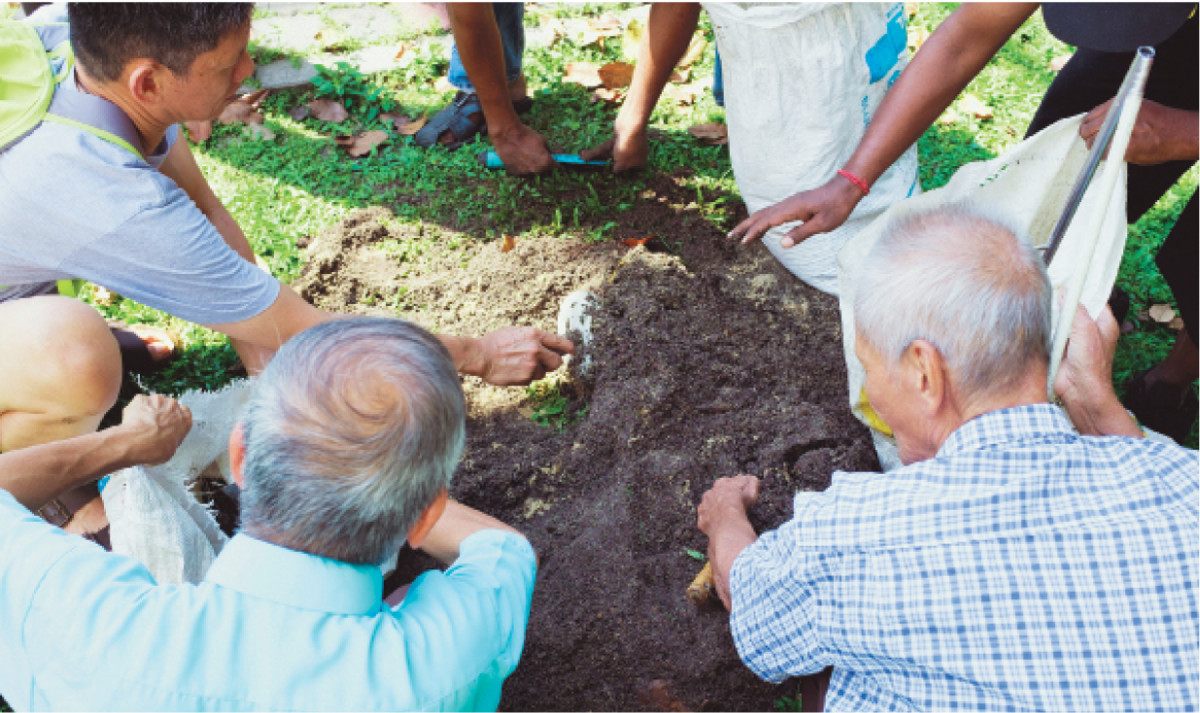 Permaculture is derived from two words – permanent and agriculture. It offers an interesting perspective that sees the garden as a living organism in a symbiotic relationship with human beings.
"So as you grow, your garden grows as well," says permaculture landscape architect and Children of Soil founder Lim Khim Joe.
Lim, 32, fell in love with permaculture after she attended a two-week permaculture course in Batu Arang, Selangor during her internship year while studying landscape architecture at Universiti Putra Malaysia.
Once her internship ended, she was back in university where she became involved in a community project to build a community garden for a low-cost development in Bandar Kinrara, Puchong, Selangor. Her task was to ensure that the community garden can sustain and be sustained by the community living in the area.
"At the end of it all, I was very motivated and after I graduated, I felt so "gung ho" — I wanted to be a landscape architect who incorporates permaculture into my work. But having no experience, it was very difficult to find something like that.
"Eight years ago, nobody had heard about permaculture," Lim reminisces. "It was a very niche market. Now, there are seeds sprouting all over Malaysia which is a good thing but I wished there was an opportunity (to combine permaculture in architecture) back then."
As a scholarship holder, she served her bond with IGB as a landscape architect for Mid Valley City for two years.
"That was where I gained my experience in maintenance and management of landscape. After three years, I wanted to try something different," Lim shares. "Coincidently, I was told that landscape architect Ng Seksan was looking to get more people for his team. I got a job with him and did a lot of planning, designing and construction works for a number of landscape projects."
In those two years, she also had the chance to attend a two-month internship programme on deep ecology and natural building in Thailand.
"It [the course] was amazing. I learnt a lot and I felt inspired again [to take up permaculture]. So I came back and went on to be a permaculturist at Eats, Shoots and Roots where I also ventured into urban farming," says Lim. Eats, Shoots and Roots is a social enterprise that aims to empower urban folks with the skills and tools to grow their own food.
She was there for a year before she became a teacher at Waldorf Kelip-Kelip school for several months before she finally started her own company, Children of Soil.
Plants support humanity
Children of Soil mainly focuses on providing consultation and education in relation to building sustainable, productive foodscapes.
It offers a course which runs for two to three months where participants are guided in creating a garden from scratch.
"I will design the garden. Once the design is done, the community will build the garden with me in the class. Our activities include things like markings on the planter box and how to build healthy soil, how to do composting, how we sow the seeds and the different ways of propagating the plants. They don't just come and listen, it will usually be theory first followed by the practical activity. After the entire programme we will usually reach a harvest.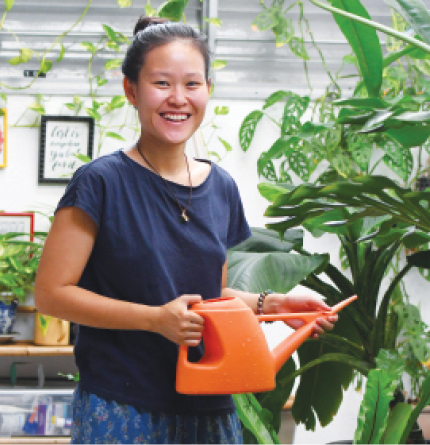 For instance, at The Raintree Club of Kuala Lumpur, she helped design a community garden, then built it together with them and taught them how to sustain the garden for the long run.
"The Raintree Club has a kitchen so they can cook with the fresh produce that they plant and harvest themselves. I find this method much more sustainable, then to just build a garden and then leave it to their owners," she says.
Lim is also a pioneer and active volunteer for Kebun-Kebun Bangsar (KKB), a community garden located on an 8.5-acre hill slope in Bangsar, Kuala Lumpur.
"When I first started Children of Soil, I was very involved in KKB. I did a lot of workshops and brought tours to visit the project. Part of the income went back to fund KKB. It was there that I also got to know more people and was introduced to small projects which I find much more meaningful [compared to big commercial projects]," Lim shares.
She is currently working with the Malaysian Association for the Blind, on an empowerment programme catered for the blind.
"I call this programme Sensory Gardening. It teaches them how to communicate with plants and build a garden. Because they are building the garden, they have a sense of ownership and will want to take care of the garden even more," Lim explains.
Other Children of Soil workshops focus on using plants as a healing medium as she believes that "plants carry their own essence and message that can promote wellbeing in all aspects of our daily lives".
Lim feels strongly that the existence of nature spirits, plants and elemental beings are here to support the growth of humanity and can be used to nurture one's mental and emotional state.
"Plants - they have existed on earth for 470 million years. They are the first living being apart from bacteria and they know a lot of things that happened on Earth. There is a spirit within the plant which we are working with according to their nature.
"For example, when you touch the stinging nettle leaf, it gives you a shock and brings you back to the present. By actively and consciously working with the plant, you are working with the spirit, the essence, and the wisdom the plant carries," Lim explains.
She also believes the moon cycle and the gravitational effects it has during the different cycles have an impact on plants and hence her gardening work also takes this into consideration.
"In my recent trip to Tibet, I harvested some plants during the full moon as they are believed to be more potent," she says.
Ultimately, her goal is to bridge the gap between people and plants.
"Permaculture has gotten more attention in the past few years. People are starting to eat healthy and they want to know the source of their food. All of these are good signs. In our environment today, we are breathing all kinds of pollutants and it takes a long time for all of these to be purged from our body.
"If you look at Earth as a whole, it is also about the oceans, mountains and landscapes. When we start to be more aware, we will care for them more," Lim concludes.
This story first appeared in the EdgeProp.my pullout on Oct 25, 2019. You can access back issues here.