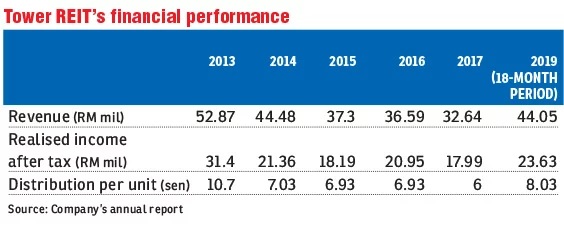 KUALA LUMPUR (Oct 29): Facing a prolonged office glut, Tower Real Estate Investment Trust (REIT) chief executive officer Eusoffe Chua said it cannot rest on its laurels.
After reinventing its Menara HLA by offering co-working and co-living spaces, Tower REIT, part of the Hong Leong Group, is also looking to revamp another asset in an attempt to improve occupancy and net property income.
"Menara HLA, housing the HLX Integrated Innovation Centre, is a technology centre, while [for] the other asset, we are looking at creating a different ecosystem in the building. It is not necessarily related to technology because we do not want to compete with ourselves.
"Currently, we are going through the thinking process ... it would be very different. Technology is just one part of the economy; there are many parts we can look at," said Chua.
Its annual report 2019 shows only one-third of 32-storey Menara HLA in Jalan Kia Peng was occupied as at June 30, 2019.
However, its sister company GuocoLand (Malaysia) Bhd will set up the HLX Integrated Innovation Centre, helping to occupy 65% of the total 385,215 sq ft net lettable area in Menara HLA.
With that, Tower REIT will join hands with its parent Hong Leong Group to create a technology-centric working environment for new start-ups and venture capitalists.
Another property of Tower REIT, the two-block Plaza Zurich (formerly known as HP Towers) in Bukit Damansara here, consists of nine- and 21-storey office buildings with three levels connecting podium. Its occupancy was at 64% as at June 30, 2019.
According to Chua, the REIT is also looking to acquire properties in different asset classes in a bid to diversify the concentration risk in the office space, currently facing an oversupply.
Tower REIT's net realised income for the quarter ended June 30, 2019 was RM2.86 million, down 17.34% year-on-year (y-o-y) compared with RM3.46 million previously, mainly due to a lower occupancy in Menara HLA. Its revenue for the quarter fell 10.69% y-o-y to RM6.43 million, from RM7.2 million previously.
Over the last six years, its revenue and net realised income have been on a downtrend (see table). Its distribution per unit has also been trending lower, from 10.7 sen in 2013 to 8.03 sen in 2019.
The REIT units closed half a sen or 0.58% lower at 86 sen last Friday, with a market capitalisation of RM241.23 million. Year to date, the counter has eased 4.44%.