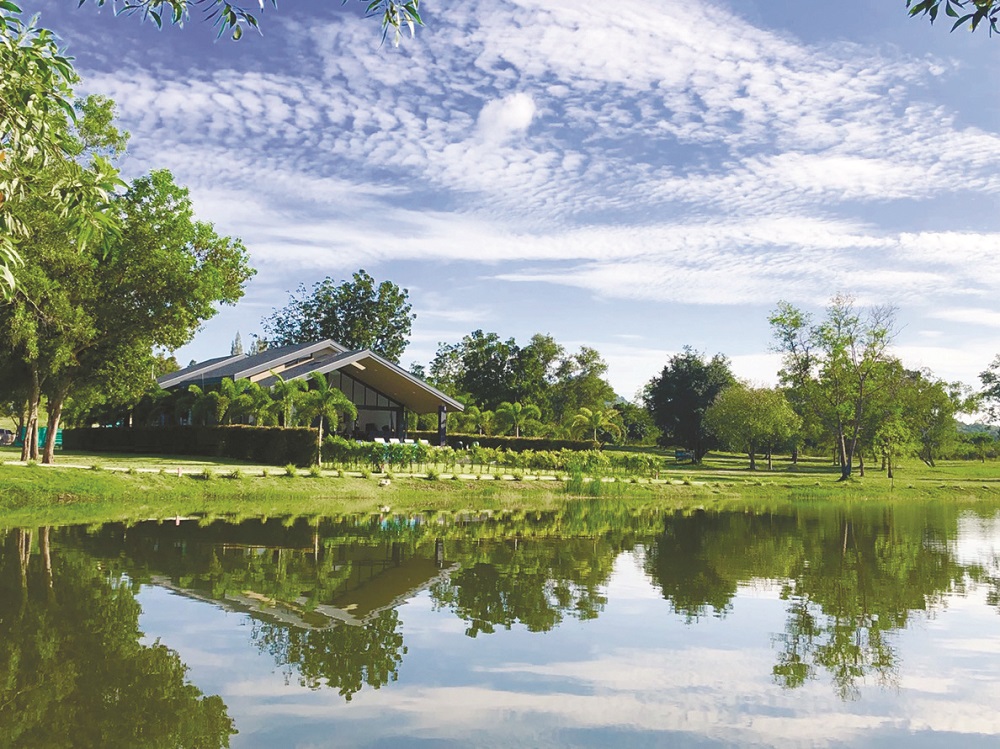 KUALA LUMPUR (Dec 6): Location, lifestyle offerings and pricing are the typical key elements that property buyers look for, but Malaysia-based developer Sanctuary Lakes Global Group (SLGG) sold their first million-ringgit bungalow in Thailand because of a bird!
"It was a beautiful afternoon, when we welcomed a retired Switzerland couple to our first show villa in Hua Hin, Thailand.
"They were standing in front of the glass doors at the balcony, enjoying the lakeview, when suddenly a crane flew past in front of their eyes. It amazed them, and that was the moment they decided to place their booking for the villa," recalled SLGG director Leo Tan.
The couple, he told EdgeProp.my, had been visiting various locations to hunt for an ideal vacation home for five years.
The four-bedroom villa, which was built on 8,472 sq ft of land, was sold for RM1.8 million. The lakeside villa has a built-up size of around 3,261 sq ft and comes with a pool, landscaped garden, fully-fitted kitchen and a large patio area.
The villa is one of the 86 holiday villas in the boutique developer's first development in Thailand. SLGG also has projects in the US, Europe, China and Australia.
Launched in 2018, Sanctuary Lakes Hua Hin is a joint venture between SLGG and the landowner of the 32-acre site.
The luxury resort homes development also features a 6.5-acre natural lake with a cascading waterfall and a 1.4km walking path. The villas come in three designs called Kingfisher, Sandpiper and Hummingbird. They are priced from US$330,000 (RM1.37 million).
Land area sizes range from 3,390 sq ft to 18,309 sq ft, while built-ups can vary based on a customer's design preference. Tan expects Sanctuary Lakes Hua Hin to generate a GDV of US$42 million.
Protection for foreign buyers
"Buying property in Thailand is different from Malaysia. Foreigners are not allowed to own land in Thailand but they could lease the land from landowners for a perpetual lease of 30 years with renewable options to build their own houses on the land," Tan explained.
There are no lease renewal fees but there is a risk that the lease may not be renewed, he added.
Hence, to protect both buyers and landowner, SLGG and its JV partner have formed a company to take control of the land to ensure that buyers could get a 90-year lease.
"The buyers can choose to build their own houses and live there. SLGG will provide them the building and home design service," he said.
Located about four hours' drive from Bangkok, Hua Hin is a popular tourist destination among Thais, including the late King Bhumibol Adulyadej of Thailand.
However, Tan noted that Hua Hin is less commercialised and more family-friendly than many other similar Thai resort destinations, making it an ideal place for vacation homes.
"Vacation home development is a niche product, unlike houses for homeownership. Holiday home purchasers are not in a rush to buy one.
"They take their time to shop around. There were buyers in our previous projects who only purchased the property a year after they had first visited our show unit," said Tan.
Creating value and products that are not easily replicable are key elements in attracting buyers in such a niche market.
Mulling resort homes in Serendah
Back in Malaysia, SLGG launched Santuari Park Pantai located close to the Bukit Gasing Forest Park in Petaling Jaya, Selangor in September.
The 38-acre freehold development has an estimated GDV of RM102 million, offering seven non-strata garden villas and 13 strata-titled courtyard villas, which will be completed in phases by mid-2021.The land sizes of each villa range between 7,200 sq ft and 8,700 sq ft. Each unit comes with a private lift, swimming pool and garden.
There are also vacant plots of 8,000 sq ft to 18,000 sq ft available for those looking to build their own bungalows.
Moving forward, SLGG also plans to develop resort lifestyle homes in Serendah, Selangor, targeting retirees and upgraders who are looking for a small country home located not too far from the city of Kuala Lumpur.
"We are now in talks with a landowner for a joint-venture development. The land is around 500 acres, which is ideal for a small township project. The tract is surrounded by hills and has a beautiful lake in the middle which is good for fishing," he revealed.
Tan said the company hopes to seal the deal and introduce the first phase of the development by mid-2020.
"We will first need to conduct a market study to see whether the concept is acceptable to local buyers," he noted.