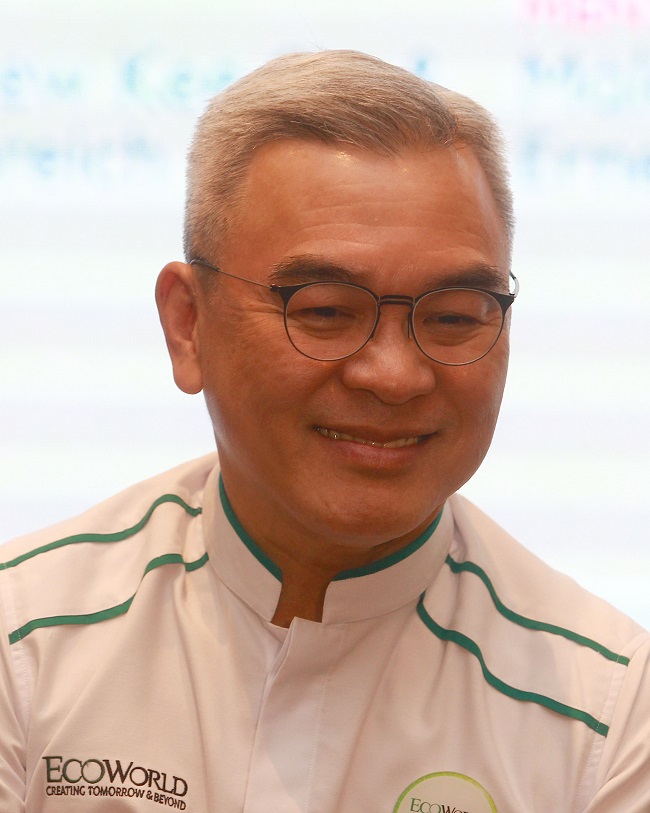 KUALA LUMPUR: Eco World Development Group Bhd (EcoWorld), which reported a 51% jump in net profit for its nine-month period ended July 31, 2019 (9MFY19), expects to close its current financial year on a record high note. It is set to announce the results tomorrow.
"Despite the so-called downturn [in the property market], this year is the best year for EcoWorld and Eco World International Bhd (EWI)," its chairman Tan Sri Liew Kee Sin told reporters after the launch of an entrepreneurial competition programme, BizSmart® Challenge, yesterday.
And next year will be even better, Liew added, but did not elaborate. EWI is EcoWorld's 27%-owned associate and international arm.
EcoWorld's net profit rose to RM121.97 million for 9MFY19, from RM80.69 million in the previous corresponding period, while revenue grew 2.1% to RM1.56 billion from RM1.52 billion. EWI, meanwhile, recorded a net profit of RM68.71 million against a net loss of RM23.78 million previously.
Liew said the group is unfazed by the property glut as it is confident of its strategy in differentiating itself from others in the market, and in the work it has put in to develop the EcoWorld brand.
"At EcoWorld, we take pride in being different. We do not think like any other normal developer. If we do, we cannot survive in this kind of [property environment], Liew said.
"We operate in London and Malaysia — imagine how tough these markets are. The London market is even tougher than in Malaysia, because of the competition and free market, anyone can be a developer in London. The intensity of the competition there (in London) is tremendous. To survive there is tough. But, we do survive," he added.
Meanwhile, on the group's merger plan with UEM Sunrise Bhd, Liew declined to comment.
Last month, The Malaysian Insight, quoting an article by Mergermarket based on sources, reported that UEM Sunrise Bhd and EcoWorld are expected to seal a deal by year end to merge, via a share swap, to form one of Malaysia's largest real estate companies by market value.
UEM Sunrise has clarified it has not made or received any corporate proposals on the potential merger with EcoWorld.
This article first appeared in The Edge Financial Daily, on Dec 11, 2019.