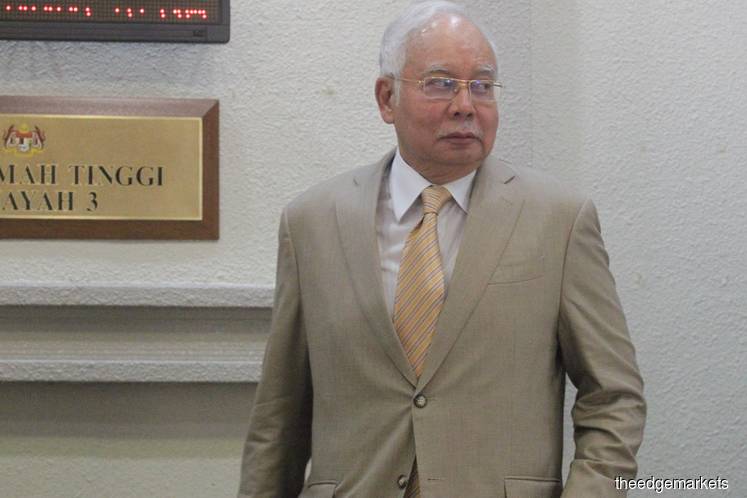 KUALA LUMPUR (Dec 11): The decisions regarding the initial loan application to Retirement Fund Incorporated (KWAP) amounting to RM3.95 billion by SRC International Sdn Bhd were made even before the company had formally appointed its directors, it was revealed at the High Court today.
As such, Attorney-General Tommy Thomas alleged that the decisions were made solely on former prime minister Datuk Seri Najib Razak's directives without going through any board of directors, to which the latter disagreed.
At the start of the cross-examination this morning, Thomas asked Najib to confirm a series of documents related to SRC.
These include:
a letter of appointment for seven SRC directors dated Aug 1, 2011
the company's memorandum and articles of association dated Jan 4, 2011, and
letters and emails dated June and July 2011 which documented SRC's two loan applications to borrow monies from KWAP.
As the dates were confirmed and established by Najib, Thomas pointed out that the decisions to apply for loans from KWAP were made in June and July, when the members of its board of directors were only formally appointed later in August that year.
Thomas: Yesterday, you said that on your role in SRC [as advisor emeritus], all the steps you took were on the advice of the board of SRC. How could you have received such advice relating to these seven documents when the board of directors were non-existent?
Najib: It must've been forwarded by the CEO at that time, [1Malaysia Development Bhd former CEO Datuk Shahrol Azral Ibrahim Halmi].
Thomas: I put it to you that all these decisions were made without any board of directors and solely by you.
Najib: No, no I disagree.
Najib has previously claimed that he had no knowledge of the company's plan to apply for the RM3.95 billion loan from KWAP prior to receiving a letter about the matter from SRC's former chief executive officer and managing director Nik Faisal Ariff Kamil — who is currently missing — that was addressed to him.
KWAP's investment panel only agreed to extend a RM1 billion loan as it did not want so much funds to be concentrated or risked in a single company.
Eventually the loan became RM2 billion, and later in 2012 another RM2 billion loan was approved despite the proposals not meeting KWAP's requirements.
The embattled former premier currently faces seven charges of criminal breach of trust, abuse of power and money laundering involving RM42 million from SRC.
If convicted, he is liable to a 20-year jail term and a fine of RM5 million or five times the amount of money laundered, whichever is higher.