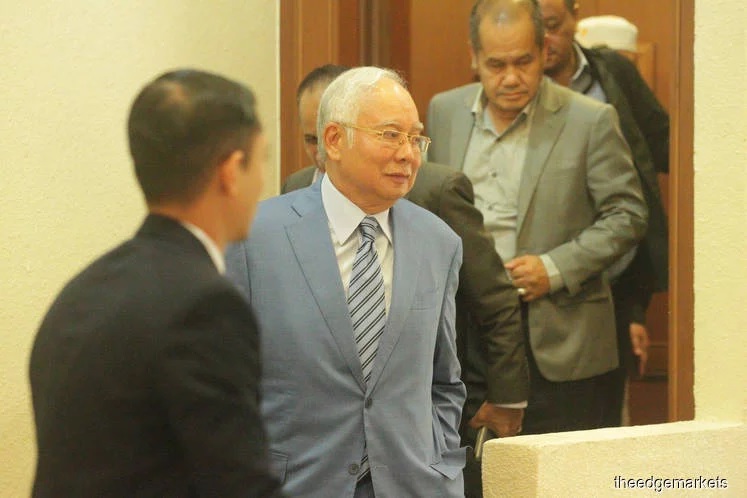 KUALA LUMPUR (Dec 19): Former Prime Minister Datuk Seri Najib Abdul Razak said he had a 'sense' that there's money in his private account without checking his account balance when he wrote a cheque amounting to RM2.5 million to his then close political aide Habibul Rahman Kadir Shah Kadir.
Najib told the court today he had next to no knowledge of the funds in his account when issuing cheques amounting to millions of ringgit.
He also maintained he was under the impression that the money in his account at that time was from 'Arab donations' and not from SRC International Sdn Bhd.
He also told the court that he relied solely on Nik Faisal Ariff Kamil, the former managing director and chief executive officer of SRC, and his former principal private secretary, the late Datuk Azlin Alias, for the running of his AmBank accounts.
He also claimed that both men never disclosed to him the exact sum of money he had in his account.
Najib was answering questions from ad hoc prosecutor Datuk V. Sithambaram, who was conducting his cross-examination on Najib at the trial today.
Sithambaram: As far as you are concerned, [missing former SRC managing director Nik Faisal Ariff Kamil] was in charge.
Najib: Yes.
Sithambaram: Because you didn't know the balance in the account, you would check with Nik Faisal when you write cheques?
Najib: No, I'll ask Azlin (the late Datuk Azlin Alias, his former chief private secretary).
Sithambaram: So you will ask Azlin and he will confirm?
Najib: Yes, he will check with Nik Faisal.
Najib said Azlin and Nik Faisal did not tell him the exact balance in the account. "I had a sense that there was enough money in the account (when writing cheques)."
Najib, who is testifying as the first defence witness in his corruption trial, was asked by Sithambaram about the issuance of the RM2.5 million cheque — which he had issued from his home — to Habibul.
Sithambaram: When you are at the PMO (Prime Minister's Office) you checked with Azlin, but when you were at home who did you check with?
Najib: I didn't check with anybody, I just issued the cheque.
Sithambaram: But you issued millions of dollars in cheques from your home. You issued RM2.5 million to [former aide Datuk Habibul Rahman Kadir Shah].
Najib: I had a sense of the money in the account.
"Nobody issues cheques without knowing the balance in the account. You are the Finance Minister on top of that," Sithambaram hit back.
Habibul told the court previously that Najib had given him the funds to undertake "political operations" to obtain intelligence information. The RM2.5 million cheque was issued to law firm Zulqarnain & Co.
Najib then told the court that while he was "careful with government funds", he "did not pay much attention to his personal accounts" as he had mandate holders taking care of that.
Sithambaram then asked Najib about an incident last year where the former premier had alleged that police personnel had pilfered chocolate while conducting raids in luxury condominiums linked to his family.
Sithambaram brought this point up to put to Najib that he was a "careful man" who even kept stock of his chocolate.
Sithambaram: I don't mean to bring this up, but last year when the police were raiding your apartment, you said that they took some chocolates?
Najib: It's not mine, it's my daughter who said this.
Sithambaram: I find it [difficult] that you didn't know how much is in the account, when you know that someone took chocolate.
During the course of the cross-examination, Najib had admitted that he did not know his credit card limit was RM3 million.
"I just used them while overseas, but they were not frequently used," he said.
Najib is facing seven counts of criminal breach of trust, abuse of power and money laundering involving RM42 million from SRC.
He faces a 20-year jail term and a fine of RM5 million or five times the amount of money laundered, whichever is higher, if found guilty.
The trial has adjourned for the year and will resume on Jan 6, 2020.
The Edge is reporting the proceedings of the SRC trial live.
Users of The Edge Markets app may tap here to access the live report.